She Persists: Women at Gonzaga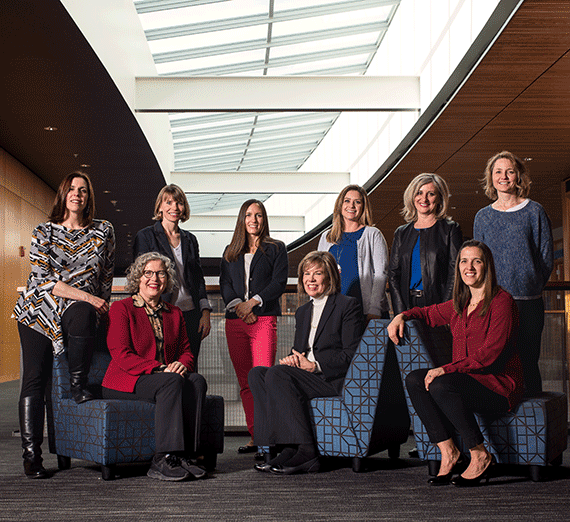 ---
The glass ceiling is cracking, yet women still face issues in the work place. What, exactly, ARE the realities of professional life for women leaders, specifically at Gonzaga? Several of our campus leaders and experts share their experiences.
One leader talked about presiding over a meeting and noticing the men talking to her male associate rather than to her. Another spoke about a woman presenting a strong plan of action and receiving no response, only to hear a male counterpart suggest the same thing later in the conversation and receive vocal approval from others around the table. Often, when a woman takes a strong stand she is considered bossy (or worse), while a man is considered innovative or strategic.
These are a few examples of issues some women leaders have experienced here or at other workplaces, if they could even get a seat at the table. Research shows that women with children are less likely than men to be promoted due to the misguided assumption that family commitments cause them not to commit fully to their work, say Rachelle Strawther and Sherri Lynch, organizers of Gonzaga's WOMEN LEAD programs.
"This is the double bind that women continue to face," says Ann Ciasullo, associate professor and chair of Women's and Gender Studies. "But (work-family balance) is rarely a question we ask male leaders."
General Counsel Maureen McGuire believes the foundation of good leaders – honesty, integrity, reliability and work ethic – knows no gender.
Longtime Dean of Admission Julie McCulloh sees the issue "about the freedom from boxes: the ability to be seen, and evaluated, for something more than gender, race, disability, etc."
Interim Academic Vice President Elisabeth Mermann-Jozwiak, who draws her leadership lessons from feminist pedagogy and female mentors, says good leadership is much like good teaching. "A good teacher/leader is a good facilitator (not always the expert) and a willing listener. She is able to bring out the best in her colleagues by knowing and celebrating their strengths and by providing opportunities to overcome challenges. She assumes that there is strength in diversity and ensures that all voices are heard. She believes in the co-creation of knowledge. She encourages the integration of lived experience into the workplace. She always remains positive, and her enthusiasm is contagious."
Empowering women requires that women be undaunted in speaking up. It also requires all of us to listen with understanding.

By the Numbers

Enrollment

56% women

Staff and faculty

54% women

Supervisors

53% women

Academic deans

43% women

Executives

33% women
Dori Sonntag, associate vice president for University Advancement, began her career at Gonzaga 20 years ago when only 11 percent of Gonzaga's Trustees were female. Today, 26 percent are women.
"More than half our students are developing into professional women – teachers, doctors, engineers, entrepreneurs, nurses," Sonntag says. "Offering them the perspective of women leaders is essential to ensure that Gonzaga is providing the type of academic and social environment needed to support their personal and professional development."
Shannon Strahl is a former student who benefitted from mentoring offered by GU's women leaders. Now senior associate athletic director, she has advanced thanks to support from both male and female role models, to become one of the athletic department's leaders.
"(Athletic Director) Mike Roth has served as my boss since I started working in Athletics years ago, and his continuity and care of leadership has contributed significantly to my development as a professional. I also have developed relationships with women leaders on campus I look up to as role models; colleagues like Julie McCulloh and Jolanta Weber who have demonstrated for me what hard work, dedication and balance (if there is such a thing) can look like for a working mom," Strahl says.
Perhaps the field of education is way ahead of the curve. Weber, interim dean of the School of Professional Studies (name change to Leadership Studies coming June 1) and associate AVP, believes education is leading the way in empowering women. "We in education are more inclined to promote social progress and advance the equality of all people. We consistently provide meaningful opportunities to educate our constituents about the importance of inclusion and the value of human dignity more intentionally than most other industries," she says.
And she believes that supporting an inclusive environment when our female enrollment is so high, is something we owe to our students. "We create a lived environment where we don't just talk about, but actually practice and model, the value of supporting and including women leaders in formal leadership positions."
For this story, a dozen women at Gonzaga shared the context of their leadership experience here. The issues at hand can still be uncomfortable to share publicly, but we can definitely learn from – and implement – the suggestions they have for respecting women as equals, including, but not limited to:
Closing the gender pay gap
Developing more opportunities for women to be mentors to both women AND men
Listening more intently to women leaders
Refraining from stereotyping women as victims and men as adversaries
Working more closely to recognize the value in each other
Giving women the same respect given to male colleagues
Recognizing and trusting that women often have great intuition
Recognizing the value in being yourself. Women don't have to act tough to be good leaders. Transparency strengthens relationships and garners respect.
Embracing mistakes as an opportunity to learn and improve.
Celebrating family (work and personal) in the workplace
"Our female leaders are all incredibly productive women," Ciasullo reminds. "They have a vision for excellence for the University, and they make it happen. They are incredibly effective reaching out to various constituencies, listening to their needs, and making sure a myriad of voices is represented in important decision-making processes."
Father Pat Lee, S.J., vice president for Mission and Ministry, recognizes and appreciates the positive influence women in our workplace have on our mission. "(Assistant Vice President for Mission and Ministry) Michelle Wheatley is carrying our mission forward, and the Jesuits have asked all of us to do so, just as (Gonzaga's first two female vice presidents) Sue Weitz and Margot Stanfield did before her, and Vice Presidents Judi Biggs Garbuio and Elisabeth Mermann-Jozwiak are doing today. They inspire us to look at issues in ways we may not have before. We need women in important decision-making roles."
Women Lead: Building Bridges, Breaking Boundaries

May 18, 8 a.m.-5 p.m., Museum of Flight, Seattle, $179

Topics include: Emotional Intelligence, negotiation, compensation

March 14 Spokane Conference SOLD OUT