Gonzaga Falls to Florida State in Sweet 16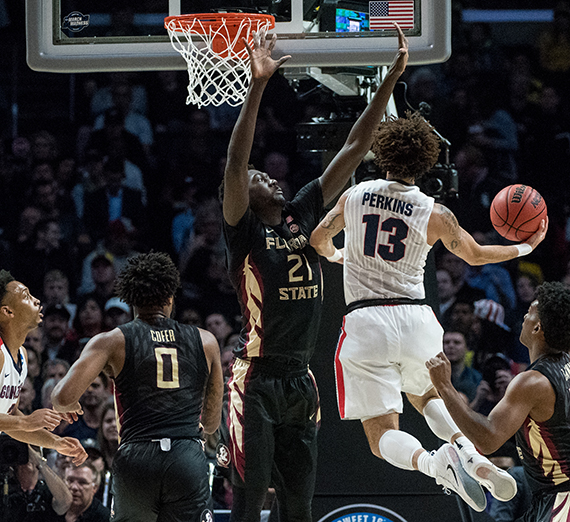 ---
Courtesy Gonzaga Athletics

LOS ANGELES (AP) -- Terance Mann grabbed the basketball with both hands and screamed, relishing his turn to be the high-scoring hero while Florida State steadily pulled away from Gonzaga.
If he doesn't get the opportunity again, the junior guard will be just fine with it. These surprising Seminoles are thriving on balance, discipline and tremendous teamwork during an upset run that has stretched all the way to the brink of the Final Four.

Mann scored 18 points and the ninth-seeded Seminoles advanced to the Elite Eight for just the third time in school history with a 75-60 victory over the fourth-seeded Zags on Thursday night in the West Region semifinal.

Mann was the only double-digit scorer for the Seminoles (23-11) as they coolly knocked off a third straight higher-seeded opponent in the NCAA Tournament -- one with a 16-game winning streak, no less.

''I'm sure there was a lot of nines and eights and sevens and fives on that box score?'' Mann asked, and he was right: Five Seminoles contributed at least seven points apiece.

''It's just about whoever's on the court is going to give you their whole effort,'' Mann said. ''It's amazing to be on a team like this and know that if you're not doing it, somebody else will pick you up.''

Maintaining a lead down the stretch at Staples Center, Florida State halted Gonzaga's push for a second straight Final Four berth by last year's tournament finalist.

Florida State followed up its stunning comeback against top-seeded Xavier last weekend with a steady, dominant second half against Gonzaga. The Seminoles jumped to a 13-point lead early in the second half and never let their margin dip below four, with Mann providing the biggest buckets along the way.

Rui Hachimura scored 16 points and Zach Norvell Jr. added 14 for the Zags (32-5), who hadn't lost since Jan. 18. Already playing without injured forward Killian Tillie, the Zags struggled when forwards Johnathan Williams and Hachimura got into early foul trouble.

''Every time we thought we had something going forward, they took it right back and got a big stop or a big bucket,'' Gonzaga forward Corey Kispert said. ''A credit to how tough they are, and how many close games they've played in. Really frustrating on our end, because those things usually happen for us down the stretch.''


BIG PICTURE
Florida State: The Seminoles' 11-man rotation, defensive energy and balanced scoring have all been a nightmare for three straight opponents. On both ends of the court, this is a prime example of a team coming into its best form at the perfect time in March.

Gonzaga: Foul trouble, poor outside shooting and sub-par ball movement all doomed the Zags, who didn't rise to the March challenge as impressively as last season's team did. That impressive run would have been hard to top, and they didn't.
NO CATCH UP
After a season of running away from West Coast Conference opponents, Gonzaga played from behind for much of the night, even trailing at halftime for only the sixth time all season. The Zags fell behind by 13 early in the second half while the Seminoles defended the perimeter well and moved the ball fluidly.


UP NEXT
Florida State: The Seminoles will be underdogs for a fourth straight time against Michigan. For the fourth straight time, they won't mind.

Gonzaga: Another offseason adding talent to coach Mark Few's West Coast powerhouse.