Gonzaga Launches School of Leadership Studies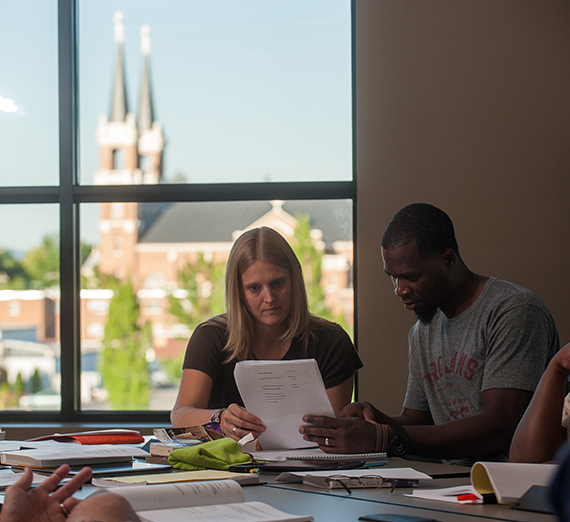 ---
SPOKANE, Wash. - With nearly 40 years of history offering leadership programs for graduates and undergraduates, Gonzaga University will establish a School of Leadership Studies effective June 1, affirming its commitment to the importance of this field of study for the institution, Gonzaga President Thayne McCulloh announced.
While leadership degrees from undergraduate to doctoral programs are proliferating at schools nationwide, Gonzaga is one of only a handful of universities with schools dedicated solely to leadership studies. Further, Gonzaga is one of the few schools to offer an undergraduate leadership minor, two different leadership master's degrees, and a doctorate.
"This concentrated focus will support the school's mission to educate individuals to impact their communities and deeply serve humanity as principled practitioners of leadership, scholarship, and communication. That purpose resonates profoundly and is very intentionally linked with Gonzaga's core mission: To educate students for lives of leadership and service for the common good," President McCulloh said. "The Catholic concept of 'service for the common good' derives from a belief in the dignity of all persons as created by God. This school will offer Gonzaga tremendous opportunities to serve as a conduit for social good through distinguished and innovative scholarship and thought leadership at the vanguard of this important discipline."
With more than 5,000 alumni of Gonzaga leadership programs worldwide, the new school will include the following existing academic programs: the undergraduate minor in leadership studies (for students in the Comprehensive Leadership Program), the Master of Arts in Organizational Leadership, the Master of Arts in Communication & Leadership Studies, and the Doctorate of Philosophy in Leadership Studies. The school also offers a wide variety of non-degree professional leadership training programs, including the Emerging Leaders Program, webinars, women's leadership conferences and programs customized for organizations.
The school's faculty offers decades of experience in developing leadership. Many of its programs are available to students worldwide through Gonzaga's leading-edge online learning technologies. The school's enrollment is currently 829 students in degree programs (including the undergraduate CLP students) and an additional 750 professionals throughout the year in non-degree leadership training and development courses. The school and its programs are headquartered in the Tilford Building on the west side of Gonzaga's campus. As a result of this new school, Gonzaga's School of Professional Studies will no longer exist after June 1.
Jolanta Weber, Ph.D., associate academic vice president, will serve as the interim dean of the new school. Weber said the school will allow Gonzaga to provide a more concentrated focus on leadership studies to benefit students worldwide.
"As we celebrate the 30th anniversary of the Master of Arts in Organizational Leadership program, we are proud to now serve our students as the School of Leadership Studies. This allows us the opportunity to better reflect what we do and connect with those looking for an excellent leadership education at the graduate level," Weber said. "Specifically, in response to today's focus on and demand for competence in effective leadership and leading change, the faculty have developed curricula and concentrations to provide students with opportunities to become more knowledgeable and practically skilled in the wide range of work that they do today and aspire to do tomorrow."
Gonzaga's Approach to Leadership Studies
Gonzaga, which in 1980 became the first institution to offer liberal arts-based doctoral leadership studies courses (as cited in "The Role of Leadership Educators: Transforming Learning
,
" Kathy L. Guthrie and Daniel M. Jenkins, 2018), offers a unique approach to leadership studies. Shann Ferch, Ph.D., professor in the doctoral program, said Gonzaga defines leadership studies as a discipline that generates leadership practitioners who are humble and caring toward the self, others, and the world, and whose leadership is imbued with wisdom, efficacy, and profound results.
"Leadership studies in the Gonzaga School of Leadership Studies transcend various disciplines and industries. No matter where our students and faculty come from we have one mission: to educate ethical individuals who understand and value the importance of service," Ferch said. "In a resonant echo of Ignatian-oriented leadership and leadership Robert Greenleaf defined as servant-leadership, our students engage leadership in ways that help others become more wise, more free, more autonomous, more healthy, and better able to serve others, while also ensuring that the least privileged of society are benefited or at least not further deprived. This fundamental orientation toward servant-leadership, coupled with our interdisciplinary nature, is what makes the Gonzaga School of Leadership Studies uniquely different from other schools."
For more information on leadership studies at Gonzaga, please contact
Gonzaga's student services team via email
or at (866) 380-5323, visit the
leadership studies website
or reach out to Interim Dean
Jolanta Weber
.