Boise Fans Cheer on Bulldogs in Round 1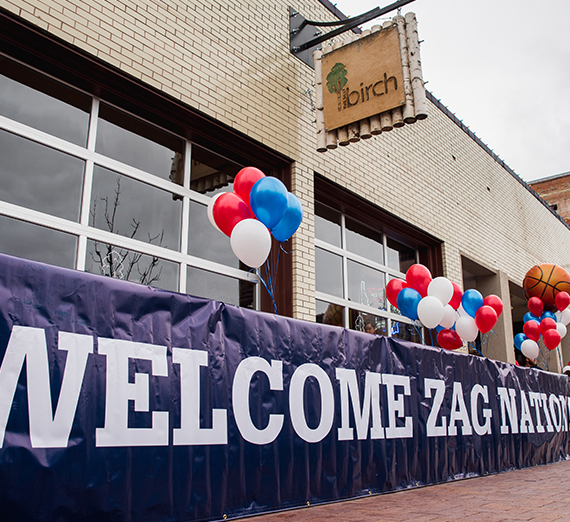 ---
By Ally Daniels, '12
Welcome to Boise, Zags!
The cities of Boise and Spokane are compared in conversation more often than you think. With similar sizes, demographics and Northwest culture, Boise Zags were proud to make traveling fans feel at home in the City of Trees.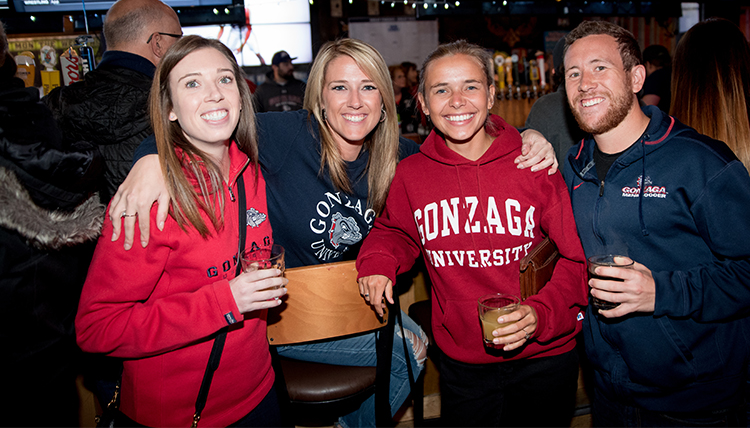 Boise residents and Zag alumni Liz Ryan ('15), Deni Hawkins ('13), Amelia Tiedeman ('13) and Casey Ames ('13) were thrilled when they found out that Gonzaga's first-round game would be in Boise. "The NCAA tournament is back in town after nine years – and it is so fitting that Gonzaga will be the first game to kick it off," said Hawkins. All four alums expected a "home game feel" in Taco Bell Arena and were eager to embrace Boise fans who needed a team to cheer for. Tiedeman shared her thoughts: "Especially as we're one of only two West Coast teams [in Boise for the tournament], I hope that the crowd gets behind the Zags." Her wish came true!
Love at First Game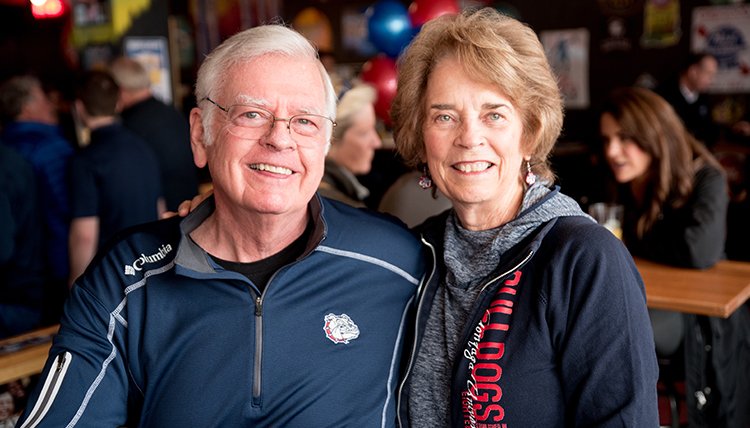 As season ticket holders for 45 years, Mike and Judy Reilly ('65 and '67) credit Gonzaga basketball for bringing them together. Mike tells their story: "We first met at a Gonzaga basketball game and from there, it was the beginning of the end. In a good way of course!" Making the trip from Spokane, the couple was amazed at the number of Zag fans they had seen already in Boise. They loved the opportunity to share a "Go Zags" with other fans on the street.
Not Just for Grads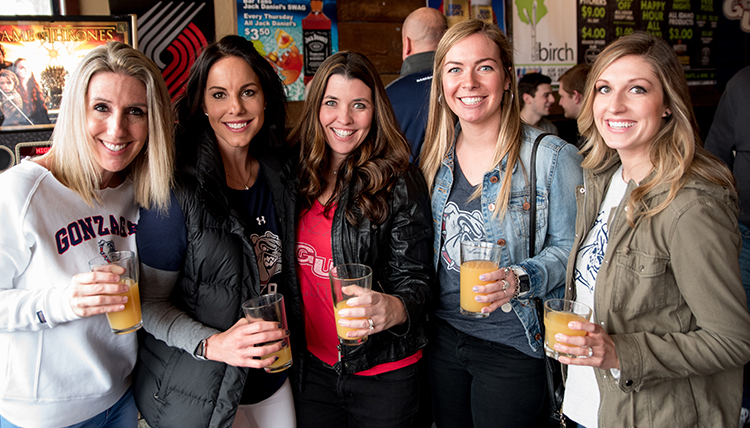 As a founding member of the Boise Gonzaga Alumni Chapter, Alli Tuszynski ('04) loves seeing the growth of the Boise fan base. Her good friend, Meredith Bloxham, became a Zag fan shortly after meeting Alli. "Alli was the first person I met when I moved here and she introduced me to Gonzaga athletics. The best part was that I immediately became part of this amazing community," said Bloxham. Talking with other pre-game social attendees, this theme resonated with many. No matter if you're an alumnus, student, parent, or friend, there's always enough Zag spirit to go around.
Family Reunion
The Brajcich family's Gonzaga ties run deep – Gary Brajcich ('73, '77 JD) not only met his wife, Mary Margaret (McLafferty) ('74) while she was a cheerleader at Gonzaga, but his father taught at Gonzaga for 55 years. The whole family was in town and eager to visit son Ben Brajcich ('10), who lives in Boise. Also part of the "family" was Harvi Cooney ('71), who has had six children attend Gonzaga and met Mary while they were in college. "I'm not surprised everyone is here – we're always up for a party when the Zags are in town" said Harvi before more former classmates called her over for a reunion picture.
Familar Face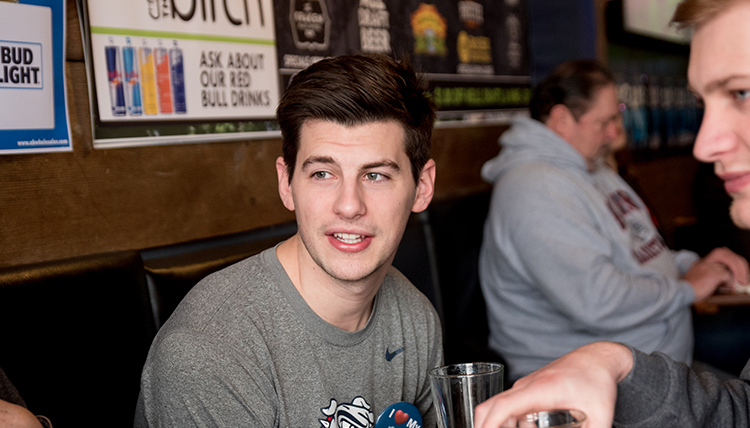 Fans were proud to have Rem Bakamus, '17, former Bulldog, join the game watch as well.
One Win at a Time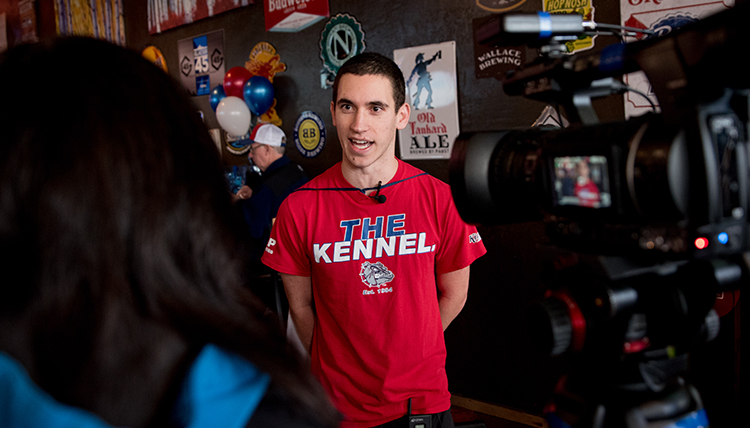 Recent graduate Kevin Bowen ('17), who made the 8-hour solo road trip from Seattle to Boise the night before, missed his Kennel Club days. However, he bonded with fellow Zags around him, starting chants and even making it on the Jumbo Tron screen. "I've been to Battle in Seattle, the Phil Knight Invitational and the National Championship last year. Every game matters – it really is one win at a time."
Energized with Bulldog Burritos and the anticipation of a "W" in the first round game, Zag fans made their way to Taco Bell Arena for the first round tip off. For many, the lighthearted and jovial pre-game feel gave way to nerves and intense focus as the UNC Greensboro Spartans kept pace with the Zags.
With Gonzaga fans spread throughout the arena, the final minutes of the game brought the entire stadium to their feet.
Winding down and gearing up
Walking the arena hallways after the win, the sense of relief for Zag fans was a common bond. "Go Zags" comments - made in passing to strangers with GU attire - conveyed camaraderie, enthusiasm and appreciation that the game was in the books. While some Zags stayed for other matchups, others ventured to the parking lots for tailgating and fresh air - complete with Gonzaga cornhole games.
With one Thursday of March Madness in the books and more Zags making their way to town for Saturday's game, there's no doubt that Boise is rolling out the red (and blue) carpet and gearing up for another win.
Let's go, Zags!