Through Stories, Michael Larson Aims to Change World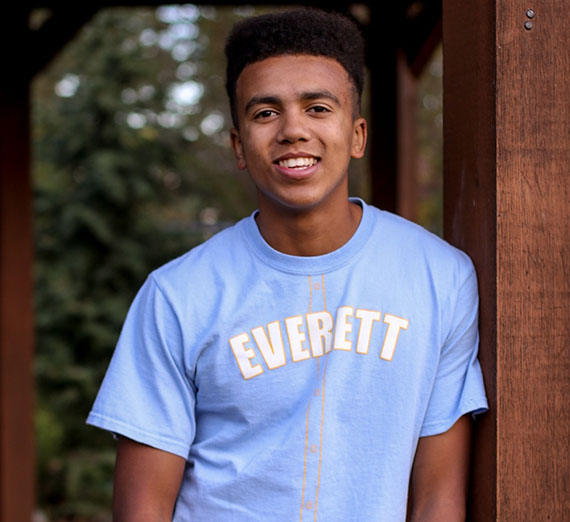 ---
By Megan Carroll
Class of 2018
Gonzaga News Service
SPOKANE, Wash. – Gonzaga University freshman Michael Larson is a natural-born leader driven by his passion for people. His participation in student government throughout his four years at Everett High School has inspired him to pursue a singular but hardly simple goal: change the world.
In high school, Larson followed in his older brother Jacob's footsteps and ran for student government his freshman year, which led to his election as class president for three years and student body president as a senior.
"The more I got into leadership, the more I could do to create events and get to know people. The ability to help someone, and host an event that creates change and positively influences others was something that I loved to do," Larson said.
As a senior, Larson made a remarkable commitment to help every student at his Everett, Washington high school feel welcome. He wanted his presidential legacy to be one of close relationships and kindness.
"I really focused on serving the people at my school, and I'd hold open the doors a couple of times a week in the morning and give high-fives," he said. "There were a couple of kids at my school who would sit alone at lunch, so I'd sit with them and try to get to know them better. That was always very rewarding. Those small things are what make the biggest difference."
As a high school junior, Larson watched a TED Talk about depression. This inspired him to create a video project six months in the making titled "Becoming REAL." In it, Larson and two of his peers shared their painful stories in hopes of reminding others that they do not have to suffer in silence or face their problems alone. The video has received more than 6,400 views on YouTube and coverage from King 5 News in Seattle.
"I have so many screenshots on my phone of all the positive responses people wrote to me in response to the video, and it's really powerful," Larson said.

Larson continues to create YouTube videos on his channel Michael.p.larson, including some that document experiences at Gonzaga like the First-Year Retreat. He recently created a video for an English class about the effects of racial discrimination titled "PLEASE underSTAND," which can be found on Larson's YouTube channel. In November, he finished a video project titled "Asking College Students for Advice."
Junior counselors at a leadership camp Larson attended in high school praised Gonzaga's tight-knit community, which sparked his interest. During his first visit to Gonzaga, Larson said he witnessed students' focus on relationships and caring for others. He knew then that Gonzaga was the school for him.
Larson recently decided to pursue a major in sociology and a minor in solidarity and social justice to help find solutions to complex social issues. He recently was accepted into Gonzaga's undergraduate leadership studies program, which develops students through a 21-credit minor.
At Gonzaga, Larson also pursues opportunities to strengthen his Christian faith, and continues to try to make the world a better place by fighting injustice and discrimination at every turn.

He is currently working on a documentary that shares the stories of underrepresented members of the Gonzaga community. The film will premiere on campus during the Gonzaga Student Body Association's Intersectionality Week, March 26-30.
Larson, who is considering running for student government next year, aims to continue to leverage the power of storytelling to positively influence others and change the world.