Zag Nation Celebrates 6th Gonzaga Day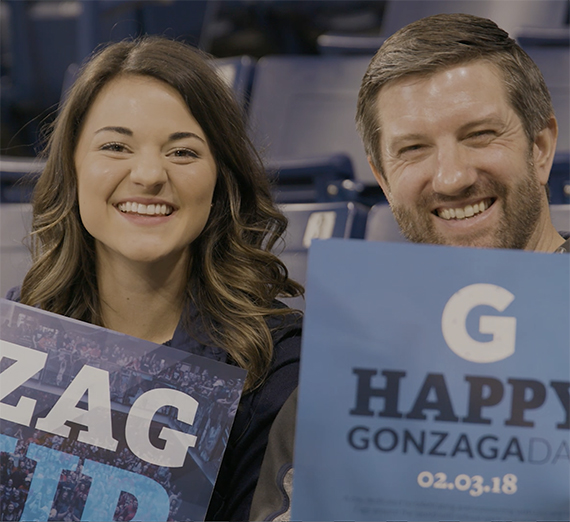 ---
Gonzaga News Service
SPOKANE, Wash. – Gonzaga University supporters worldwide united on Saturday, Feb. 3 to celebrate their connection to the University on the sixth annual Gonzaga Day. Fans in McCarthey Athletic Center and at more than 25 chapter events (Spokane to Seattle, Calgary to Tokyo) cheered on the Zags' basketball teams to victories over Brigham Young as the men won 68-60 in the Kennel and the women beat BYU 84-70 in Provo, Utah.
Thousands of Zags around the world gathered to watch the men improve their record to 21-4 in an ESPN/ESPN2 national broadcast. Gonzaga's women improved their record to 19-4 in another exciting victory.
President Thayne McCulloh thanked all members of Zag Nation – including Gonzaga students, alumni, parents, friends, employees, devoted supporters and casual fans – for their ongoing loyalty and support of Gonzaga.

"Each year on Gonzaga Day, we are so proud to witness Zags around the world gathering to celebrate what it means to be part of this tenacious and unwavering Gonzaga family. We want to say, 'thank you' and encourage Zags everywhere to stay connected with us and keep showing your Zag pride today and every day," President McCulloh said.

On Gonzaga Day, alumni were asked to provide career and other advice with current GU students. Alumni shared their words of wisdom, which included:
"Go for what you want. Don't hold back. Have faith that God will be there when you need Him. You can do anything – Gonzaga has taught you how." – Marianne Chambers, '90.
"55 years after graduating I still look forward to returning to the campus, which I do annually. Look forward to helping students financially if you are able to." – Benjamin Engle, '63.
"Take pride in all you do. You're a Zag." – Andy Foster, '89.
There are many ways to stay connected to Gonzaga:
Support Gonzaga students' career aspirations through the TREK program, providing career advice and mentoring, as well as offering job, internship, and networking opportunities
Refer new families to GU
Give to scholarship funds
Show Zag pride all around the world '89.
For more information and ways to connect with Gonzaga, visit www.gonzaga.edu/connect and follow Gonzaga on Facebook, Twitter and Instagram.