Grants and Publications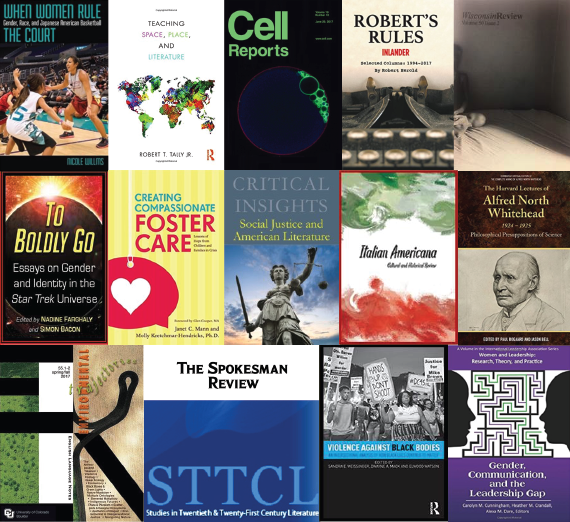 ---
2018 Grant-funded Summer Institutes
Native American Studies
In concert with Whitman College's Dr. Christopher Leise,
Dr. Laurie Arnold
won a grant from the
National Endowment for the Humanities
to host a Summer Institute for faculty development June 17 – July 1. The institute,
"The Native American West: A Case Study of the Columbia Plateau,"
will bring faculty from two- and four-year institutions together to explore a variety of perspectives on the Native American West, the Columbia Plateau, and U.S. history. Applications are available at
nativeamericanwest.org
and are due March 1.
Women's Leadership
Thanks to a grant from the
Women's Funding Alliance
, Gonzaga and WSU Health Sciences Spokane will host a
National Education for Women's Leadership
summer institute July 12-17, 2018. The residential program seeks to remedy the imbalance of women in political arenas to achieve a more representative system. The program also seeks to increase young women's leadership efficacy by providing development of leadership skills and coaching from past and present women leaders.
Cynthia Stavrianos
and
Heather Crandall
teamed up with WSU's Veronica Puente to submit the grant; applications are open now through April 20 at
spokane.wsu.edu/studentaffairs/new-leadership
.
Publications
Articles
Antonio Abeyta
, BIOLOGY, "Ubiquitination-Linked Phosphorylation of the FANCI S/TQ Cluster Contributes to Activation of the Fanconi Anemia I/D2 Complex,"
Cell Reports
;
Matthew Bolton
, ENGLISH, "'Like Oil and Water': Adaptation as Textuality, Intertextuality, and Metatextuality in Lady Snowblood (Fujita, 1973),"
Studies in 20th & 21st Century Literature
;
Ann Ciasullo
, ENGLISH and WOMEN'S & GENDER STUDIES, "Embattled Terrains: The Body as the Site of Social (In)justice in American Literature,"
Critical Insights: Social Justice and American Literature
;
Jessica Maucione
, ENGLISH, "The Revelatory Racial Politics of The Sopranos: Black and Brown Bodies and Storylines as Props and Backdrop in the Normalization of Whiteness,"
Violence Against Black Bodies: An Intersectional Analysis of How Black Lives Continue to Matter
; "White Ethnic Racial Backlash and Black Millennial Counter-narrative: Intersections of Race and Masculinity in Sylvester Stallone's Rocky Series and Ryan Kyle Coogler's Creed," Italian Americana: Cultural and Historical Review; "Teaching Literary Cartographies of Race, Space, Place and Displacement,"
Teaching Space, Place, and Literature
;
Michael Pringle
, ENGLISH, "Strange New Worlds: Gender Disparity in Star Trek: TOS,"
To Boldly Go: Essay on Gender and Identity in the Star Trek Universe
;
David Tagnani
, ENGLISH, "Materialism, Mysticism, and Ecocriticism in Environmental Trajectories: Modes, Debates, and Reconfigurations,"
English Language Notes
;
Tracy Simmons
, INTEGRATED MEDIA, "Faith and Values: In grief, there's a chance for reconciliation," "Evangelical Lutheran Church in America's Eastern Washington-Idaho Synod installs its first female bishop," "Faith and Values: Sharing stories allows us to really know others," "Faith and Values: Don't let yourself become desensitized to news of world," "Second Sikh temple opens in Spokane Valley,"
Spokesman Review
;
Torunn Haaland
, MODERN LANGUAGES & LITERATURE, "From this side of the barbed wire: Resistance, Love and Dialogues of Subversion in Primo Levi's 'Se questo e' un uomo' (1947),"
JASIA
Books
Brian G. Henning
, PHILOSOPHY, General Introduction of
The Harvard Lectures of Alfred North Whitehead, 1924-1925
;
Nicole Willms
, SOCIOLOGY,
When Women Rule the Court
;
Heather Crandall
, COMMUNICATION STUDIES
Gender, Communication, and the Leadership Gap;
Molly Kretchmar Hendricks
, PSYCHOLOGY,
Creating Compassionate Foster Care: Lessons of Hope from Children and Families in Crisis
;
Robert Herold
, POLITICAL SCIENCE,
Robert's Rules: Selected Columns: 1994-2017
Fiction
Beth Cooley
, ENGLISH, "Photo Op,"
Wisconsin Review
Academics
College of Arts & Sciences