Unknown: New world, new star.
Meet Pzremek Karnowski.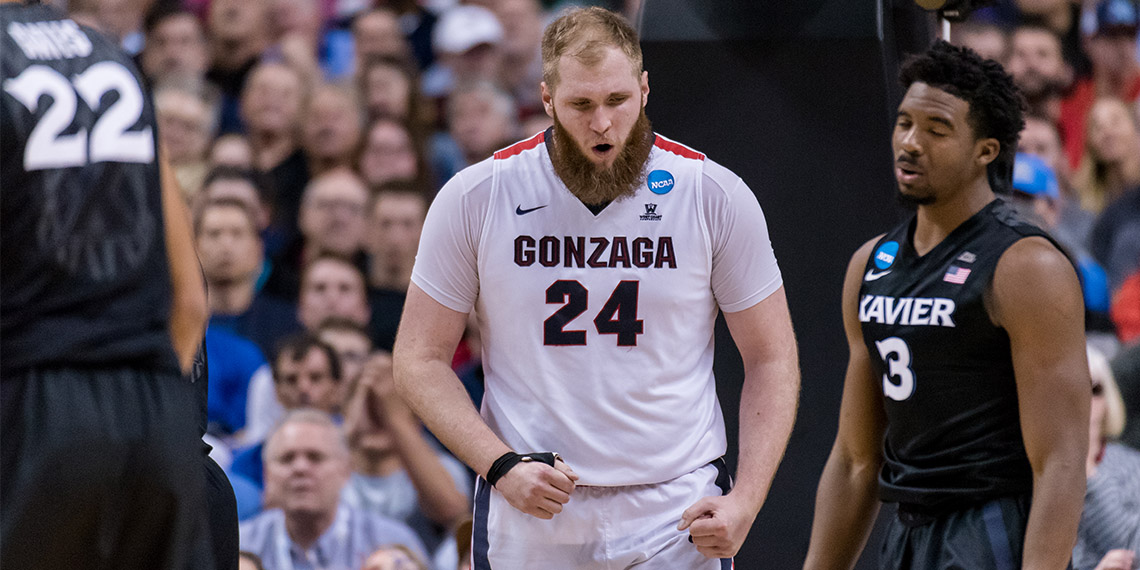 International students bring home victory
Is basketball a universal language? At Gonzaga, the answer is yes.
When Przemek Karnowski came to Gonzaga from Poland in 2012, he confronted a lot of unknowns. Living half a world away from family and friends, strange culture, challenging language, tough academics—all added up to a nerve-wracking start to life in Spokane.

Fast forward to March 2017. Karnowski has settled in, mastered English, earned a bachelor's degree in sports management, and begun a master's degree in business administration. He's also become a star.

As a member of the Bulldogs basketball team, Karnowski has become a fan favorite, participating in more victories than any player in NCAA Division I history. "Przemek has to be on the Mount Rushmore of Gonzaga basketball," says Tommy Lloyd, head assistant and chief international recruiter. "He's a high IQ player with a great skill set and a strong work ethic."

Karnowski represents a common thread among GU players. Many have been recruited from abroad—Gonzaga's roster includes players from Denmark, France, Canada, and Japan—as part of an intentional effort to enrich both the team and campus culture.

"At the very core of Gonzaga's mission and Jesuit identity is the desire to go out into the world and build connections," says Joseph Kinsella, director of Gonzaga's Center for Global Engagement.

As part of the university's commitment to international students, players receive coaching not just in basketball, but in adjusting to rigorous college-level course work and life in a small American city, as well as in English.

As Karnowski confesses, "My biggest fear coming here was knowing that all of my learning—going to class, reading, studying, writing papers, taking tests—was going to be in English. On top of that, everything with my coaches and teammates is in English."

With Gonzaga's robust ESL program, and steady support from classmates, other players, and university staff, Karnowski declares, "The school does a good job of helping us succeed."

"I feel like I have come so far as a player and as a person at Gonzaga."