Regional Health Partnership Report to the Community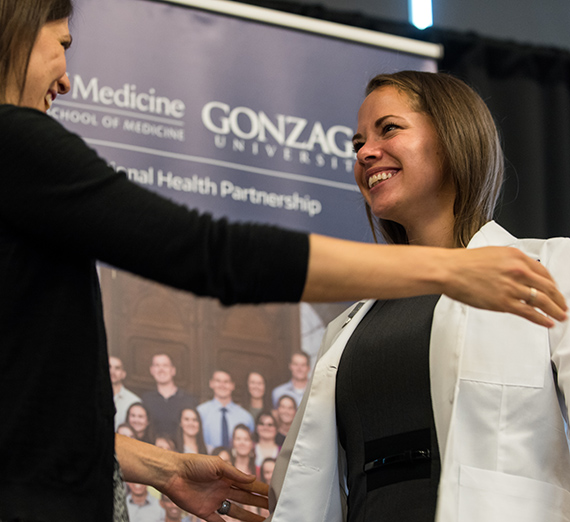 ---
A new Report to the Community about the UW School of Medicine–Gonzaga University Regional Health Partnership, issued on Feb. 15, 2018, concludes the program is exceeding the expectations of students, faculty and the community.
The partnership, forged in early 2016, "is on a steady path toward realizing its goal of improving the health and economic vitality of our region."
Joint Statement of Presidents Cauce, McCulloh
Two years ago this month, we gathered in Spokane to announce a new partnership between Gonzaga University and the University of Washington. Its mission: improve the health and well-being of people throughout Eastern Washington and beyond.

Since then, we've welcomed two incoming classes of medical students to the UW School of Medicine on the Gonzaga campus. The students in the first class finished the foundations phase in December and are now continuing their education in clinical clerkships across the area. Our medical students are joined on the Gonzaga campus by students from MEDEX Northwest who are preparing to serve patients as physician assistants.
In addition to educating the next generation of doctors and health professionals, we're also partnering with community leaders to advance the region as a hub for healthcare research and innovation.
We've created a Research Task Force of faculty and community leaders, and CoMotion, the UW's innovation hub, has spent the past year working with entrepreneurs and startups out of its Spokane office.

All of these milestones and more are outlined in a new report to the community that you can read online and in the February 15 edition of Spokane Journal of Business. Each accomplishment has been made possible because of your support and the support of leaders and policymakers across Washington. We want to thank our many supporters for all that they do to help improve the health and well-being of our neighbors and our communities.
Ana Mari Cauce and Thayne McCulloh
>> Download and read the report (Feb. 15, 2018)