Finding Your Place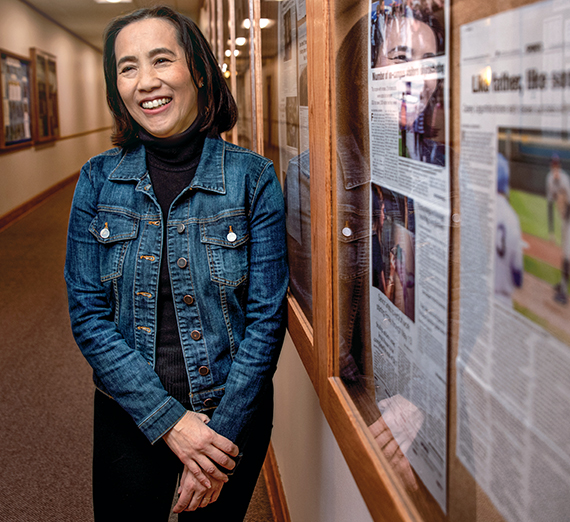 ---
By Dale Goodwin ('86)
Every once in a while you run into a person who warms your heart instantly. A person who sees you first as a human being with dignity and welcomes you to the family. In the case of Gonzaga Student Media, that person creates a home on the fourth floor, east end of College Hall.
She hears her students pining for a root beer float, drives to nearby Safeway and comes back with root beer floats for everyone.

She's as much like a mom and mentor as she is a boss, and equally adept at all three.

Students over the past 24 years paint this loving picture of Joanne Shiosaki, director of student media including The Bulletin, Spires and more.
"She's like the captain of the ship," says Zack Berlat ('11), who met his wife, Megan (Hervey '11), working in Student Publications. "Joanne lets the students take over, but she's there to make sure the ship doesn't go too far off course."
Early this academic year, Shiosaki stayed late just to be a resource for many of her media staffs who were meeting that night. "I called (husband) Charlie and he brought dinner down. I just wanted to get to know all of our new students," she said.
She was about to leave around 8 p.m. and noticed another group of students funneling in. It was the photographers. Her new photo editor, Matt Repplier, was about to conduct an orientation meeting.
"So I just wanted to make sure Matt was OK . . . before I knew it, I was hearing laughter and great joy reverberating from the room. You could tell they were already comfortable, feeling at home.
"It makes my heart really warm when I see groups of students come together with a shared passion, create friendship and learn to create something bigger than themselves," she said.
Vice President Judi Biggs Garbuio says Shiosaki meets students "where they are," something important in all areas of Student Development. "If you ask any student or alum what they value about Gonzaga, it is a sense of community that is created here – and they are a part of."
Kayla Cartelli ('14) came to GU to compete on the rowing team, but her passion was the arts. "When I came to college I no longer had a craft closet or a painting studio in my parents' basement. I didn't realize how much I missed artistic expression until I began working on the Spires yearbook. That gave me a group of people who could talk color and fonts with me, and were as excited about these topics as I was. To this day some of my best friends are ones I met in Student Publications." After graduation, Cartelli became assistant director of the department.
Shiosaki's influence stretches beyond current students. Former student photographer Matt Weigand ('16) recently faced a family tragedy and "Joanne instantly dropped what she was doing to selflessly help me during my time of need," he said, "just as she has done for countless other students."
Kellen Faker-Boyle ('15), who served as a student designer during his time at GU, is building a career writing and creating music and music videos, and working as a graphic designer. He even opened a concert at Vashon High School in Seattle for Macklemore. Yet he has returned to campus the last two summers to provide design training. "He's a great teacher. And he's family," Shiosaki said.
"Joanne and Charlie host a big spaghetti dinner at their home for the staff each year. It was so out of the ordinary to see a staff or faculty member off campus, let alone be invited into their home," said Erika Robertson Hackney ('10). "It really sets the tone that Student Pubs is more than just a club; it is a family."
But Shiosaki is quick to deflect credit. "As we age, we see how important family is, and Student Media is simply a microcosm of Gonzaga," Shiosaki asserts. "Whether in GSBA, the Career Center or clubs and orgs, students seem to find friends and 'their place' in many of our co-curricular activities."
No better example of that than Taryn Brandel ('17), who found herself far from Phoenix, got involved in Setons and served as their president, but really hadn't found her home. She considered transferring. Then she found her niche selling ads for Student Media, and with it she found her place at Gonzaga.
"It takes some time to find your home here," Shiosaki said. "But when you do, you know it."
Learn about the many opportunities to be involved in Student Media,
here
.