Candlelight Christmas Concerts Dec. 7-8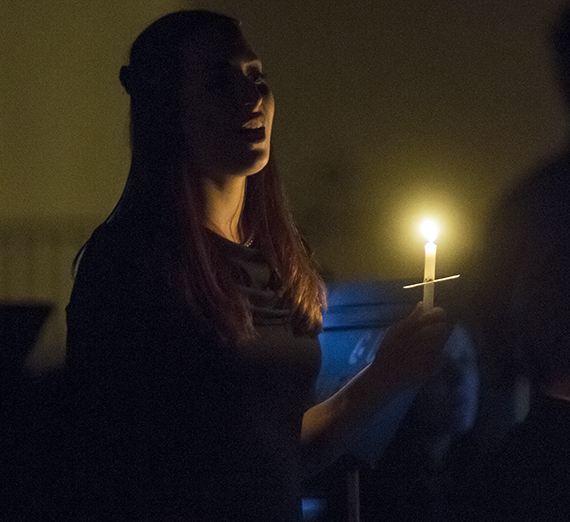 ---
'Child of Light'
Gonzaga News Service
SPOKANE, Wash. — The 125 singers of the four Gonzaga University Choirs, along with Spokane Brass Quartet, will perform their annual Candlelight Christmas Concerts in St. Aloysius Church on Friday, Dec. 7 at 7:30 p.m. and Saturday, Dec. 8 at 2 p.m.
The annual Candlelight Christmas Concert, "Child of Light," draws its title from a new composition (GU Choirs premiere) by Daniel Kantor, composer of "Night of Silence," which has been broadcast worldwide on PBS and NPR, and performed by the some of the world's finest choral groups, orchestras, ensembles and singers.
"'Child of Light' gives voice to our need for light — literal and figurative — found in music from across the world. Carols from Austria, France, Germany and England contrast with music of the West Indies and Puerto Rico," said Timothy Westerhaus, who conducts the Concert Choir. "The concert theme invites us all to share our own light and extend kindness and welcome all into our community. Styles range from traditional carols to jazz and spirituals."
Westerhaus encourages audience members to bring their singing voices for participatory carols. Instruments include classical guitar, jazz trio, colorful percussion, the Spokane Brass Quartet, marimba, and brass quintet.
Tickets are $15 for the public ($20 at the door) and $10 for students and seniors ($15 at the door) for both shows. Children 12 and younger may attend for free. To purchase tickets, visit: https://commerce.cashnet.com/GUChoir
For more information about Gonzaga music, visit the Gonzaga music department online.