Being There - The Lasting Bonds of Zag Friendship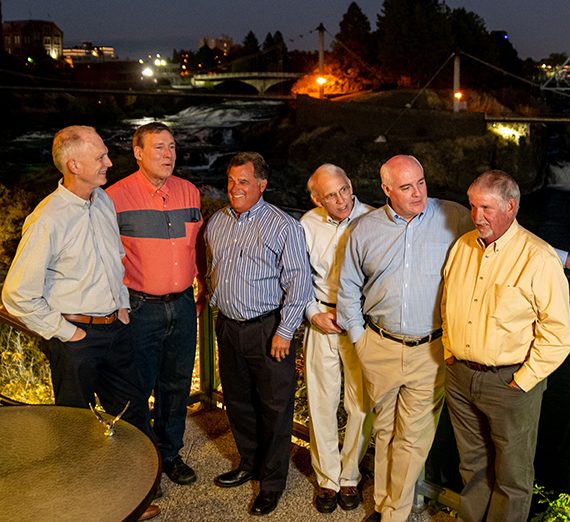 ---
By Dale Goodwin ('86)
There isn't a special formula or criteria for forming strong bonds. Simply put, you learn to love by loving one another.
Certainly that is true for many Zag friends who come together through their Gonzaga connection and nurture binding friendships long after they flipped their tassels, tossed their caps and tipped their last glass at Jack and Dan's.
Six GU friends from the Class of 1978 are examples of that hard-to-define definition of what it means to be a Zag, yet you all know it when you see it, feel it, experience it in your lives.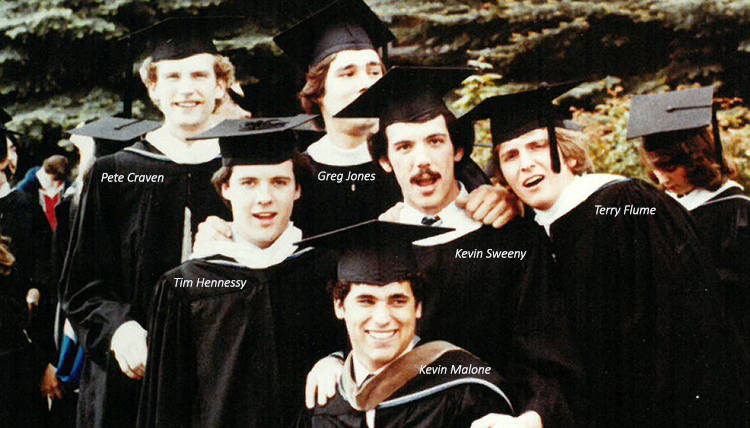 These six came together for Reunion 2018 in Spokane – Kevin Sweeny, Kevin Malone and Greg Jones, Spokane; Terry Flume, Boise; and Tim Hennessy and Peter Craven, Portland. While flattered I wanted to tell their story, these guys were clear: "We're not atypical. Many groups of Gonzaga grads have maintained strong and lasting friendships over the years."
"I'm grateful for these friendships. When someone needs something, we reach out, say I love you, and do what we can to help each other," Sweeny said.
For example, when Malone got word last June that Hennessy was in the hospital about to undergo open heart surgery, he rallied the other four and they all got to Portland by the time Hennessy awoke after surgery.
"I woke up about 3 in the afternoon, and it meant a lot to me to see these five incredibly handsome men there in my room," Hennessy said, with a smile.
However, Malone added, "After two days, Tim said, 'I love you guys but it's time to get out of here and go home.'"
Sweeny knows what it means to be there for his friends. They were there for him during the loss of two sons, four years apart.
"I don't think my wife (Donna) and I would have survived had it not been for the love and support of these guys," Sweeny said. "They've been there for us through our journey. And often, they didn't need to say a word. Just being there spoke volumes."
"We've been in each other's wedding, Godparents to the others' kids, and around for a lot of major events in our lives," said Malone, who may be the glue that keeps this bond between six strong.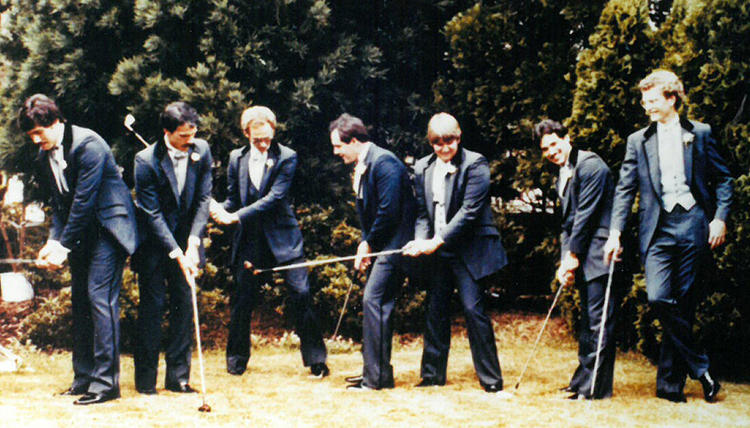 Pictured: The guys gather for Tim Hennessy's wedding.
Throughout the past 40 years the boys of '78 have traveled the west coast, in 2017 to the Final Four in Phoenix, and on annual golf expeditions, from Palm Desert, Las Vegas and Scottsdale to the Oregon Coast and even Ireland several years back, where they overcame gale-force winds and rain, with the help of a few beers, to make it perhaps their most memorable adventure together. Now
Malone is planning a return trip for the group, but this time to tour the churches of the green isle.
"He (Malone) calls it a Church Crawl," Hennessy said with a chuckle. "I hope we get back there sooner than later as we're moving toward our final chapters."
But it doesn't look like these guys, in their early 60s, are slowing down.
They still enjoy reliving their youth – time spent in the basement of Madonna or at the bar in the Bulldog swapping stories. "Obviously, we need to keep some of our college events under wraps . . . not bad stuff, but good fun," Hennessy said.
"Gonzaga formed the foundation of our friendships and who we are today," Malone said. "All of us have been married for more than 30 years to our first wives. We've all had professional success and raised good kids"
Sweeny and Jones are retired doctors, Hennessy retired as president of De La Salle North Catholic High School for inner city children after a long career in technology, Flume recently sold his successful printing business, Craven has been a successful in finance, and Malone a health care executive.
Three of the wives are GU alumni: Katie (Sutton) Hennessy ('80), Vicki (Dieffenbach) Flume ('78), and Anne Claire Buckley Jones ('78).
"We're don't' want to be bragging blow hards," Sweeny said. "Like so many other Zags, you just can't put a value on the friendships that our group, and many others, have gained through our Gonzaga experience."