Gonzaga Exceptional Hockey Program Expands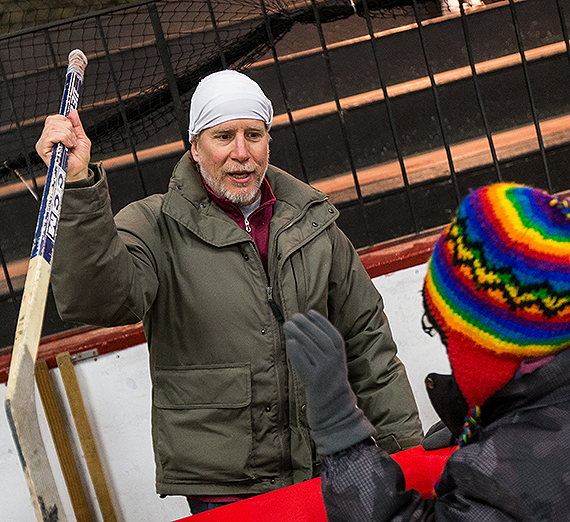 ---
(above) Mark Derby, Gonzaga professor of school psychology, started the program in 2008.
By Matthew Kincanon
Gonzaga News Service

SPOKANE, Wash. — The Gonzaga Exceptional Bulldogs Hockey program, launched by school psychology Professor Mark Derby in 2008, has expanded and helped more youth overcome learning and communications difficulties thanks to donations from The Isaac Foundation — allowing it to become part of the Spokane Youth Hockey Association.
The program, which runs from October through March, teaches hockey to youth ages 3 through 21 with Down syndrome, autism spectrum disorder, sensory processing disorder and attention deficit hyperactivity disorder.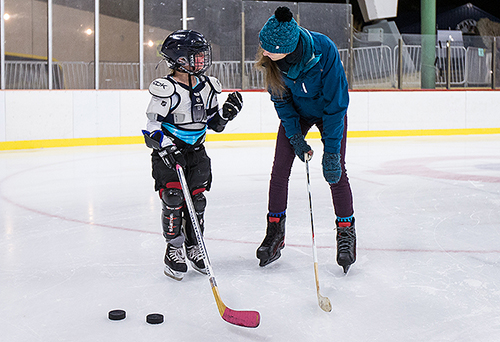 Thanks in part to a relationship facilitated by former School of Education Dean Vincent Alfonso, the Isaac Foundation has made donations to help provide equipment to participants since the start of this year. The equipment includes helmets, shin guards, shoulder pads, elbow pads and other basics that students need.
"The collaboration with Isaac Foundation helps us establish a wider net of kids to recruit for the program because they are the largest parent financial support charity for autism in the area," Derby said. "This program is very rewarding for the kids involved. It connects them to something that's theirs. That's an important part of growing up and being an adolescent."
The Isaac Foundation is a nonprofit organization in Spokane founded by Holly Lytle in memory of her son, Isaac, who had autism and passed away unexpectedly in 2007. The foundation's mission is to "enhance the lives of its region's autism community through educational, emotional, and financial support programs" to give individuals with autism and their families the tools necessary to be active, secure and engaged members of the community.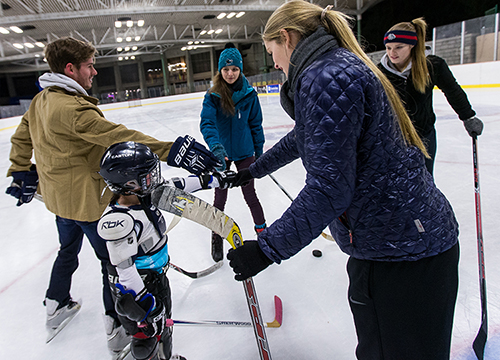 The partnership with the Spokane Youth Hockey Association provides students access to all equipment except skates and hockey sticks for a minimal cost per year.
Among other collaborations, Derby said, participants have scrimmaged at halftime of a Spokane Chiefs hockey game. In other recent program changes, practices have moved from downtown to the Eagles Ice Arena. Practices, involving 10-16 students, will be held on Sundays at 3 p.m. so more families can attend.
With the donations the program has received, Derby said he hopes to work with two groups of youths in the program – a beginner group and an intermediate group – with a goal of serving a total of 40 youngsters by the end of the year. The difference between the groups is skating ability.
Erin Brooke Earnest, who completed a master's in special education with an emphasis in applied behavioral analysis at Gonzaga in May, received Gonzaga's Jeanne Foster Wardian Leadership in Education Award last year for her tireless work on the program when Derby was on leave. Earnest said she was challenged to organize volunteers and parents, coordinate practices, and discuss the program in some classes.
Earnest recently accepted a job as a behavior technician at Footprints Behavioral Interventions in Portland.
"Trying to tell people on knife shoes what to do can be a little intimidating," Earnest said. "I did it because the kids needed this program more than I needed to be afraid."
Derby said the program is developing training modules that focus on basic skills — such as passing the puck, skating, shooting and getting up off the ice — and he aims to soon have two working groups: one for beginners and another for advanced skaters.
The program welcomes more Gonzaga student volunteers from any major and background. Derby said his objective is to make the program more broadly supported by the entire community. In addition to Gonzaga students, Derby said the program has had volunteers from Eastern Washington University and Washington State University this last year.