Being the Match is Being the Cure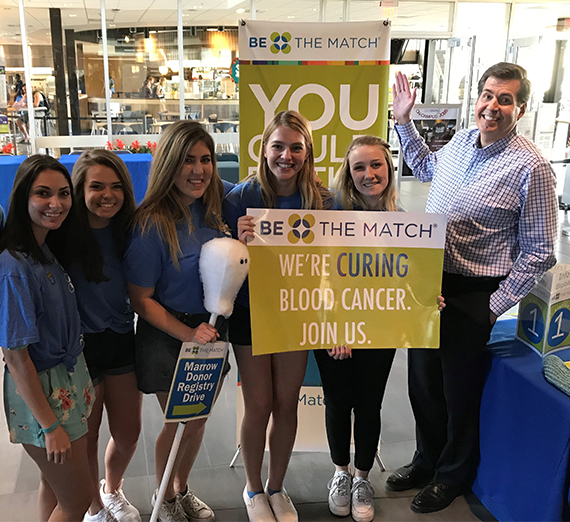 ---
By Dale Goodwin ('86)
Giving just seems to run in her family.
Tori Fairhurst's father, Stan Fairhurst ('52, '55 M.A., '55 M.Ph.), was a longtime GU administrator and professor, and cared deeply about his alma mater and its students. All but one of his seven children are Zags. You might have heard about Mary Fairhurst ('79, '84 J.D.), one of three Zag graduates sitting as Chief Justice on the Washington State Supreme Court. Now the spotlight is appropriately on the work of little sis Tori ('88), who learned during her college days that marrow transplants can CURE blood cancer and other blood diseases, and has been campaigning for donors ever since.
She is the West Coast partner relationship manager for Be The Match, the national nonprofit marrow donor registry.
"I joined the registry when I was a student at Gonzaga," Tori says with pride. Now she travels the left side of the country raising awareness. "Our goal is not to sign everybody up, but to let everyone know that curing cancer is possible," Fairhurst says. "Some people sign up immediately. Some need time to think about it," Fairhurst says. "It's important for people to understand that donating is easy and safe."
At any given time, there are 14,000 patients who can be cured with a marrow transplant; many of them don't find perfectly matched donors in time to save their lives. "We aren't matching blood type," Fairhurst explains, "we're matching tissue type, which is literally a million times more difficult. The solution is simply to add as many people to the registry as possible, with this message: There is a cure for blood cancer and it could be you. Being the match is being the cure."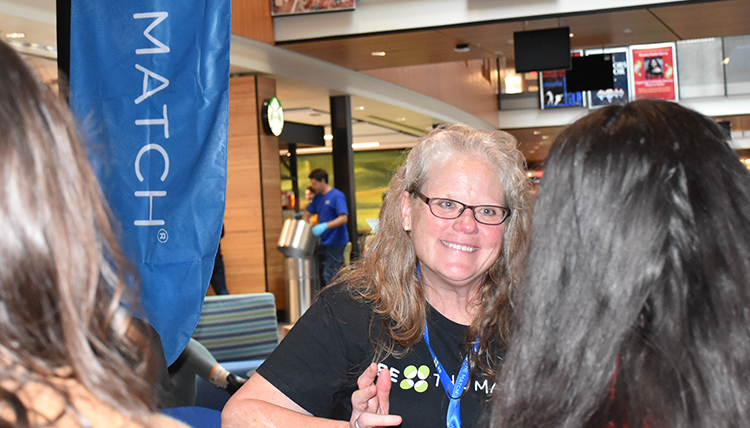 Last year, she worked with a team of GU students led by Sabrina Williams ('19) to create two awareness-building campaigns on campus, adding 250 to the national registry.
Williams, who wants to attend medical school, really didn't know what she was getting into with Be The Match before meeting Fairhurst in person.
"She captivates a room," Williams says. "She makes you smile just being in a room with her. After chatting with her, I felt as excited about Be the Match as she was, and I wanted to go tell everyone about it."
A member of GU's Love Your Melon club, which does outreach to hospitalized children with cancer, Williams was impressed to see Fairhurst recognize a few basketball players as they strolled by their booth in Hemmingson Center and immediately engaged them. Then President Thayne McCulloh stopped by, they hugged and he was quickly on board. Tori's enthusiasm is infectious.
And apparently, giving is in the Fairhurst DNA.
For more information, visit Join.Be.The.Match.org/GOZAGS