Alumni Accomplishments From the Winter Issue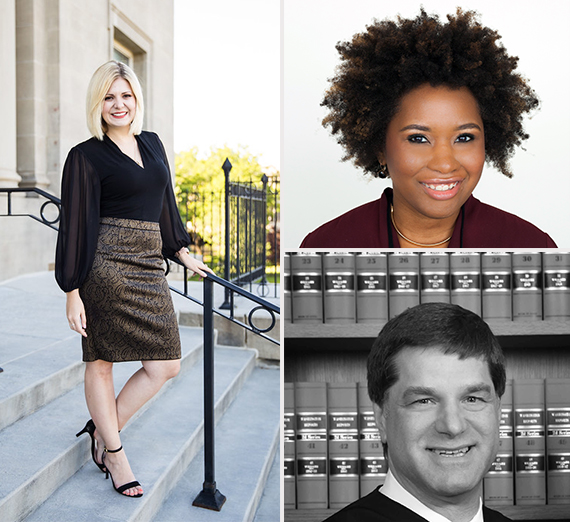 ---
Artistic Accomplishments
'96 Pilar Biller was named 2018 Nevada Teacher of the Year for her contributions as an art teacher at Damonte Ranch High School. She strongly advocates for her students to share their work in the community and collaborate with service organizations.
'06 Jennifer Joyce performed Violin Concerto No. 2 by Zach Gulaboff Davis in its world premiere at Carnegie Hall. She made her soloist debut at Carnegie Hall in 2014. While at Gonzaga, Joyce performed in the choir under Director Ed Schaefer.
Women in the Medical Field
'03 Ann Marie Tripp-Pendleton, mental health director of Children's Village in NYC, is a psychologist who has dedicated herself to serving children and families throughout New York. She also has been recognized for her advocacy for children's education, child trafficking intervention, and service in foster care settings.
'06 Gretchen Taylor is an assistant professor of medicine at the Mayo Clinic of Arizona.
'08 Ashley Court was certified as a specialist in Neurologic Physical Therapy.
'12 Tara Miller published her findings in a case study on Self-Regulation Therapy in a medical journal. She is passionate about finding ways to avoid further trauma in the healing process of patients.

Pictured: Marissa Morrison, Mashonda Taylor, Tara Miller
Notable Career Moves
'02 Rebecca Miles was elected by her community as the youngest candidate and the first woman to serve as chair of the Nez Perce Tribal Executive Committee. As executive director, she's committed to protecting the tribe's resources, ensuring safe work environments for employees, and improving education.
'03 Greg Francis was promoted to director of operations for Spokane's ALSC Architecture. His expertise includes information implementation and business process improvement. (Pictured at top)
'09 Mashonda Taylor was appointed to the Birmingham Planning Commission by City Council members. She facilitates responsible development of the city, including transportation, community facilities and land use.
'14 Marissa Morrison joined Boise-based Bilbao & Co. as strategic communications specialist. "I believe in building relationships based on honesty and trust and being part of the Bilbao & Co. team allows me to do just that," she says.
'84 J.D. Bruce Spanner received the Washington State Bar Association's Outstanding Judge Award for his service in Benton and Franklin counties. He is committed to pursuing equal justice under the law and was honored for his deep involvement in the community.
'85 Anne Dennis-Choi has spent her entire career working in nonprofits serving youth and families; the last 10 years at AK Child & Family. She was recently promoted to president and CEO, becoming the first female leader in the organization's 128 years.
'10 M.B.A. Jason Jones traveled to India with 3M, an organization that sends volunteers around the world to collaborate with local nonprofits or government to contribute solutions to social and environmental issues. Jones credits the Gonzaga M.B.A. program with preparing him for the experience. Read more about his time in India on his LinkedIn page.
'15 Suzanne Mikesell studied Maasai communities and sustainable approaches to human/wildlife coexistence in Kenya. She majored in biology at Gonzaga and works as an operator at the San Diego Zoo Safari Park.