N.Y. Times Columnist Nicholas Kristof Speaks at Gonzaga Nov. 5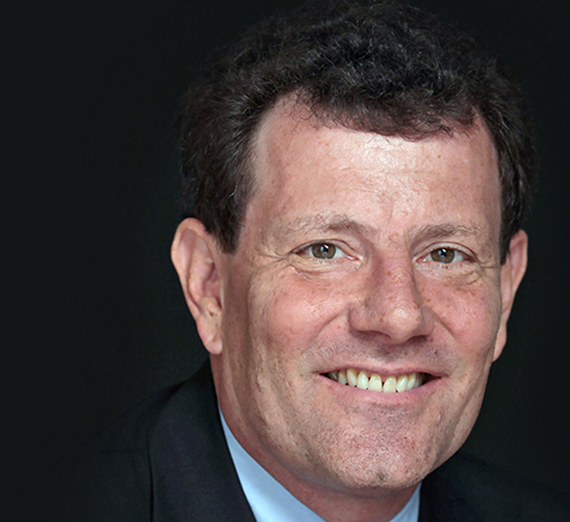 ---
Humanities Washington and Gonzaga Center for Public Humanities
Present Discussion on Democracy and Journalism
Gonzaga News Service
SPOKANE, Wash. — Two-time Pulitzer Prize-winning journalist Nicholas Kristof will appear in Spokane on Nov. 5 — the day before the 2018 midterm elections — to discuss the role of a free press and quality journalism in a healthy democracy.
Presented by the
Gonzaga University Center for Public Humanities
and the nonprofit
Humanities Washington
, the lecture will take place at 7:30 p.m. at the Hemmingson Center Ballroom. The cost is $10; for tickets visit
https://commerce.cashnet.com/GUCPH
A Pacific Northwest native, Kristof has been a columnist for The New York Times since 2001. With his wife Sheryl WuDunn he has coauthored several books including, "A Path Appears: Transforming Lives, Creating Opportunity" (2014), and the national bestseller "Half the Sky: Turning Oppression into Opportunity for Women Worldwide" (2009).
"The opportunity to hear Kristof's perspective on current events the day before the 2018 midterms is an incredible opportunity for Spokane," said Julie Ziegler, executive director of Humanities Washington. "In this overheated political climate, we can forget that core journalistic principles — truth and accuracy, independence, fairness and impartiality, humanity, and accountability — serve an essential purpose to maintaining a healthy democracy. Kristof has seen firsthand what happens when governments restrict speech and journalists are jailed, and has been an important voice in political reporting."
The event is part of Humanities Washington's comprehensive statewide fall series, "Moment of Truth: Journalism and Democracy in the Age of Misinformation" featuring free events in Spokane, Seattle, Tri-Cities, Tacoma, and Yakima. Humanities Washington's series is part of a nationwide initiative entitled "Democracy and the Informed Citizen" that aims to deepen public knowledge and appreciation of the vital connections between democracy, the humanities, journalism, and an informed citizenry.
Kristof grew up on a sheep and cherry farm near Yamhill, Oregon. He graduated Phi Beta Kappa from Harvard College and then studied law at Oxford University on a Rhodes Scholarship, graduating with first class honors.
In 1990, Kristof and WuDunn, then also a New York Times journalist, won a Pulitzer Prize for their coverage of China's Tiananmen Square democracy movement — becoming the first married couple to win a Pulitzer for journalism. Kristof won a second Pulitzer in 2006 for commentary for what the judges called "his graphic, deeply reported columns that, at personal risk, focused attention on genocide in Darfur and that gave voice to the voiceless in other parts of the world."
Kristof has also won other prizes including the Anne Frank Award, the George Polk Award, the Dayton Literary Peace Prize, the Overseas Press Club Award, the Michael Kelly Award, the Online News Association Award and the American Society of Newspaper Editors Award. He has taken a special interest in online journalism and was the first blogger on The New York Times website.
Humanities Washington thanks the Andrew W. Mellon Foundation and the Selinger-Shone Foundation for their support of this initiative, and the Pulitzer Prizes for their partnership.
More information on Kristof can be found at
www.facebook.com/kristof
and
twitter.com/NickKristof
.
For more information, please contact Brian Cooney, English professor and director of
Gonzaga's Center for Public Humanities
, at (509) 313-6680 or
cooney@gonzaga.edu
or David Haldeman, communications director,
Humanities Washington
at
david@humanities.org
.