Meet Sophie Whittle: Gonzaga's First National Tennis Champ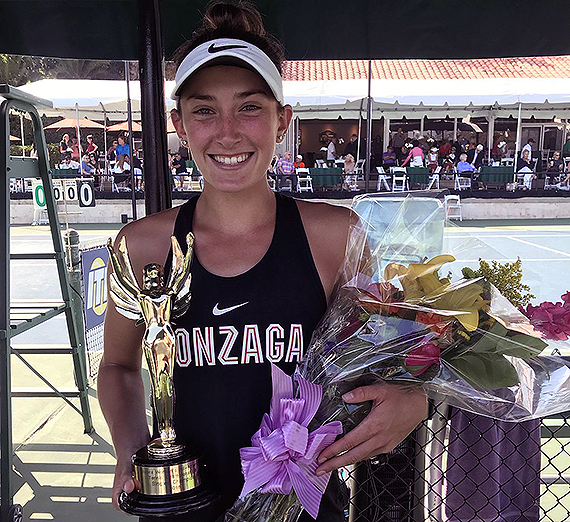 ---
Gonzaga News Service
SPOKANE, Wash. — Meet Sophie Whittle, a senior from Nipomo, California, who has earned a title no one else in the history of Gonzaga University tennis can claim: national champion.
In a stunning display of physical fitness, mental toughness and determination, Whittle fought through a badly sprained ankle to capture the Intercollegiate Tennis Association national crown Oct. 7 at the ITA/Riviera All-American Championships in Los Angeles with a three-set victory over Maria Mateas of Duke.
"It's an amazing accomplishment, obviously, to be a national champion, but the manner in which she did it is unprecedented," said D.J. Gurule, head women's tennis coach. "Her fitness was phenomenal, and it carried her through the tournament, but the big difference was her mentality. The final match was a perfect example, rolling her ankle and giving up back-to-back match points. She believes in her game, her teammates and her coaches, and that's going to carry her a long way."
In an interview on Oct. 12, Whittle, who progressed from wearing a boot to a brace on her recovering ankle, said she has always been a hard worker and has boosted her mental game since becoming a Zag through the help of Travis Knight, Gonzaga's strength and conditioning coach.

"I've always had a strong work ethic. I've always tried to challenge myself or my teammates to try to make something a little harder. I think I've gained a lot of more toughness as I've been here. Travis does a lot of mental training with our team and does a great job of focusing on different breathing techniques or parts in our game where we can improve," Whittle said. "At our level, Division I, I think we all have our technique down, but there is always room for improvement with mental strength."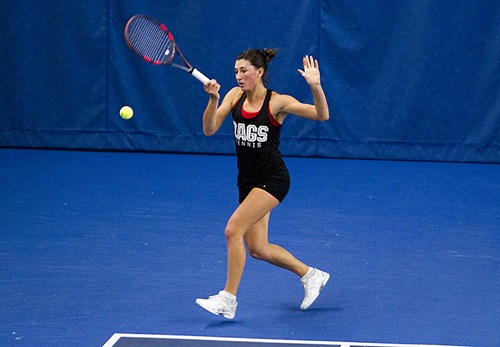 Whittle won the first set 6-4 before spraining her ankle in the second set, which Mateas won 7-5, setting up the final set in which Whittle persevered for the 6-3 win. All told, she won eight matches in some 20 hours of tournament play over six days, defeating five ranked opponents.
"I was happy with how I was able to pull out all those matches in that tournament, but especially with the final and having to bounce back from hurting myself," Whittle said, noting she concentrated on "staying in each point and not trying to focus on things I couldn't control."
A graduate of Arroyo Grande High School, Whittle competed with her team at the ITA Northwest Regionals, Oct. 19-23 in Palo Alto, California. Up next is the Gonzaga Invitational Nov. 2-4 before she plans to compete in the Oracle ITA Fall National Championships Nov. 7-11 in Surprise, Arizona, which she qualified for by winning the ITA crown.

Whittle said the Stevens Center for tennis and golf, a state-of-the-art indoor training facility that opened in 2014, has been a game-changer for the Zags.
"I am so lucky to be able to train in the Stevens Center. It has given our team the opportunity to develop at any given time of the year in rain, snow or shine," Whittle said. "A lot of other universities do not have their own facility, let alone six courts side-by-side, and some of the best memories I have are competing alongside my teammates."
After completing a bachelor's of education degree in kinesiology and physical education with a concentration as a fitness specialist in the spring, Whittle hopes to play professionally. She's also taking some prerequisites in nursing and may eventually pursue a graduate degree in nursing.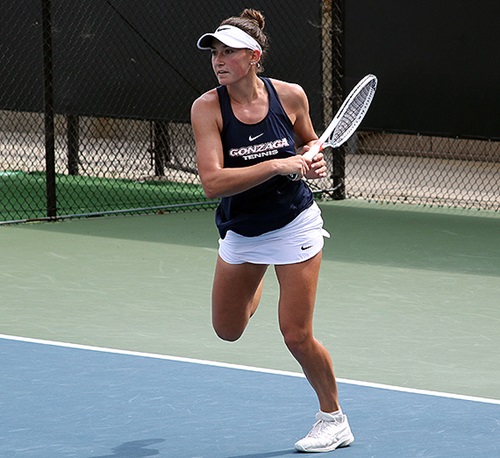 Whittle said she has enjoyed her Gonzaga academic experience.
"I've loved it. I really like all of my professors and I love my degree because it's very hands on. We get to do a lot of coaching and teaching and field experience, which is really helpful because I especially learn well by doing," said Whittle, who is also doing an internship this semester at Deliberate Strength, a fitness center.
She is pleased she decided to visit Gonzaga.
"I like that Washington has seasons and the community is really involved with the University. Also, everyone on campus, including the coaches, staff, and girls on the team were very welcoming and motivated to help me improve as an individual with my academics and athletics," she said.
How does it feel to be Gonzaga's first national tennis champion?
"I am happy I could represent Gonzaga that way," she said. "My team, my coaches and all of the athletic department and other teams and coaches and the academic staff in the Volkar Center were all super supportive."