Gonzaga Law Presents Fashion Week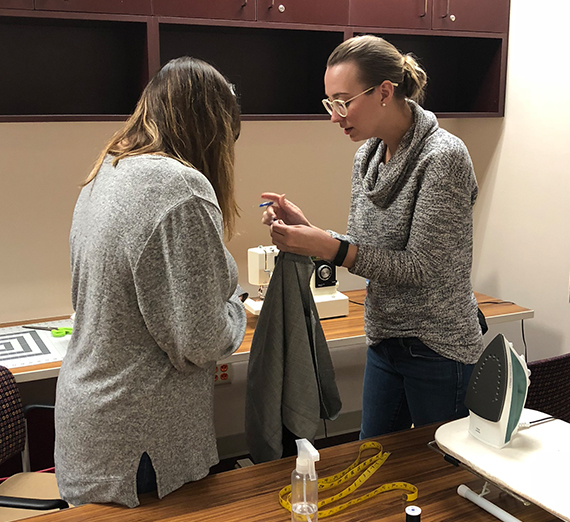 ---
Zig Ziglar, America's iconic salesman and motivational speaker, once said that, "You cannot climb the ladder of success dressed in the costume of failure." The exact measurements of the costume of failure are lost to the un-read pages of his magnum opus, "See You at the Top." But Gonzaga Law's Center for Professional Development understands that a law student's dress—as a job candidate or new hire—can have a tremendous impact on the way she or he is perceived by the profession. CPD also understands that law students do not have large wads of cabbage to lay out for a wardrobe of fetching professional duds.
To remedy these concerns, the CPD has instituted "Gonzaga Law Fashion Week" in 2018 to take the place of the "Dress for Success" meme that probably should have retired with Mr. Ziglar. To help students understand the norms of their new profession, CPD engaged Abra Belke, a Gonzaga Law alumna (´16) and creator of the nationally recognized fashion blog The Work Edit. She discussed what to wear on the job hunt and in the office, why dress matters, and how to create a professional wardrobe that fits an individual's style and budget.
Law students got to put her advice to work at subsequent Fashion Week events. After Belke spoke, the local Banana Republic store shut down for an exclusive event for ZagLaw students. Students could browse and hear one-on-one shopping advice while noshing on hors d'oeuvres and receiving a discount on their purchases. Later in the week, the CPD sponsored a day-long popup shop where students could peruse a free selection of lightly-used professional attire.
Because fashion emergencies can occur at any time, third-year student Nicole Luth volunteered her services to the CPD's final Fashion Week event. Skilled with chalk, measuring tape, needle, and thread, Luth taught her fellow law students how to make minor clothing repairs, like replacing a button, and gave advice about tailoring their professional wardrobe. She also performed more major clothing repairs, like fixing torn hems for her fellow students.
Of Fashion Week, Luth had this to say: "Fashion Week at GU Law hit all the marks - covering what to wear and how to wear it, discounts on professional attire, and life skills for mending and repairing clothes. It was a great way to kick off interview season!"