Gonzaga's First School Safety Forum a Success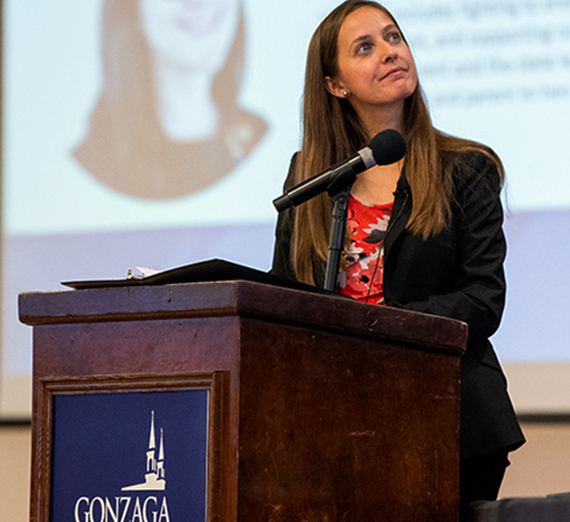 ---
It takes a community to create safe learning environments for today's students. That's the theme which emerged from Gonzaga's forum, "School Safety: Shared Responsibility for a Safer Future."
The event was a partnership of four colleges and schools, led by the School of Education and School of Law. It featured a keynote by Kristina Anderson, founder of the Seattle-based Koshka Foundation, who moderated a panel of experts in front of an engaged audience of more than 250 educators and community members in Hemmingson Ballroom.
The cooperative effort of colleges and schools teaming with the broader community is a model that happens often at Gonzaga as an expression of its core values as a Jesuit institution.
"This is a community service and we are public servants as deans," said School of Education Dean Vincent Alfonso. "We're preparing people to be lawyers and teachers who go out and serve, and the university's mission is to serve the community. So, I think it was really important for us to host this event. Hopefully there are going to be a lot more in the future."
His sentiments were echoed by new School of Law Dean Jacob Rooksby.
"This kind of conversation is really important because it affects so many people," said Rooksby. "When you hear from someone like Kristina, who has this rich perspective born out of her own personal experience, I found it so compelling. She can approach it from both an emotional and an intellectual standpoint. I think that's so important."
Anderson shared her riveting story of being a survivor of the 2007 Virginia Tech shooting. She is passionate about trying to help prevent other similar incidents from occurring with conversations like those that happened at the forum.
"It helps to move us forward, because it helps to set a tone for the community that this is a shared responsibility," said Anderson. "I want every parent, every teacher in our room and across the board to realize there are so many avenues where you can jump into school safety."
The cross-disciplinary panel included a school district superintendent, a representative of the ACLU, a threat assessment coordinator, a campus resource officer, and a high school teacher. The wide-ranging discussion revealed there are no simple solutions to the complex issue.
"School safety is much more than locks and doors and lockdown drills," said Anderson. "What the panel talked about today is that it's about culture: creating safe spaces, creating emotionally balanced approaches, and being attuned to children's needs because we all have trauma that we bring into the educational system."
Deans Alfonso and Rooksby affirmed Gonzaga will continue outreach efforts on issues that affect the vitality of the community. School violence impacted Spokane directly with the 2017 Freeman High shooting.
"I'm encouraged by the conversation and the experts who were on the panel," said Rooksby. "I felt like this was important to have in this community. School violence affects everyone and it's great to see the community turn out for this."
- Jeff Bunch