Available Now: The Gonzaga Law Magazine Online and in Print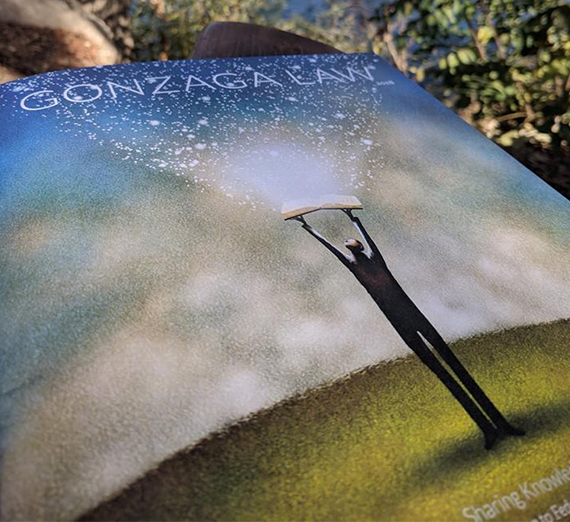 ---
The latest issue of the Gonzaga Law magazine is out and it is available online. As always, the latest issue features an inside look at Gonzaga Law, from news and events to faculty scholarship and student achievements. Read about the new Dean of the law school, Jacob H. Rooksby and the week Justice Steven González spent as a member of the law school community.
Along with a chronicle of the year's highlights, this issue contains engaging articles about creating, sharing, and preserving knowledge all illustrated by glorious images from the animated film The Book of Kells.
In Creating Knowledge, associate professor of law Jessica Kiser develops the concept of "brandright" to address the way in which trademark law can discourage consumers who want to create fan websites to celebrate a beloved trademark or brand. This article earned Kiser the 2018 Ladas Memorial Award from the International Trademark Association for the best paper by a practicing attorney or professor on a topic in trademark law
In Sharing Knowledge, professor of law Ann Murphy discusses her role as the new treatise author for Thompson Reuters' treatise on federal practice and procedure, known throughout the practice as "Wright and Miller." Murphy will update and rewrite volumes 23 through 26A of Evidentiary Privileges.
In Preserving Knowledge, associate professor of law and director of the Chastek Library Patrick Charles answers questions about the future of legal information and the role of law libraries in preserving and disseminating legal knowledge.
Learn a bit more about faculty members Stephen Sepinuck and Upendra Acharya and the impact they have had on the profession. Check in to see where new graduates Ben Awuku Asare, Pamela Kohlmeier, and Kristopher Morton are headed and where alumni Dave Matt, Nancy Allen, Cullen McGowan, and Michele Storms have taken their Gonzaga law degrees.