Community Building: The Wolff Family Legacy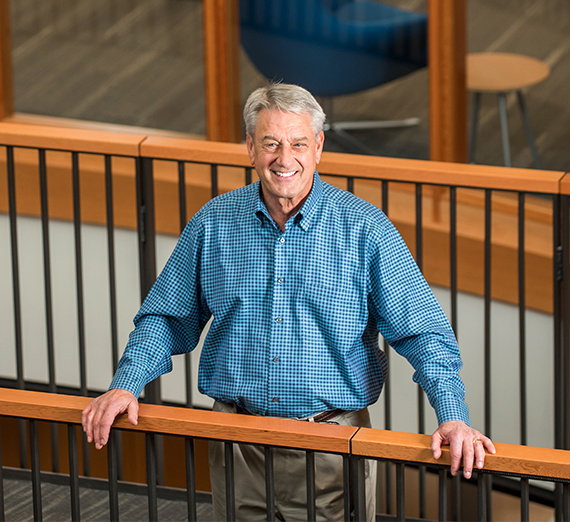 ---
(originally printed in the Spring 2016 issue of Gonzaga Magazine)
Alvin J. Wolff, Sr. started at Gonzaga Law School as World War II was breaking and did not finished his law degree. By 1949, he had founded The Wolff Company, an apartment business that focused on building and investing in communities. At graduation ceremonies in 2005, Gonzaga President Fr. Robert Spitzer awarded Wolff an Honorary Doctor of Laws Degree, in recognition of his service to his community and to his industry. You could say the 70 years between beginning his studies and his degree was the longest Gonzaga student-ship on record.
Six decades and three generations after its founding, The Wolff Company has grown into one of the largest real estate private equity firms on the West Coast. Though the company now has six corporate offices, it maintains its original headquarters in Spokane and remains active locally.
Its legacy is not only sound business principles and a passion for community building, but also a commitment to supporting education.
Like Father, Like Sons
Alvin Wolff, Jr., nicknamed "Fritz," remembers spending time with his dad in the work of the business. "As a kid in the 1960s, I swept parking lots and cleaned vacated rental units," he shares.
After marrying Jeanie, whom he met at Eastern Washington University 48 years ago, Fritz became the youngest to earn the CCIM designation, considered to be a global standard for professional achievement in the commercial-investment real estate industry. That, while raising four boys, all born in a span of nine years.
When the boys were just adolescents, Jeanie and Fritz started a family partnership called A Company of Brothers which acquired undeveloped property south of Post Falls, and served as a classroom of sorts. There, the boys learned when to harvest the trees and how to subdivide the land.
When his four sons joined the team, they took The Wolff Company to a level he couldn't have imagined. But getting to that point was not automatic, or easy. Fritz had to earn a place in his father's business the hard way, and his own kids had to do the same.
"They worked on construction sites, pounded nails, installed stoves and turned rental units just as I had," Fritz shares. "If any of my boys were going to come work for the company, Jeanie insisted, they had to go work in the real world first and have their hard knocks from others."
All four sons eventually did join the business in the 1990s, but only after pursuing their own interests first. Tim went to UW, worked in Korea, then had a land development and brokerage company. Peter went to WSU, then began an architecture career in Seattle. Jesse went to WSU before taking a job with a real estate broker in Spokane. Fritz H. (the youngest of the four) became a jet-ski racer and won the Budweiser World Tour in his class.
Each son played filled key leadership roles as The Wolff Company evolved into the enterprise it is today. Among its leadership team, Fritz H. and Jesse, the firm's CEO and investment chairman respectively, are proud to call Spokane their home. Tim, executive vice president for the firm and Pete (an executive for an affiliate company of Wolff) maintain close ties to Spokane and each have children who are recent Gonzaga graduates.
The family tradition continues now as Fritz's grandson Jesse Wolff III ('13) is moving to Spokane to spend two years working alongside Fritz, learning the business the hard way.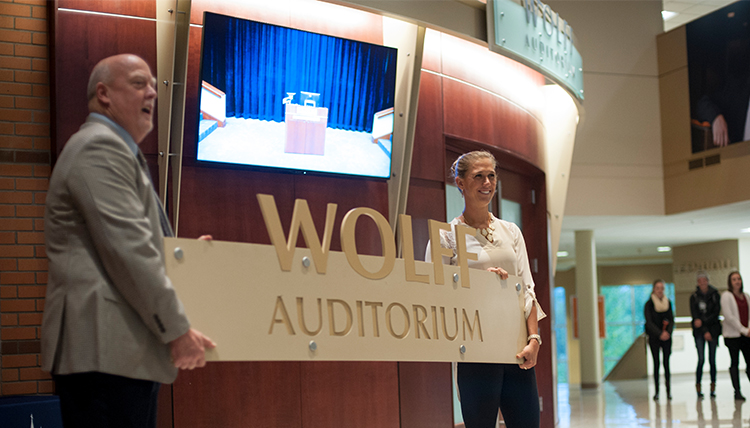 In 2016, funding from the Wolff family provided updated technology in the School of Business Administration's Jepson Center. Pictured, Ken Anderson (Dean) and AJ Hawk.
Connecting with Gonzaga, and students
In the mid-80s, Fritz was appointed by the Governor as a Washington real estate commissioner. Part of his job was to select which state university should receive money from the state for real estate education, and in that process, he learned which ones cared about "students having a vocation after undergraduate work and those that culled the undergrads to move into graduate programs." And then there are the private schools, which closely focus on each individual as a person. He says, "I realized that if I was going to be involved in higher education, it was going to be at private schools."
Bud Barnes, former dean of the Gonzaga School of Business Administration, asked Fritz to serve on his Dean's roundtable, and to help establish an economics symposium. Over the years, Fritz served numerous roles in helping the university, more recently as chair of the Board of Trustees, extending his knowledge of investments to the mission of Gonzaga. He has been a driving force in discussions about alternative revenue streams that will make the university less tuition dependent.
"We have plenty of opportunities to ensure the perpetuity of the mission, and we are capturing these," he says.
That mission includes addressing poverty and students who need financial aid, which Fritz felt was a challenge for many people on the board who had not had personal experiences with indigence.
To ensure a tangible connection between the board and students, Fritz created an endowment, called the Chair's Scholarship, to provide a significant award to two students every year who have financial need and who will, with the chair of the board, discuss their ideas about the challenges they see at Gonzaga. In his own experience with this pairing, Fritz has enjoyed a lasting friendship with the scholarship recipients.

A legacy of giving
The Wolff family – Fritz and Jeanie as well as all four children and their spouses – has committed to making one of the largest contributions to date to Gonzaga Will, the university's capital campaign.
Much of their gift is left unrestricted, allowing the University flexibility to respond to specific needs that arise. While Fritz prefers dreaming about the development of the campus for the future, Jeanie is drawn to the outreach of programs like the Center for Community Action and Service Learning. Ultimately, there is one common thread in the whole family's perspective on investing in Gonzaga University.
"It's about community building," says Fritz.
He continues, "That is of particular interest to our kids. Even though they went to WSU and UW, their commitment is to GU because it's such a good thing for this community."
Fritz and Jeanie's four sons have followed in their parents footsteps with a passion for benefaction. While they have supported other endeavors, Gonzaga has been a primary target of their philanthropy, most recently through a significant gift to The Center for Athletic Achievement.
Their youngest son, Fritz H., says it is part of the family legacy. "Education is a constant theme," he says. "To educate others to have the skills and create a craft, and then for them also to give back. This is central to our support of Gonzaga."


The Wolff family has supported Gonzaga in a number of ways – from an auditorium in the School of Business Administration to the new Center for Athletic Achievement. They have also enjoyed offering "challenge gifts" in order to inspire the benefaction of others.
To discover the passion and priorities of the campaign for Gonzaga's future they have supported, visit: