Chuck Murphy, Joe Smith Assume New Leadership Roles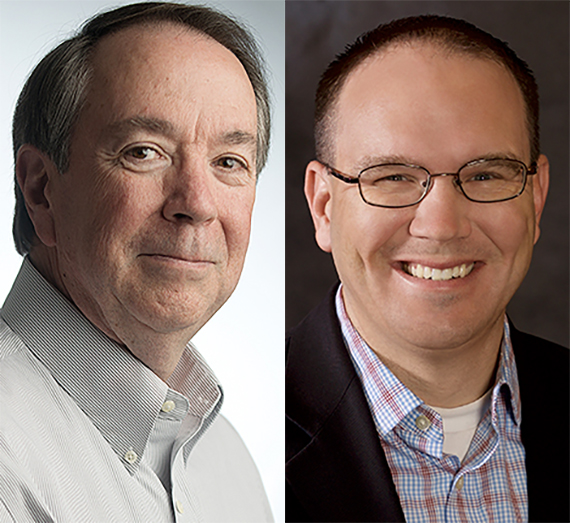 ---
Pictured above (from left) Chuck Murphy and Joe Smith
Gonzaga News Service
SPOKANE, Wash. – After 40 years of devoted leadership to Gonzaga University, first as its controller and then as vice president of finance, Charles "Chuck" J. Murphy will take on a new role as chief strategy officer at Gonzaga while Joe Smith, Gonzaga's associate vice president for finance for the past seven years, becomes chief financial officer (CFO).
Murphy, who has served as a member of the Gonzaga Cabinet across four of its presidential administrations, will work directly with President Thayne McCulloh on the execution of institutional strategic initiatives. Murphy's new role includes management and development of strategy relating to diversification of revenue sources for the institution. Murphy will continue to be of counsel to Smith, completing the thoughtful transition of this key leadership post.
As CFO, Smith will oversee accounting and financial record-keeping, operating and capital budgets, procurement, treasury (banking, financing, investments), insurance, emergency preparedness & risk management, and real estate.
A certified public accountant, Smith holds a bachelor's degree in business administration, accounting from Gonzaga (2001). He joined Gonzaga in 2010 after spending nine years in public accounting.
In his previous roles as controller and vice president of finance, Murphy oversaw and facilitated core resource management activities and was involved in countless projects, including the building and renovations of campus facilities, the acquisition and management of off-campus properties and the development of investment strategies. Murphy also has been responsible at various times for a large number of administrative support areas.