Global Engagement at its Finest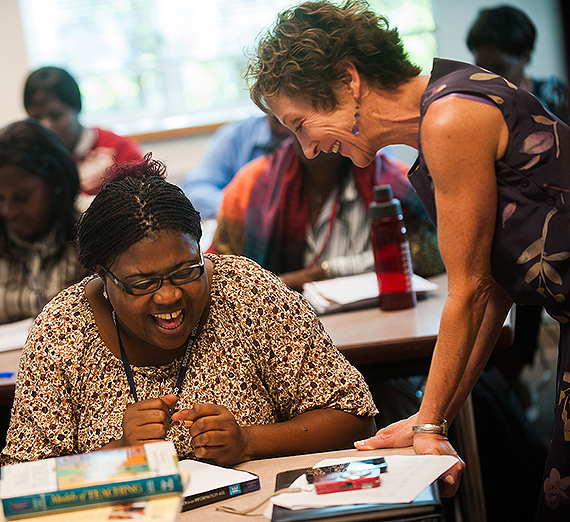 ---
The School of Education (SOE) has collaborated with the Charles Lwanga College of Education (CLCE) in Monze, Zambia since 2008, establishing a four-week study abroad program for SOE education candidates. In Summer 2010, the first group of candidates traveled to Zambia to work with teachers at CLCE to demonstrate literacy teaching methods, assist in creating a program for their students, and to share strategies for teaching English. Thanks to Kappa Delta Pi (KDP) Honor Society, more than 1,500 children's books and educational materials were collected that summer to create the Gonzaga Literacy Library at the College. Dr. Deborah Nieding, Co-coordinator of the program summed up the first summer experience. "We never expected over the course of a month that we would form such an emotional connection with the College, but the work with students and teachers made us feel like valued members of their community."

Our global service and commitment to CLCE grew when the SOE was asked to offer a master's degree program. CLCE is transitioning from a two-year primary teacher training college to a four-year bachelor's – granting institution which requires that all CLCE instructors have a master's degree. Program development was guided by Dr. Jon Sunderland, (former SOE Dean), and Dr. Deborah Nieding, Associate Professor in Teacher Education, with the assistance of Dr. Raymond Reyes, Associate Academic Vice President and Chief Diversity Officer, and program faculty. The M.Ed. in Leadership and Administration program (six semesters) began in January 2013; 25 teachers graduated in December 2014.

Program faculty traveled to Zambia for one week at the beginning of their teaching semester to provide face-to-face instruction and the remainder of the course was delivered through Blackboard. In summer 2013, 25 teachers came to Gonzaga for their summer residency, and for many, this was the first time they had been away from their country. In addition to their coursework, the University and SOE held a number of events for them to experience American culture, the beauty of the Pacific Northwest, and to shop (computers were a big item).