Activity Classes Make Major Impact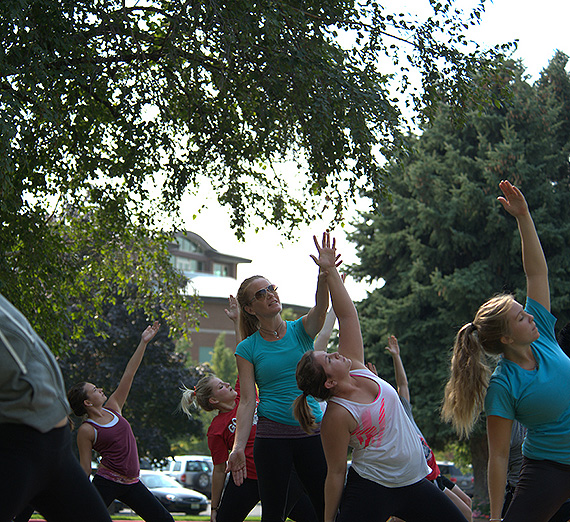 ---
Gonzaga makes an impact on students every day in a variety of ways, and one example is the activity courses. Activity classes at Gonzaga are offered through the Department of Sport and Physical Education to provide a balance for emotional, physical, and social well-being, as well as to meet a requirement for graduation.

Kristen Kavon, program specialist in the department, offers great insight into the activity courses offered and how much of a presence they have in students' lives both on and off campus. For the academic year 2014-2015, more than 3,600 students took activity class credits through 32-35 different courses each semester. This opportunity for students to maintain a healthy lifestyle would not be possible if not for the graduate assistants who work tirelessly to plan and teach these fitness and activity classes. Kavon says graduate assistants are a huge part of the success of the activity class program; many of them either brought experiences from a teaching certification program in their undergraduate programs or from employment opportunities they had.

Lately, the most popular classes have been yoga, scuba diving, and barre, and often have waitlists for on and off-campus options. Yoga has remained a popular class for quite a few years because it allows students to press pause on their hectic lives of work and study and just breathe.

The combined efforts of the School of Education and the Sport and Physical Education department have fostered growth in this program each year and allow Gonzaga to offer its students the most diverse options for activity courses possible. Kristen notes that, "We have had a lot of interest in our graduate assistant program in recent years, which has allowed us to hire individuals with experiences that directly relate to the classes that they will be teaching here at Gonzaga." This indicates this program will continue to develop in the future and allow the students of Gonzaga to take full advantage of the wonderful exercise and activity class opportunities provided to them.