'Summer in Williston' Internship Program Wins Award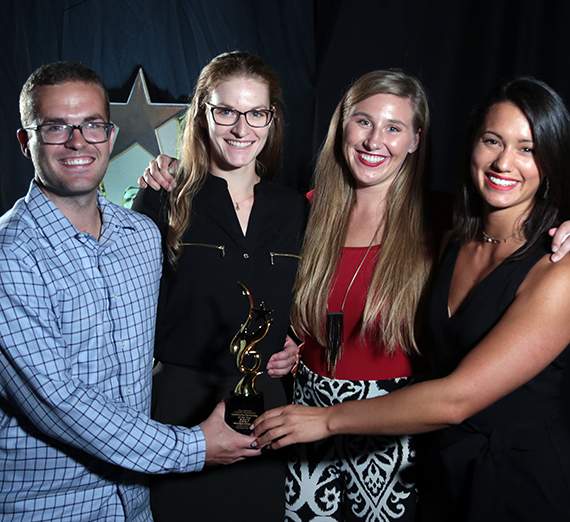 ---
WILLISTON, N.D. – Williston Economic Development and the Small Business Development Center honored Gonzaga University's innovative annual "Summer in Williston" Internship Program recently as the winner of its Community Partnership Award at the 2017 Williston Economic Development awards.

Accepting the award on behalf of Gonzaga at a banquet were Gonzaga alumni Tom Scott, Caitlin Pallai, Laura Winje and Melody Mileur, who took part in the internship program and now hold professional positions in Williston, North Dakota.
Gonzaga started the internship program in 2013 as part of its ongoing efforts to provide meaningful internships to students, and jobs to alumni. Gonzaga and Williston celebrated the program's fifth anniversary June 13 at Williston State College.
The program started with help from Williston-raised brothers and Gonzaga alumni Jim ('79) and Tom Powers ('77) during the energy development boom at the Bakken Shale, an underground rock formation that contains huge deposits of natural gas and oil. The Powers brothers discerned the opportunity for a Williston-Gonzaga partnership.

"At that time, Jim, a Gonzaga Trustee, saw his friends and associates having this need for good employees, and on the other side, he saw these students were looking for good internships," said Vicki Hucke, manager of employer engagement in the Gonzaga Career and Professional Development office.

The internship program has flourished. To date, more than 70 students have interned in Williston and eight former GU interns have remained in that community, working full time at businesses in the Williston trade region, including SGS Laboratory, City of Williston, Williston State College, Williams County, Williston Public Works, and Williston Area Recreation Center.

"The Gonzaga interns have filled key roles in our community," said Williston Economic Development executive director Shawn Wenko. "The university has given us good employees and we have tried to provide good hands-on opportunities for the students."

For more information about the program, contact Vicki Hucke at (509) 313-402 or hucke@gonzaga.edu.