National Endowment for Humanities Awards Professor Arnold $138,662 Grant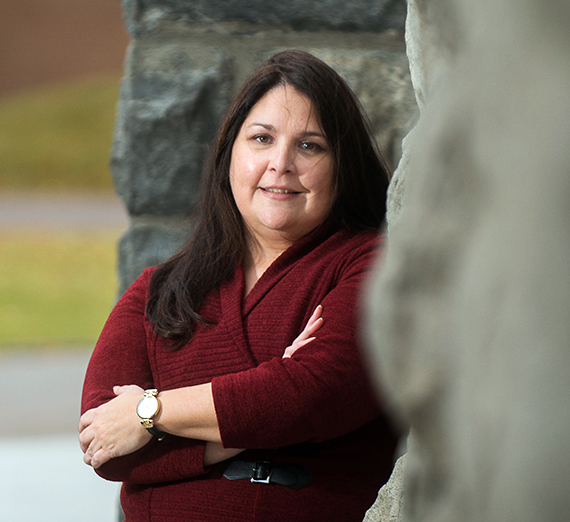 ---
SPOKANE, Wash. – The National Endowment for the Humanities has awarded Laurie Arnold, assistant professor of history and director of Gonzaga University's Native American Studies program, a $138,662 grant to host a Summer Institute for faculty development titled "The Native American West: A Case Study of the Columbia Plateau."
Arnold and her co-director, Christopher Leise, associate professor of English at Whitman College, will hold the Institute at Whitman College in Walla Walla, Washington during the last two weeks of June in 2018.
Arnold said the Institute seeks to expand, complicate and at times even contradict accepted U.S. historical narratives about Native Americans in the West.
"Native community knowledge-holders and native academic scholars represent more than half of the Institute's faculty, thus providing critically important lenses of learning community narratives from the inside out," Arnold said.
To offer more nuanced interpretations of the Columbia Plateau region, the Institute will draw upon both published and oral accounts by members of local Native American communities. This content will reveal spiritual and cultural practices in the eras prior to American and European immigration, and it will contextualize indigenous and American responses to each encountering the "other," Arnold said.
"This Institute serves Gonzaga's social justice mission because it will draw upon indigenous voices to tell their own stories, thus expanding and enhancing established narratives within U.S. history," Arnold said. "The partnership between Gonzaga and Whitman also serves the College of Arts and Sciences' mission to foster scholarly inquiry and collaboration."
This national award reinforces the importance of the scholarly work and community-building happening through Gonzaga's Native American Studies program, Arnold noted.
Patricia Terry, interim dean of the College of Arts and Sciences, said the award "recognizes the importance of Native American studies and presents a wonderful opportunity to stimulate excellent teaching and scholarship in the humanities."
The Institute is for two- and four-year college and university faculty. Participants will be selected on a competitive basis and faculty at tribal and community colleges are especially encouraged to apply. Stipends from the NEH support faculty participation, including lodging and travel. There is no cost for faculty to attend the Institute. The call for applications will go out in the fall with applications due March 1, 2018. The Institute website will contain more information as it is available:
https://www.nativeamericanwest.org/
Thirty participants, including at least five adjunct/non-tenure track faculty, will read texts across the disciplines of Native American studies, history, literature, and museum studies and will take part in field trips to the Tamástslikt Cultural Institute in Pendleton, Oregon, the Northwest Museum of Art and Culture in Spokane, and the Dalles Dam in The Dalles, Oregon. The Institute is designed to help faculty participants create or revise course syllabi in order to embed knowledge about Columbia Plateau Native American histories and lives in classes about U.S. history, Native American history, environmental history, fine arts, and literature.
A member of the Sinixt Band of the Colville Confederated Tribes, Arnold holds a Ph.D. in history from Arizona State University and a bachelor's degree in history from Oregon State University. Previously, she held positions at the D'Arcy McNickle Center for American Indian and Indigenous Studies at the Newberry Library in Chicago and at the University of Notre Dame. Her first book, "Bartering with the Bones of Their Dead: The Colville Confederated Tribes and Termination," was published by the University of Washington Press in 2012.
The Native American studies program at Gonzaga is a 21-credit minor. Courses include Native American history, Native American religions, Native American art and performance, Native American politics and government, American Indian literatures, indigenous science, as well as courses related to indigenous communities beyond the United States. All courses center on Native American political and cultural sovereignty across the disciplines represented in Native American Studies.
The NEH is an independent federal agency that supports research and learning in history, literature, philosophy and other humanities subjects by funding select projects from researchers around the country. Maintaining high standards for intellectual rationale, scholarly impact and the potential for broad dissemination of knowledge, the NEH remains a vital component of keeping U.S. colleges and universities among the world's best institutions of higher learning.
For more information, contact Laurie Arnold at arnoldl@gonzaga.edu.