Weddings & Babies: 2017 Fall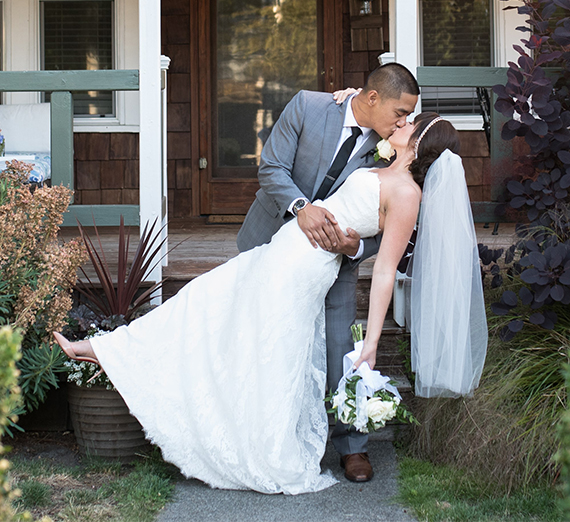 ---
Wedding Bells
'12 Tim Ramos and '12 Meredith Hickman Ramos (photographed at top of page) were married in December in a traditional Catholic wedding at the Basilica of St. Martin of Tours in the Philippines, where Tim's family resides, surrounded by friends and family from around the world. The couple also held a Seattle ceremony for immediate family in July 2016 after purchasing their first home in the Wallingford neighborhood. The two Zags met on the first day of college in Catherine Monica residence hall. They were friends for much of their college career before dating their junior year, and were engaged on Christmas in 2015.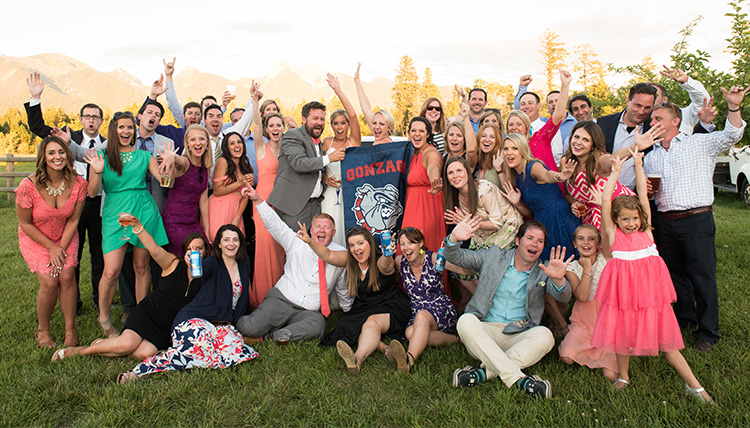 '04 Taylor Madison and '07 Liza Turner tied the knot at Montana's Flathead Lake after dating for five years. Mutual friends at Gonzaga introduced the two. With an all-Zag wedding party and dozens more in attendance, their weekend was full of love and Gonzaga spirit. The couple reside in Seattle with their honorary Bulldog, a Great Dane named Moesley.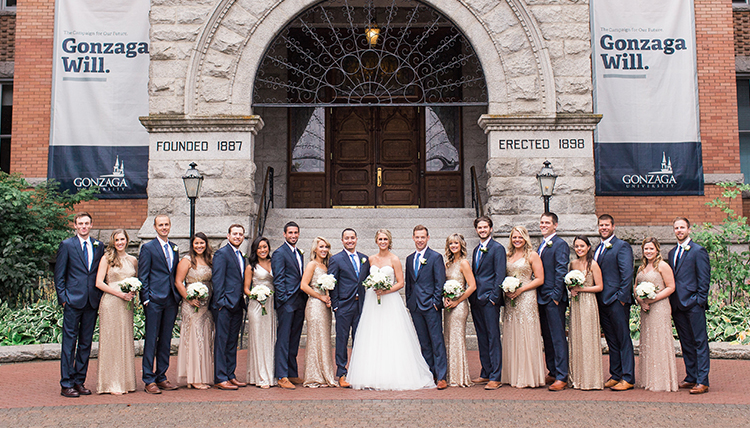 Class of 2011 grads Ryan Reese and Shannon McCann joined the throngs of Zags who met and married at Gonzaga (literally). They held their September 2016 ceremony at St. Al's with several classmates in the bridal party and even had a visit by Spike at their wedding reception.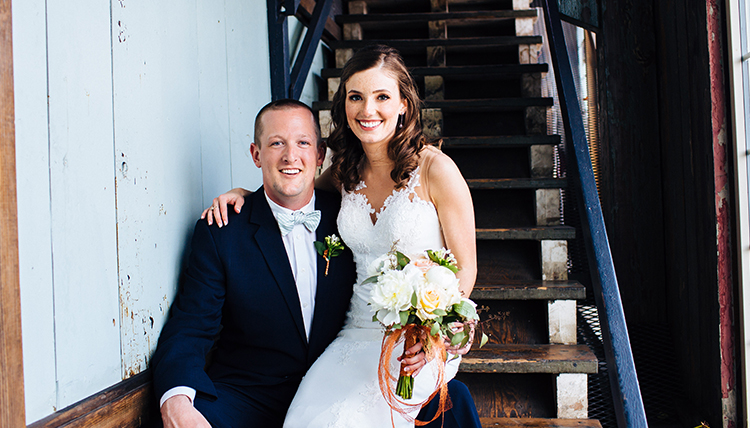 '10, '13 Stephanie Zimmerman and '11 Justin Albrecht married with five Zags in the wedding party.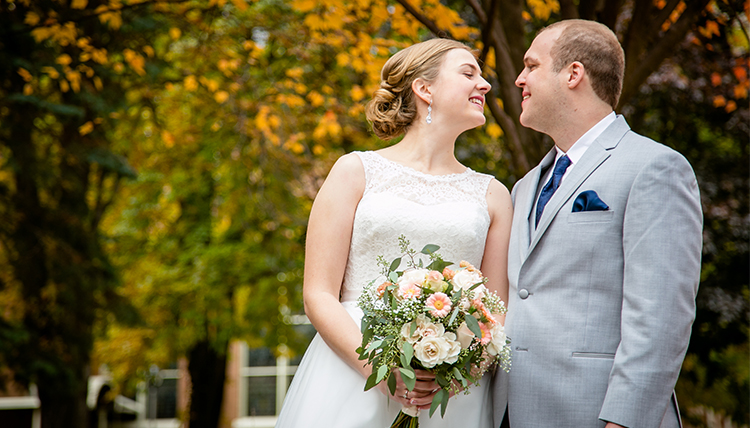 '13 David Sackmann and '14 Emily Cronin married at the Gonzaga University Chapel with a wedding party including three Gonzaga graduates. Father Kevin Waters, S.J., officiated. The couple met while playing in Gonzaga's Bulldog Band in 2013.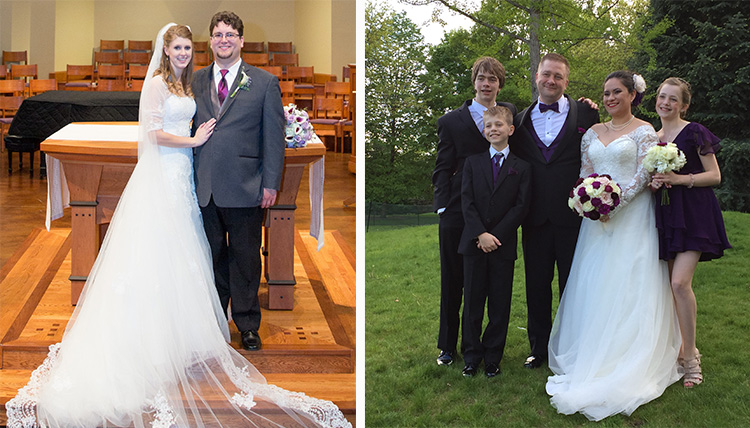 '13 Jennifer Hemmer Martin
and
'13 Marshall Martin
(left) were surrounded by five Zag graduates (from 2012-2013) when they married.
'13, '17 Ivette Davila (right) exchanged vows with Nathan Godwin on May 12.
Congrats also to these couples (not photographed);
'13 Ashley Ruen and '13 Conner Thorne celebrated their union at the Gonzaga University Chapel, followed by one of the first receptions to be held at the new John J. Hemmingson Center on campus. They met while at Gonzaga-in-Florence.
'08 Spencer Hutchins married Christie Foos in their hometown, Gig Harbor, Washington, surrounded by friends, family, fellow Zags and two Gonzaga professors. Father Patrick J. Hartin, retired Gonzaga professor, co-officiated the wedding alongside the couple's hometown pastor.
Oh, Baby!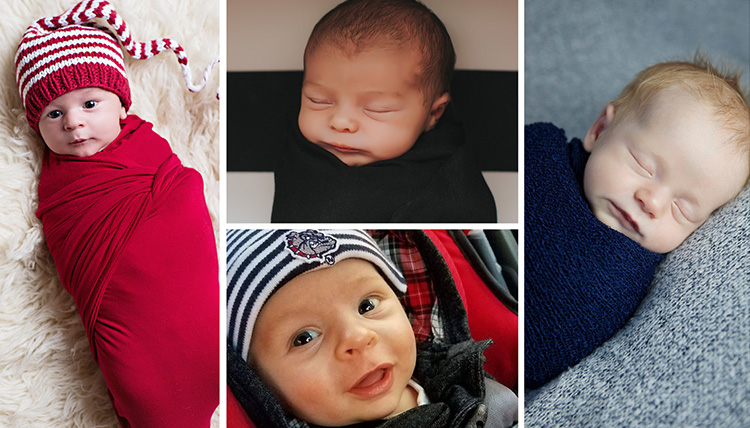 Babies Lehosit, Hansen, Keller and Dunham
'08 Courtney Conner Lehosit and her husband, Jason, welcomed Conner Richard as their second child; his name is an ode to his mother's maiden name. Conner's big sister, Penelope, eagerly welcomed him into the family.
'09 Michael Hansen and his wife, '10 Ashley, were overjoyed to welcome Mia Maureen as their first child in February. Michael has high hopes that Mia will follow in his footsteps and play golf for Gonzaga.
'04 Isaac Wallick and his wife, '06 Julia Keller, welcomed their future Zag William John on Dec. 20. William attended his first NCAA Final Four and National Championship basketball games with mom and dad in Phoenix this year.
'13 J.D. Aaron Dunham, and his wife, Kelly Jo – who works for Gonzaga's Office of Admissions – welcomed Declan Arthur as their second child. Their 4-year-old daughter Josie was thrilled to become a big sister.
Babies Patel, Sweeney and Mattingly
'05 Lulu Patel and her husband, Anand, welcomed in March baby Ronan just in time for the Zags' Final Four games. He joins his big sister and fellow Zags basketball fan Aria in the Patel household.
'99 Christopher Sweeney and his husband, Brandon Loo, welcomed their daughter Lucianna Loo into the world in 2016.
'07 Ashley Munger Mattingley and husband, Steven, welcomed their newest bundle of joy, Aurora. She joins 4-year-old big sister Avery in the Mattingley household.