Career Moves & Positive Pursuits Fall '17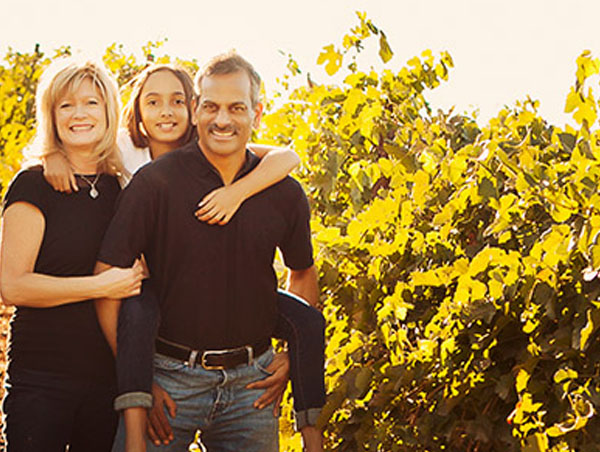 ---
Career Moves
UNFORGETTABLE BIRTHDAY
'70 Mike Bell got a birthday surprise he'll never forget. Son Ryan ('04) flew in from Bamako, Mali, where he works at the U.S. Embassy for the State Department, and in his possession, tickets to see the Zags play in the Final Four. Pictured are Ryan and Mike with niece/granddaughter, Quinn Bell Rubin, who helped them cheer on the team from home.
A COMMANDING PRESENCE
'79 Major General Joseph Caravalho is the joint staff surgeon at the Pentagon, Washington, D.C. He serves as the chief medical adviser to the chairman of the Joint Chiefs of Staff , the Joint Staff and the combatant commanders. He coordinates all issues related to health services, including operational medicine, force health protection, and readiness among the combatant commands, the Office of the Secretary of Defense, and the services.
IT'S ELECTRIC!
'83 Sanjiv More recently joined the General Electric startup Current as a strategic accounts sales manager, where he works with Fortune 50 technology companies in Silicon Valley to lower energy costs and build an intelligent environment through sensors, data analytics and predictive outcomes.

GETTING ZAGETTY
'92 Jane (Alexander) Ratzer wrote to say how much she and hubby Philip love getting together with another Zag match from heaven, their '92 classmates Tim and Angela (Pfeifer) Mooney. The couples recently escaped the cold of Denver and Bellingham, Washington, respectively, for a warm weekend in Los Angeles where they visited The Getty Center. Jane and Angela were roomies at Lincoln Hall; Phil and Tim met playing lacrosse.
AHOY, MATES!
'95 Alfonso Garcia Arriola, a middle school science teacher at ACCESS Academy Alternative Program in Portland, Oregon, is a Science Communication Fellow with the Ocean Exploration Trust's 2017 Nautilus Exploration Program expedition. Arriola is among 24 educators, 19 students and one artist selected from a competitive applicant pool to set sail for the Gulf of California and the Pescadero Basin, where they will study deep-sea biology, geology and archaeology.
THIS ONE'S FOR THE LADIES
Founder and president of Leading Retirement Solutions '97 Kristen Curry launched the firm's inaugural Women Business Leaders Week in June. Curry has worked with Women Owned Small Business Program-certified companies, nonprofits like Susan G. Komen and emerging technology companies. She hopes the week will aid women and their employees in retirement preparation.
A-PLUS TEACHER
'00 Carly (McLafferty) Dokis, Ph.D., associate professor of anthropology at Nipissing University in North Bay, Ontario, Canada, has received tenure and promotion, and the Chancellor's Award for Excellence in Teaching.
CARING FOR THE KIDS
'00-'01 Lindsey (McLafferty) Shaw, M.S.N., began her career as a nurse practitioner at Children's Hospital of Colorado in Denver. Previously, she contributed to a published textbook titled "Person-Focused Health Care Management."
SOUL FOOD
'02 James Morgante recently self-published his book, "The Yogi Diet: Spirituality and the Question of Vegetarianism." Chapters include spiritual philosophies for nourishing the mind, body and spirit, vegetarianism reconsidered in the lens of world religions, diet's impact through ancient developments, and an assessment of contemporary dietary trends.
GETTING DEFENSIVE
'02 Laura Sheppard, owner and founder of the Law Office of Laura R. Sheppard in San Diego, has hired her first full-time associate attorney, Sarah Garrick. Since its founding seven years ago, the practice has deftly handled trial-level and post-conviction criminal defense matters, both in California and federal courts.
YES, YOUR MAGISTRATE
'03 Tony Hazel, who earned a bachelor's degree from Gonzaga University and his juris doctorate, cum laude from the Gonzaga School of Law, was appointed to Spokane County Superior Court in April by Gov. Jay Inslee. He had served as Spokane County deputy prosecutor since 2004. Hazel's other accolades include the Salvation Army's Making Spokane Better award in 2012 and election as president of the Spokane County Bar Association in 2014. He is the son of the late Bud Hazel, a beloved GU professor.
EARN A DEGREE IN MARVELOUSNESS
'09 Shanterra McBride is the founder and director of Marvelous University, which offers life coaching and success planning for young people with an emphasis on leadership development for girls and young women. Recently, McBride released her first book, "Love Your Jiggle: The Girl's Guide to Being Marvelous," Crystal Spirit Publishing Inc., on topics including self-esteem, friendships, decision-making, conflict management, self-empowerment and diversity.
LAW OF TECHNOLOGY
'10 David Lewandowski recently received a Technology Advocate of the Year Award in recognition of his contributions and dedication to Northern Nevada's technology industry. An attorney for Fennemore Craig in the Reno office, Lewandowski supports his clients on issues of corporate compliance, intellectual property and venture capital financing, among other things.
SHE'S IN THE NAVY NOW
'10 Ashlee Comeree graduated with an M.D. from Creighton School of Medicine in May and is beginning her intern year as a lieutenant in the U.S. Naval Medical Corps at Portsmouth Naval Medical Center in Virginia.
TWO PAWS UP
'11 Kevin Bingham recently opened his passion project, Paws & Reflect in San Diego. The shop offers specialty craft cocktails, local brews and bites for dog owners and treats for their canine companions.
ON THE FAST TRACK
According to Just Media Inc., '15 Sean Brennan is more than deserving of a nomination to be San Francisco's 2017 BIG Rising Star award recipient. The award recognizes an outstanding individual with three years or less of working in any capacity in the media and advertising industry. Brennan has gone from an intern with Just Media to the social media specialist in only two months with the firm, managing several social media accounts, as well as pitching and onboarding large accounts that have been instrumental to the company's success.