Boat Building Project Led by Alumna Marcy Ray a Vessel for Learning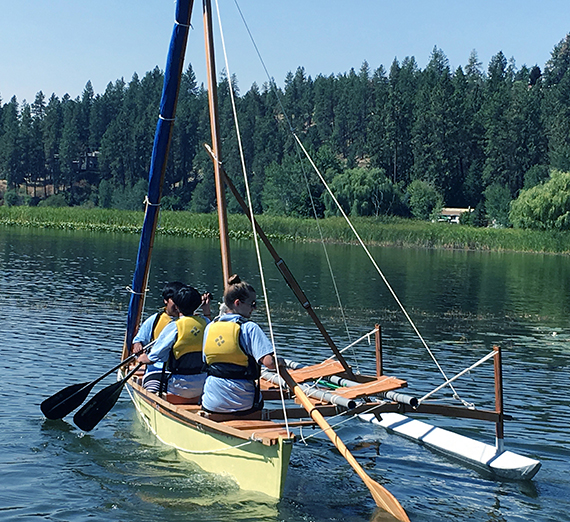 ---
SPOKANE, Wash. – Gonzaga University alumna Marcy Ray, a first-year English Language Development teacher at Shaw Middle School, led a summer-school project to build a traditional Marshallese outrigger sailboat. The effort, featured in an article in The Spokesman-Review, culminated in the boat's launch this month at Fish Lake.

Ray, who earned both a bachelor's degree in English ('07) and a master's in initial teaching ('16) from Gonzaga, enlisted students in the GU Master of Initial Teaching Program along with help from volunteers in the effort, which emphasized learning by doing.

Most of the 15 students in the Shaw program are from the Pacific Islands, including the Marshall Islands, and the project helped connect those students with their cultural heritage. The project spanned three weeks and included instruction in boat-building, literacy, science, math, navigation, art, videography and photography.

Ray describes the project in a video produced by Spokane Public Schools:
Current Gonzaga MIT students, Kailey Rice and Chris Iglesias, and recent program graduate Carolina Montufar all participated as adult leaders and teachers. Gale Snyder, program assistant for GU Teacher Education, volunteered her time and talents. Shaw Principal Jon Swett and other district employees provided key support along with community volunteers including Scott Franz, who envisioned and managed the boat construction, and Nancy Loomis, who oversaw the artistic side of the project.
The effort is a product of the English Plus after-school program for Shaw ELD students developed by Anny Case, associate professor of teacher education at Gonzaga. It stems from the Hillyard Youth Collaborative – a partnership launched in 2014 and led by GU teacher education Associate Professor John Traynor and Bailley Wootton, associate director of the Center for Community Engagement.
The collaborative sought to catalyze and coordinate community efforts to provide targeted social and academic supports to students at Shaw and Garry middle schools. Gonzaga – in partnership with Spokane Public Schools, Communities In Schools of Spokane County, Boys & Girls Clubs of Spokane County, and Washington State University – received a three-year, $400,000 grant from the Community Partners for Middle School Success for the partnership.
Dozens of Gonzaga undergraduate and graduate students have worked at Shaw as a part of the collaborative over the past couple of years.