Gonzaga Welcomes Strongest Academic Class Ever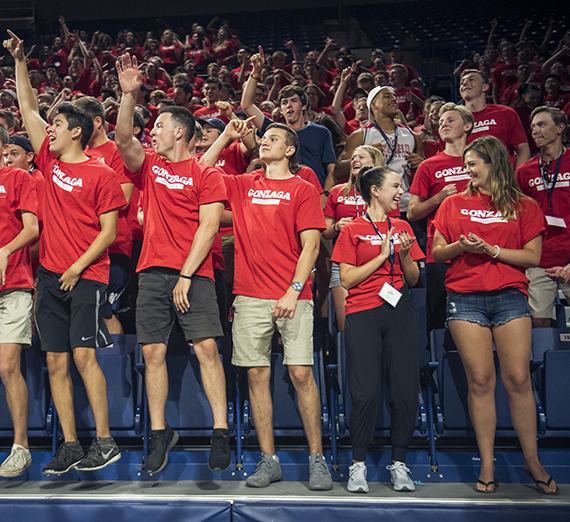 ---
SPOKANE, Wash. – The 1,265 first-year students Gonzaga University welcomes to campus this week represent the strongest academic class in its 130-year history. The first-year students move into campus residence halls on Friday and will take part in New Student Orientation through Monday.
"Gonzaga has been blessed with another incoming class of students who are hard-working, intellectually curious, engaged in their communities, and multitalented. Although close to previous classes, the class of 2021 hits a high mark for academic excellence and sets a new record with respect to academic profile," said Erin Hays, director of undergraduate admission. "We are thrilled to welcome the new Zags to the community, and look forward to their engagement in the classroom and on campus."
Preliminary data show Gonzaga's Class of 2021 has a 3.79 grade-point average and test scores of 28 (average ACT composite) and 1,257 (average new SAT composite), topping last year's freshman class (3.76 GPA, 27 average ACT) for the strongest academic profile ever. Historically, only Gonzaga's two previous first-year classes were larger (1,332 students, Class of 2019; 1,280, Class of 2020) than this year's record-setting group.
A Snapshot
A snapshot of this class reveals it's packed with leaders: 16 student body presidents, 84 class presidents or officers, 710 with leadership experience, 309 members of student government, and more than 1,000 involved in volunteerism. The class also includes 103 students who took part in speech or debate, 1,103 participants in high school athletics or outdoor activities, 311 musicians, 77 ecology/sustainability club members, and 109 theater participants.
Demographically
Demographically, the entering class includes (approximately) 52 percent women and 48 percent men. Once again, the largest group of first-year students, 45.7 percent, hails from the state of Washington (44.2 percent in 2016). California remains Gonzaga's No. 2 state with 22.1 percent of incoming first-year students from the Golden State (25.1 percent, 2016). Oregon is home to 10.4 percent of the class (11 percent, 2016), while 4.9 percent of students hail from Colorado (4.6 percent, 2016), followed by Arizona (2.7 percent), Idaho (2.6 percent) and other states.
This class represents 31 states – from as far away as Hawaii, New York, Massachusetts, Louisiana, Kentucky, Maryland, and Virginia – the nations of Canada, Italy, France, Germany, and Japan, and the Northern Mariana Islands (a U.S. territory).
With respect to religion, 45 percent of the first-year students indicated they are Roman Catholic. The class includes students from some two dozen other faith traditions. In addition to the first-year students, Gonzaga also welcomes some 130 undergraduate transfer students with many talents to share with the Gonzaga community, from diverse educational interests and experiences to a passion for learning and community engagement.
Official enrollment numbers won't be confirmed until Sept. 29. However, Gonzaga estimates a total enrollment of 7,404 students this fall, including an estimated 4,980 undergraduates, 2,055 graduate students (master's and doctoral), approximately 319 Gonzaga University School of Law students, and 50 other students (non-degree programs).