Story of a Storyteller: Dale Goodwin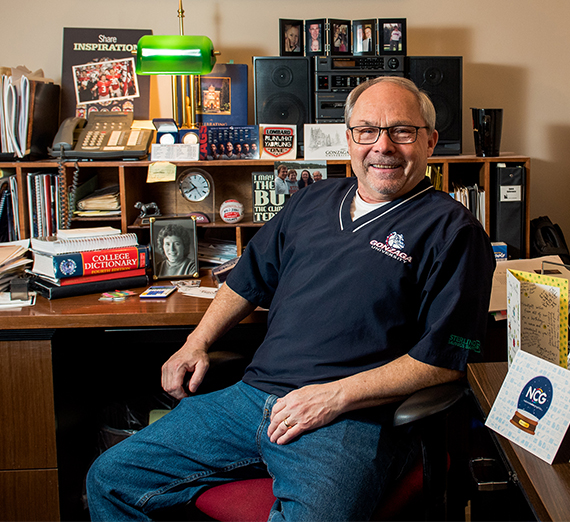 ---
Dale Goodwin – who just celebrated 35 years as Gonzaga's storyteller – sees the miracle of life and God's blessings everywhere he looks.
By Sidnee Grubb ('18)
The clarity of Dale's memory is astounding. He can remember everyone's name, any significant date and descriptive history. Every vivid memory contains a story. Every story tells of sunshine through the clouds and the everyday miracle.
The little stresses and annoyances that trip others up? Dale glides through them. His Jesuit drive for "magis" or more? A pure love for the people of this university.
After finishing a degree at Washington State University and a short stint at The Spokesman-Review, Dale received an offer from Gonzaga Athletic Director Dan Fitzgerald to become the sports information director. His first major task? Organizing the massive and memorable 1981 Washington State University vs. Gonzaga men's basketball game, a personal competition between his alma mater and his new place of employment. Dale says, "The minute the ball went up, I knew I was a Zag. It was amazing!"
Other great transformations took place during his tenure as SID. He met Mary, the real love of his life, and they married on Pecarovich Field. He also converted to Catholicism, which drew him closer in relationship with God. At Dale's confirmation, then-university vice president and good friend Fr. Art Dussault was sitting in the back of the university chapel when the ceremony ended. Dale says, "Our eyes met, he stood up, waved his cane at me and said, 'It took us a while, but we finally got you!' "
In 1989, Dale became director of public relations and stepped confidently onto a new court – university administration and public relations. The work he would do for the next 22 years would challenge and change him. He was buoyed by his workmates who supported him through Mary's five-year bout with pulmonary fibrosis and successful lung transplant, which demonstrated to him what a caring community Gonzaga is. He always found the positive in some of the university's most trying issues, and helped the community recognize the good here: the racial harassment in the Law School that turned into Spokane's Community Congress on Race Relations, and the arrest of a high-profile student-athlete who, with tremendous university support, blossomed into a community servant and professional player.
Today, as communications manager/senior writer and editor for Marketing and Communications, Dale says he is happy to be "going back to my roots where I did more writing, telling the stories of our people."
A recent favorite assignment was honoring former President and Chancellor Fr. Bernard Coughlin's impact on the University over his 42-year career, which came down to the relationships he built, something Dale could certainly identify with. In fact, all the stories Dale recalls have a similar theme: cura personalis, or the care for the individual. "That's what makes Gonzaga a very special place with a very big heart."
There were moments during his reminiscing that emotion nearly overcame Dale. He paused as the words caught in his throat. His eyes showed the overwhelming feeling living there: joy, love and blessing. It has always been about more than just the work to Dale. He glories in kindness and service. He is an admirer of the spirit every Zag carries within.
"I love this place. I love the people that I work with, all of them. I feel so good going to work to represent an institution like this," says Dale. "There's not been one day that I've ever gotten up in the morning and thought 'Oh jeez, I've got to go to work today.' Not one. I've had some ups and downs here but not one day did I ever regret representing this place and its people."
A miraculous quality about Dale is how easily he dismisses the role he has played in some powerful stories himself. We bet our readers agree. Have a story of Dale to share? Email editor@gonzaga.edu.