Zags Thankful for Magical Season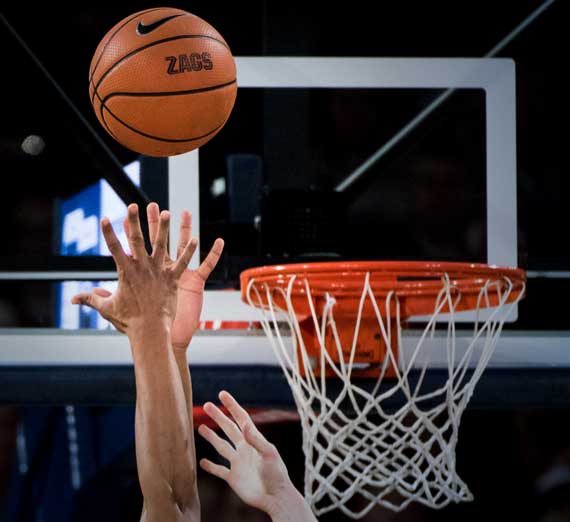 ---
SPOKANE, Wash. – Hundreds of fans greeted Gonzaga's most successful basketball team in history at a Homecoming Rally on the Foley Center lawn April 5, crowning a magical season that included Gonzaga's first trip to the Final Four, its first national championship game appearance, and a school record 37 wins against just two losses.
With the still-fresh sting of their 71-65 loss to North Carolina in NCAA Tournament championship game two days prior, the Zags – led by Associated Press Coach of the Year Mark Few – were greeted by Gonzaga President Thayne McCulloh who spoke of gratitude for the team and its historic season.
"How grateful we as a university are because none of this would be possible, none of this amazing story would be possible without a couple of really significant ingredients," President McCulloh said. "One of those most significant is the tremendous amount of support that Gonzaga University, Gonzaga basketball, and Gonzaga athletics enjoys with this amazing community that we call Spokane, Washington."
President McCulloh continued:
"We are a nation that among many things appreciates and respects what it means to win, what it means to achieve but especially what it means to do that with character," he said. "From start to finish, this team – these guys – have been emblematic of those kinds of qualities and characteristics that make us as a university – but more broadly as a community – so very proud."
Few, who among other honors also was named the Naismith Coach of the Year, also greeted the crowd of well-wishers along with a few of the players. Few, who guided the Zags to their fifth consecutive West Coast Conference regular-season and WCC Tournament championships, also was named the WCC Coach of the Year for the 11th time.
"We can't thank you guys enough. All along the way from Salt Lake to San Jose and even down in Phoenix, I speak for all my guys, my staff, everybody: The support we had down there, the Zags' fans that were on the streets and then filled up the 80,000-seat dome – which was absolutely amazing to walk out to – was totally incredible," Few said. "I can't tell you how good it made these guys feel and how proud they were to call Spokane home."
The crowd roared as players Rem Bakamus, Przemek Karnowski, and Nigel Williams-Goss took to the podium one-by-one to thank the fans.
"I want to start out by thanking each and every one of you guys for accepting me into this family," said Williams-Goss. "It's no secret this program has been special for the last 20 years. What I didn't know was that I was joining a family, a family that I will cherish for life."
Williams-Goss, who recently announced his intention to enter the NBA Draft, said it was the best season of his life.
"Although we came up a little bit short, we can feel in our hearts that we were able to make history," he said.
Stars in Classroom, Too
This team's academic prowess also was significant. Williams-Goss was named First Team Academic All-American and the Division I-AAA Athletics Directors Association Men's Scholar Athlete of the Year while Karnowski was named to the I-AAA Men's Scholar Athlete Team. Karnowski, Perkins and Williams-Goss also were named to the WCC All-Academic Team. Williams-Goss also was named to the GU Dean's List (3.50-3.84 GPA) for fall semester (2016) along with teammates Jacob Larsen, Rem Bakamus, Josh Perkins and Dustin Triano.
For more Final Four coverage, photos and videos visit:
Gonzaga Basketball