Poet, Novelist & Filmmaker Sherman Alexie to Speak at 124th Commencement May 14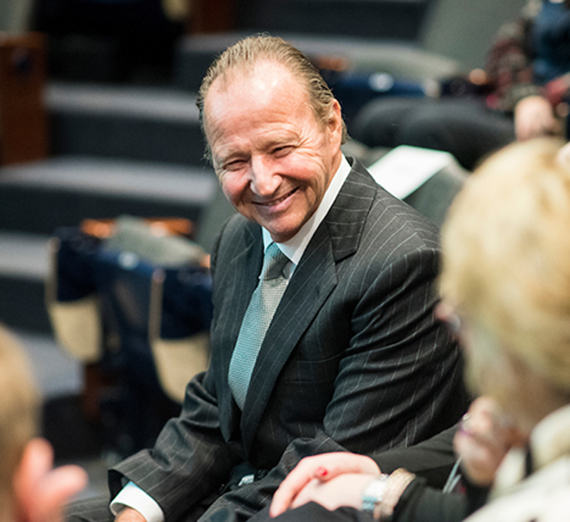 ---
SPOKANE, Wash. – Sherman Alexie, pre-eminent poet, novelist, and filmmaker of contemporary Native American reservation life, will deliver the keynote address at Gonzaga University's undergraduate commencement ceremony at 9:30 a.m., Sunday, May 14 in the Spokane Arena. The ceremony is among Gonzaga's three 124th commencement exercises May 13-14.
At the undergraduate ceremony, Alexie will receive an honorary Doctor of Letters degree to honor how his fearless encounter of social issues and his generous willingness to share what he has learned make him a messenger of hope and new possibilities. His writing consistently fosters a mature commitment to the dignity of the individual and illustrates what it can mean to be a person for and with others, a fundamental Jesuit value.
Also at the undergraduate ceremony, Gonzaga will present Board of Trustees Emeritus member Timothy Barnard with an honorary Doctor of Laws degree, recognizing his commitment to the advancement of Jesuit and Catholic education, and the creativity, work ethic, vision, service and leadership he and his family have offered Gonzaga for more than three decades.
Law School Commencement, May 13
Thomas W. Hillier, II, a 1973 Gonzaga Law School alumnus, will deliver the keynote address at the Law School commencement, starting at 9 a.m., Saturday, May 13 at the McCarthey Athletic Center. Hillier will receive an honorary Doctor of Laws degree, recognizing his extraordinary career of public service and deep commitment to justice, professional excellence, and serving others. Retired Washington State Supreme Court Justice Richard P. Guy, a 1959 Gonzaga Law alumnus, will receive the Law Medal at the ceremony, recognizing his exceptional lifetime commitment and service to justice.
Graduate Commencement, May 13

Stephanie Russell, Ed.D., Vice President for Mission Integration for the Association of Jesuit Colleges and Universities and a lay leader in Jesuit higher education, will deliver the graduate commencement address at noon May 13 at the McCarthey Athletic Center. Russell will receive an honorary Doctor of Laws degree in recognition of her deep understanding of Ignatian pedagogy and lifelong commitment to Jesuit higher education.
Gonzaga to Confer 2,197 Degrees
Gonzaga expects to confer a total of 2,197 undergraduate, graduate and law degrees (2,025 in May 2016), including: 1,283 bachelor's degrees (1,146 in 2016), 774 master's degrees (752 in 2016), 32 doctorates (15 in 2016), and 108 law degrees (112 in 2016).
Other Gonzaga Commencement Events
SOCIAL JUSTICE MISSIONING CEREMONY: 3:30, Friday, May 12, in University Chapel (third floor of College Hall). This event honors seniors who are embarking on service work through organizations including the Peace Corps, Jesuit Volunteer Corps and others.
ROTC COMMISSIONING CEREMONY: 5 p.m., May 12, St. Aloysius Church; guests welcome; reception follows in Cataldo Hall.
SCHOOL OF LAW COMMENCEMENT MASS: 5:30 p.m., May 12, University Chapel in College Hall (all welcome).
UNDERGRADUATE, GRADUATE COMMENCEMENT MASS: 3:30 p.m., May 13, McCarthey Athletic Center (all welcome); reception follows on Quad Lawn.
NURSING PINNING CEREMONY: 9 a.m., May 13, St. Aloysius Church; ceremony welcomes newly graduated nurses into their profession; reception follows in Cataldo Hall.
Speakers & Honorees
Sherman Alexie
Alexie's fiction fosters, shapes and tests communities through characters who grapple with, endure and transcend the crippling effects of poverty, addiction, abandonment and racism. For Alexie, a Spokane/Coeur d'Alene Indian who grew up on the Spokane Indian Reservation in Wellpinit, Washington, vague dreams of being a writer became real when he encountered a poem by Adrian C. Louis, containing the line, "I'm in the reservation of my mind." The idea that reservations might be constructs for fiction led to a distinguished writing career. Since completing his undergraduate degree at Gonzaga and Washington State University, Alexie has become a national voice, taking the craft of story-telling to new levels of teaching and entertainment. From novels, such as "The Absolutely True Diary of a Part-Time Indian," to collections of stories, children's books, poetry collections and stand-up presentations, this now-urban Indian is celebrated for his versatile and lyric voice, garnering praise and many awards. In turn, he has leveraged his good fortune into creating and supporting programs such as Longhouse Media, which teaches Native American youth film-making skills in the service of cultural expression and of social change in and through media.
Timothy Barnard
Barnard's pioneering vision, leadership and generosity have made an indelible mark on Gonzaga and its ability to shape the lives of students. Originally from New Jersey, he attended Villanova University and Sophia University (Tokyo), and believes his experience as a student at Gonzaga-in-Florence in 1971 was transformative.
After traveling, he landed in Montana, and with only $1,000, some tools, and all of his possessions in a pickup truck, he launched his own construction company that has become a multi-million-dollar enterprise with seven associated companies involved in construction and engineering projects worldwide. A Trustee since 2000, he received Gonzaga's Distinguished Alumni Merit Award (2004). Barnard's success is rooted in his partnership with his wife, Mary, who has worked alongside Tim to raise their six children – several of whom have become Gonzaga graduates. Both Tim and Mary have been broadly philanthropic, serving on many boards and giving generously to numerous organizations. Their dedication to Gonzaga has been transformational, informing key institutional decisions, providing scholarships, supporting athletics, deepening global engagement, and serving the Jesuit community.
Justice Richard P. Guy
Justice Guy served as an assistant attorney general for the state of Washington, counsel to the speaker of the state House of Representatives, military lawyer, and as a civil and criminal deputy prosecutor for Spokane County. He worked with the U.S. Agency for International Development before joining, in 1981, the Spokane firm of Winston & Cashatt.
His judicial experience included four years as a Spokane County Superior Court judge and several years as a pro tem judge for both the Superior Court and the Washington State Court of Appeals. He was appointed in 1989 to the State Supreme Court and became chief justice, authoring more than 100 opinions before retiring from the court in 2001. Guy took a proactive and collaborative approach to efforts to reform and update the state's judicial administration. He also improved the court's communications and relationship with the state Legislature. In 2008 Justice Guy and wife Lynn established an endowed scholarship that supports public service initiatives at Gonzaga Law. Previously, Gonzaga recognized him with its Distinguished Alumni Merit Award (1992) and an Honorary Doctor of Laws (1993); Gonzaga Law named him its Distinguished Legal Service Award (2000) recipient.
Thomas W. Hillier, II
Born in Spokane, raised in the Gonzaga neighborhood, and influenced in part by the Jesuits at Gonzaga and St. Aloysius, Hillier began his 32-year career as a public defender in Spokane in 1973.
In 1975, he joined the federal Public Defender for Western Washington, and, in 1982, was appointed to lead that office before retiring in 2014. He held a wide range of leadership positions and testified before Congress and the U.S. Sentencing Commission numerous times. The American College of Trial Lawyers named him a Fellow in 1996 when he also received the William O. Douglas Award from the ACLU of Washington. From 2000 to 2006, he served as a member of the Advisory Committee on the Federal Rules of Evidence. In 2015, he joined the Perkins Coie firm. "It would be an understatement to say Gonzaga influenced my career path," he said, noting the Jesuit ideal of service led him to public defense. Gonzaga Law awarded him the Law Medal (1998) and the Distinguished Legal Service Award (2014). His current work focuses on indigent defense pro bono matters.
Stephanie Russell
Jesuit higher education uniquely fosters education that transforms through faith and the promotion of justice through service.
Russell's commitment to the advancement of Jesuit ideals is evident in her work helping Jesuit schools enhance mission effectiveness. She earned a bachelor's degree from Marquette University, a master's from St. Francis Seminary in Wisconsin, and a doctorate in higher education management from the University of Pennsylvania. Her work in ministry began in the 1980s at Red Cloud Indian School in Pine Ridge, South Dakota – one of our nation's poorest counties. She then served 11 years in lay formation and social ministry with the Wisconsin Province of the Society of Jesus, followed by 15 years as vice president for mission and ministry at Marquette before coming to AJCU in 2016. At Marquette, she co-founded the Ignatian Colleagues Program, which established her as a leader in lay Jesuit collaboration. Today, nearly 375 participants nationwide have completed the professional development and formation program, and have shared experiences in more than 200 service projects. The program still serves the nation's 28 Jesuit colleges and universities.