Discovering Science Together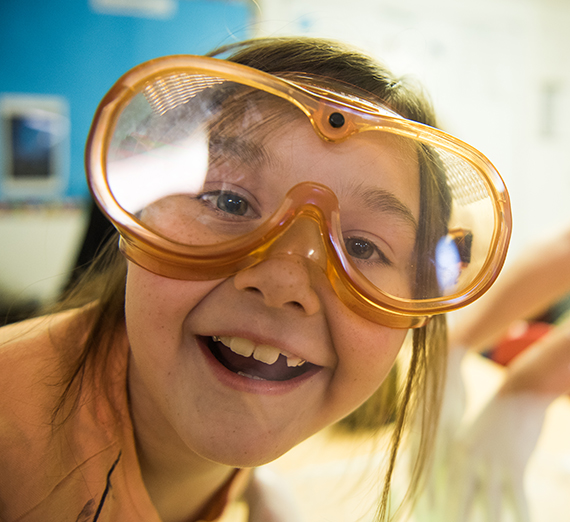 ---
By Kate Vanskike
Fill in the blank:
Science educators are
________________________________.
Creative. Nerdy. A Tad Crazy. Intensely Inquisitive. Irrationally Rational.
Those are some of the responses that come to mind after seeing an Instagram photo posted during Christmastime, detailing the speed at which Santa Claus would have to travel to reach every child on Earth. "The Physics of Santa" graphic, shared by Gonzaga's Science in Action! program, ruins the magic of Santa for some while inspiring curiosity in others. (What facts and figures were necessary to determine that Santa's speed would have to be 5,083,000 miles per hour, anyway?)
Whether dispelling myths or supporting hypotheses, solving problems or improving basic understanding, science education is "vital to our way of life, our health, and our economy," says Rohan Kundargi, the outreach coordinator for Gonzaga's Science in Action! program, which, through partnerships with local schools, seeks to improve scientific literacy in our community.
With this goal in mind, the Biology and Chemistry and Biochemistry departments currently run a variety of outreach programs that include visits to elementary school classrooms where hands-on experiments demonstrate just how fun scientific discovery can be. Activities range from altering the density of saltwater to make an egg float, to student-directed investigations into factors contributing to mold-growth into a bread ecosystem. Most activities not only emphasize the scientific content being taught in the classroom, but also the process of science itself.
The student is the teacher
Rachel Noyes ('17) has participated in the program since her freshman year at Gonzaga. One child in particular stands out in her years of working alongside elementary students: a girl named Naomi. "We brought in Madagascar hissing cockroaches for the students to observe and apply what they know about insects. All of the students could hold a cockroach if they wanted. Naomi was simultaneously terrified and thrilled. When I set the cockroach in her hand, her eyes lit up, she smiled and immediately started asking questions."
The excitement of cockroaches aside, Noyes' favorite experiment involves solving the fictitious crime of a kidnapped dog, Fido. Students use chromatography (separating the colors in ink) to identify which marker was used to write a ransom note, and thus, who was the guilty party. "I love this because it shows students that science applies to much more than just the classroom – it's used in real life," she says.
Inside the classroom
Dominique Wiley-Camacho, the science curriculum specialist at Salish School of Spokane, says Gonzaga students, over the last three years, have led her students through a range of activities spanning topics from chemical change and experimental variables to space. Two experiments that really resonated with the kids were making Alka-Seltzer rockets and studying leaf fungi, she says. Students were able to work outside the classroom and use lab equipment (protective eyeglasses, microscopes, agar plates and more), which made them feel like real scientists. "At the end of the day, they felt like they had a better understanding of what lab work entails," she says.
Science in Summer - Research immersion for high schoolers

Spend a month – and be paid – to work in the research lab of a Gonzaga faculty member. Open to students between their junior and senior year of high school. Applications due May 4 – search for Science in Action! at gonzaga.edu

Special thanks to these generous supporters: Avista Foundation, Hollister-Stier, Rotary Club 21, Robert and Clare McDonald Work-Award Program, Howard Hughes Medical Institute, George Luger, Washington STEM and Itron.
There's another benefit: "When college students enter my classroom, they share a drive to pursue higher education. My students hear what college is like, and that personal exchange makes these volunteers true mentors who inspire my students and invite possibilities that the kids might not have previously considered for themselves."
It's a win from every perspective, says Kundargi. "The elementary students love learning from college role models; the Gonzaga students learn about communicating concepts in age-appropriate ways; and the K-6 teachers enjoy having enrichment activities (with all materials provided) that enhance their curriculum and increase their students' enthusiasm for science."
Support Science in Action! Visit gonzaga.edu/giving.