Putting People to Sleep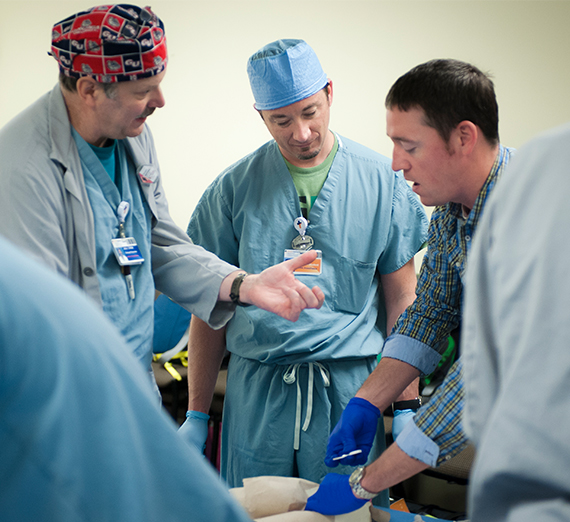 ---
One alum shares her career path to nursing anesthesia
By Kourtney Schott '18

Imagine for a moment that you're lying on a hospital bed in one of those oh-so-flattering patient gowns. You're about to go "under the knife" as they say, and you're worried. It doesn't matter whether the operation itself is major or minor because what you're really scared of is being put under anesthesia. All you can think is, What if I don't wake up? Then, a smiling nurse anesthetist shows up, takes your hand and answers all your questions. When she says everything will be okay, you know that this person with the gentle touch and steady voice is telling the truth.

As a nurse anesthetist, Sarah Pierce ('12), CRNA experiences interactions like this every day. She understands the importance of her role, and she fulfills it to the max.

After graduating with a bachelor's degree in nursing from the Washington State University Intercollegiate Center for Nursing Education in 1999, Pierce worked as a dialysis nurse for a year. To gain more valuable experience in the field, she switched to critical care in the ICU and CICU at Kootenai Medical Center (Kootenai Health now) where she worked for ten years. Throughout her time in critical care nursing, she worked as the charge nurse, an on-call critical transport nurse, and the hospital supervisor. This built a strong medical background for Pierce, and today she says that she's become a stronger provider because of her time in those positions.

Why the desire to go back to school at Gonzaga to become a nurse anesthetist? Pierce says, "A lot of people go into anesthesia to get out of bed-side nursing, but I loved what I did as a nurse. Being a nurse anesthetist appealed to me because I would have more responsibility." With more responsibility comes more accountability. Pierce has noticed that autonomy is very different as an anesthesia provider: "You are 100% responsible for the decisions you make, which can be challenging knowing you're ultimately responsible in life or death situations." Despite the pressure, Pierce falls back on her critical care experience, as well as what she learned about leadership and decision-making in the Masters of Anesthesiology Education program at Gonzaga.

Pierce is the first female partner of Anesthesia Associates of Coeur d'Alene, which contracts with Kootenai Health to provide independent and safe anesthesia services to its patients. She also is a member of the Anesthesia Joint Operating Committee at Kootenai Health and serves on two boards – one for Anesthesia Associates of Coeur d'Alene and another for Kootenai Health Foundation.

Pierce attributes most of her success to Gonzaga University's nurse anesthesia program. With only 8 students in her class, she received a quality education in a small-group setting. In addition to small class sizes, classes were taught at Providence Sacred Heart Medical Center where students would learn from experts in the care setting.

"The quality of education was unbelievable," Pierce remarks. "On the clinical side, Sacred Heart offered us a plethora of cases to gain exposure from." Gonzaga requires more than the minimum number of cases needed to become qualified. It's not coincidental that the group she works for now intentionally looks for Gonzaga graduates because of the quality of providers the program produces.

Patient care in any setting should always be about more than just clinical expertise, and Pierce found that Gonzaga's Jesuit mission has made her a well-rounded provider. "I'm a big believer of the Jesuit theory of taking care of people and paying it forward," she reflects. She puts that into action with the Pierce Family Scholarship (through Kootenai Health Foundation) to give back to employees of Kootenai Health who seek training to advance their careers.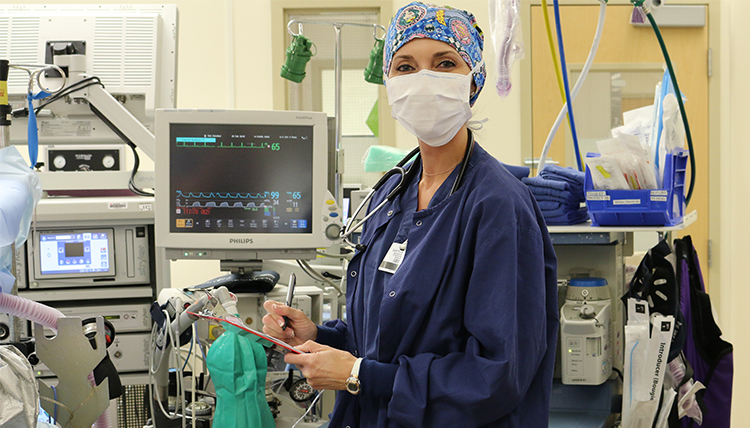 Rave Reviews
Gonzaga's quality of education hasn't just been recognized by its students – this past year, the Nurse Anesthesia Program received a 10-year accreditation from the Council on Accreditation of Nurse Anesthesia Education Programs (COA) with no recommendations, a particularly rare feat.

Program Director Scot Pettey, CRNA, DNAP at Providence explains that after moving the program from a Masters of Anesthesiology Education (MAE) to a Doctor of Nurse Anesthesia Practice (DNAP) in 2015, the program became enriched with new courses such as pathophysiology, physical assessment, crisis management and health policy. This gave students the chance to become not only competent nurse anesthetists, but also effective leaders in their fields. In addition, the doctoral program requires students to design and perform a capstone project that helps increase the quality of care to patients at the students' clinical sites. Because the doctoral program gives the students an additional two semesters of clinical education, they are better able to hone their expertise in the delivery of anesthesia. All of these factors contribute to the fact that Gonzaga's Nurse Anesthesia Program received the best possible accreditation the accrediting body could offer: "The directors of the COA are particularly pleased to offer their congratulations to everyone at the program who has demonstrated their commitment to meeting the requirements for continued accreditation."

With a seamless and worthy switch from the MAE into the DNAP, Gonzaga still exemplifies a high caliber education, producing top-notch nurse anesthetists like Sarah Pierce – nurse anesthetists who are extremely passionate about what they do.

If you were to ask Pierce what her favorite part of her job is, she would tell you: everything. In fact, nurse anesthesia is pegged at having one of the highest job satisfactions in the country. Pierce especially enjoys the responsibility of an anesthesia provider paired with the satisfying undertaking of making connections with her patients.

As an anesthesia provider, Sarah has also been thankful to be in a lucrative position that has allowed her to become more involved in philanthropy. In addition to the Pierce Family Scholarship fund, Sarah served on a medical mission trip to Nicaragua, giving her time and expertise to those who need it most. While there, Pierce worked with a team to repair congenital defects and mitral and aortic valves in ten open-heart surgeries. Despite the 16-hour-long days spent in a hospital that had pigeons in its hallways and waiting rooms, mosquitos and questionable equipment, Pierce says the work was very rewarding. She remarks, "The most powerful thing about the mission was watching how a group of people can come together and perform the very daunting task of open-heart surgery in a third-world country." The team saved ten people's lives who would be severely compromised otherwise.

When all is said and done, Pierce's work comes down to a simple idea: "being able to mix your career with what you love to do." Fortunately for this alum, she's been able to do just that.
Learn about Gonzaga's School of Nursing and Human Physiology.