Opening Doors – Community Leaders Welcome Business Students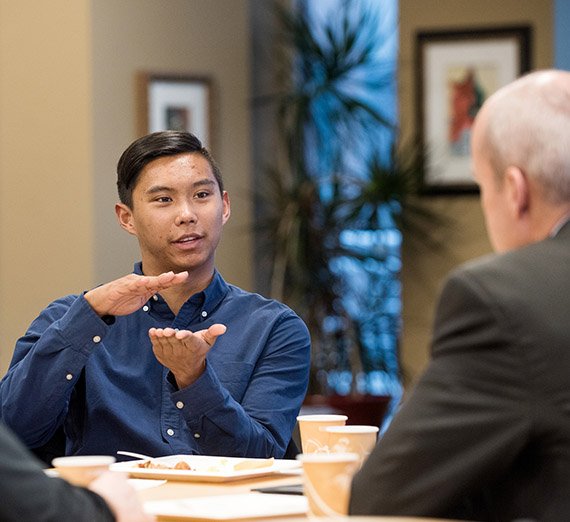 ---
Opening Doors For Others Is A Congenial Part Of Daily Life At Gonzaga.
As important for our future grads are opportunities to see other kinds of doors open. Community partners provide that courtesy by inviting Zags to step inside their day-to-day business operations for real-life learning.
The success of business school graduates in finding gainful employment depend not only on academic performance, but on their exposure to experts in their field and, ideally, opportunities to apply their learning in an authentic setting.
At the Gonzaga School of Business Administration, faculty, staff and students are encouraged to get outside the Jepson Center and connect with colleagues across the community.
"Our students must have multiple hands-on learning opportunities," says Ken Anderson, dean and professor. "We believe in moving beyond the traditional over-reliance on internships and to provide alternative forms of hands-on education including competitions, new venture labs and in-class projects."
That vision is seen in the many ways the school has engaged local leaders at small nonprofits and large corporations, both in the classroom and throughout the community.
Come On In
Gonzaga courses provide a context for discerning ideas and creating solutions, which in turn, students share with the business community.
While some classes feature guest speakers from Spokane's business sector, others are taught by local experts serving as adjunct professors who bring their professional experiences and knowledge into their instruction as points of reference. They also collaborate with the School of Business to offer one-credit intensive weekend classes throughout the semester to supplement the standard curriculum.
An example is Introduction to Non-Profits taught by Jamie Borgan, program director of Transitions' New Leaf Bakery and Café through Transitions. Working to end poverty and homelessness for women and children in Spokane is no small task and Borgan is an expert. She graciously shares the challenges with students in a three-part course about nonprofits and how they can function collaboratively with for-profit businesses.
"The benefit of working with students flows in both directions; their ideas, enthusiasm and creativity are refreshing for those who are doing the work, and reciprocally, it's fun to share practical experience with students who might not have a lot of real-world experience yet." Learning from an insider like Borgan offers new perspective and prepares students for lives of work and service.
Examples of One-Credit Intensive Courses
Get Hired! How To Land A Job In Marketing & Advertising– Ed Reese, founder of Sixth Man Marketing
Intellectual Property– Crystal Bandy, attorney
Image And Reputation Management– Stephanie Vigil, news anchor, KHQ-TV
Strategic Planning For Total Quality– Tom Agnew, owner of Agnew Consulting
Mean Girls And Queen Bees: Women In The Workplace– English Professor Patsy Fowler and Management Professor Molly Pepper
One on One
The Multidisciplinary Action Projects class is one of the newest and unique undergraduate business school opportunities because of its immersion.
Each semester, students are assigned as a team to an organization that presents a challenge, problem or vision for student evaluation. This spring semester, those include Hills Resort and its endeavor to extend the business from its busy summer season into a year-round model; Health Care Training Center's ideology and intention behind recruitment; and Project Hope's effort to develop ideas for a new product line beyond fresh produce. In addition to tackling a real business challenge in the course, students practice contemplative action, service learning and collaborative creation by helping both for-profit businesses and nonprofits to achieve their business goals.
The impact of the students' work is creating significant word-of-mouth advertising for the class. "We're definitely not short on future project proposals from businesses who like this idea," says Dean Ken Anderson.
Matt Santangelo ('00), executive director of Hoopfest, definitely liked it. His wish is for Basketball City, USA, to be synonymous with the city of Spokane as home of the world's largest three-on-three basketball tournament. That wish fulfillment requires teamwork, including GU students.
Santangelo participated in the Multidisciplinary Action Projects class where he was matched with a team of students who helped to build a financial model. "Their enthusiasm and willingness to learn made the process successful. Plus, the students are really, really smart," he says. "The real world doesn't fi t into a textbook story problem," the former Zag basketball standout adds. The business school connection to relevant community work demonstrates that.
Graduation comes eventually for every Zag. It's through these experiences of school and community partnership that Gonzaga students discover that doors are bound to open for them.
Partners Impacted by the Multidisciplinary Actions Projects Class
Columbia Bank
Evergreen Club
Girl Scouts
Hoopfest
Riverside State Park Foundation
Skyhawk Sports
Spokane Eastside Reunion Association
St. John Vianney Catholic Grade School
Tomlinson Real Estate Group
Washington Trust Bank
Women's Hearth
Women Helping Women Fund
YMCA