Unsung - Putting the Spotlight Behind the Scenes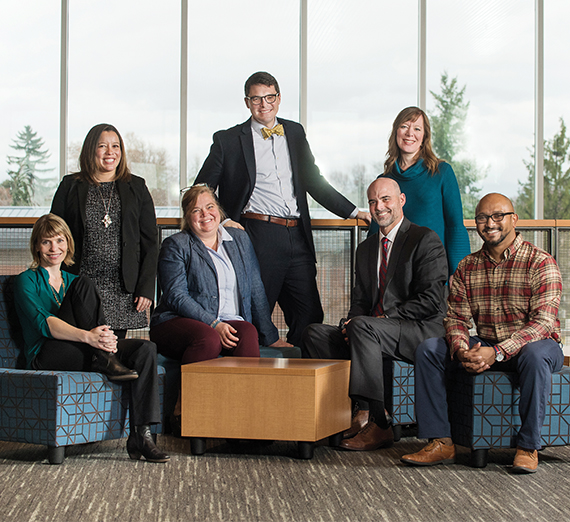 ---
From the President
Gonzaga's brand messages over the past few years have centered on the essential components of what unfolds at Gonzaga: Purpose, potential, faith. We've told the GU story in terms of how new ideas are unleashed and that our students have unparalleled opportunities for growth, and our power together is undeniable as we work for justice. This work has delivered to our institution what we were promising our students and alums would experience: a period of self-exploration and achievement that has been unbelievable and unparalleled.
And hence, our 2016-17 annual report focuses on the Unsung people who make things happen, the Unprecedented opportunities we've had and the Unwavering commitment we have to continue defining ourselves as a premier Jesuit institution.
Many people would suggest that the Men's Basketball team's journey to the Final Four was a pinnacle moment of achievement for Gonzaga during this last year. Indeed, that experience drew great attention to our university – it was a moment we seized to share both the story of our basketball success, as well as the broader story of our university beyond athletics. But perhaps as significant has been the work taking place on a multi-year strategic plan that aims to prepare us for greater growth and prominence. At the core of this vision are two priorities on which everything else centers: significant growth of our endowment and an active focus on integrating the Jesuit Mission into everything we do.
Accomplishing the goals of a strategic plan and executing methods of engagement for events like a Final Four appearance are successful because the people of our extended Gonzaga community – the Cabinet, the Boards of Trustees and Regents, our faculty, staff, students, benefactors and alumni – have dedicated themselves to help make Gonzaga a prestigious institution of which the Jesuits, and our alumni, can be proud. In this report, you will read about many of the people who are part of this great work. From keeping our campus beautiful and serving guests, to implementing a new Core curriculum and expanding global engagement opportunities, work occurs every day to ensure that the brand promise we share throughout all of our communications is a legitimate expression of who we are and who we are coming to be.
With sincere gratitude,
President Thayne M. McCulloh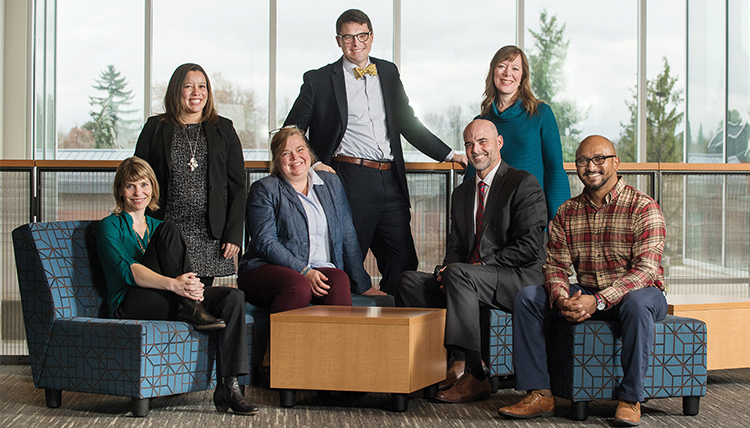 Pictured on the cover of the 2016-17 Report of the President:
Rachelle Strawther (Staff Assembly), Kelly Alvarado (First-Year Experience), Rhonda Young (School of Engineering and Applied Science), Andrew Brajcich (Faculty Senate), John Sklut (Strategic Planning), Anny Case, (School of Education), Rohan Kundargi (College of Arts & Sciences)
Unsung
More than 2,600* people call Gonzaga their employer. They are engineers, accountants, philosophers, leaders, lawyers, nurses, musicians, theologians, writers. They are photographers, event planners, groundskeepers, bakers, registrars, fundraisers, custodians, receptionists. But they are more. Behind those titles, they are unsung champions for our students and for this great university.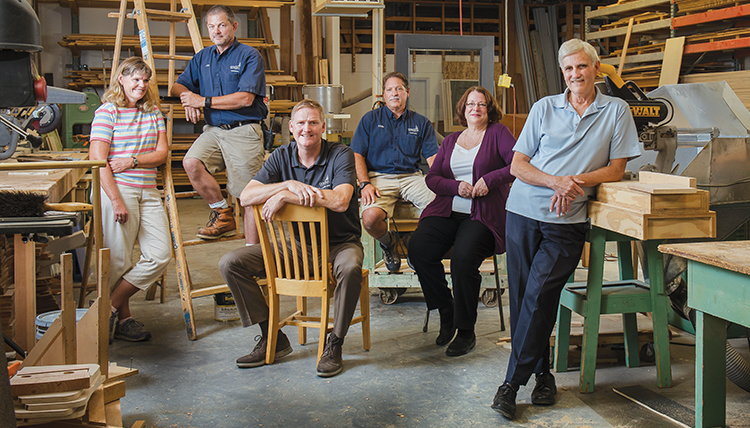 Members of Gonzaga's Plant and Construction Services department are all unsung heroes, working behind the scenes.
Left to right: Julie Ullrich, Joe Owens, Tomson Spink, Ross Windhorst, Pam Blick and Mac McCandless.
Unwavering
The soul of a Jesuit university lies in the life of its mission. Not merely words on a page, but living examples of faith formation and growth, social justice in action, and an unquenching desire to seek the Magis.
Engaging our students, faculty and staff in the mission of the University are these Mission and Ministry colleagues:
Michelle Wheatley, Terry Randles, Fr. Pat Lee, S.J, Rev. Janeen Steer and Greg Onofrio.
Unbelievable
Here are just a handful of the many individuals who stand out for their commitment to their individual departments and the University community.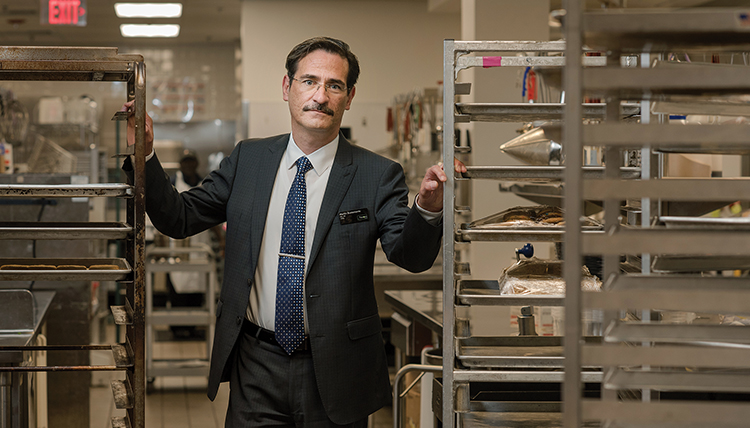 Martin Bustamante, Catering Manager, Zag Dining
Customer satisfaction is at the core of Martin's work ethic. He is always supportive and on hand to assist with event details and make suggestions, bringing a touch of class to everything he does. He embodies the Mission of the University and epitomizes what it means to be a person for others.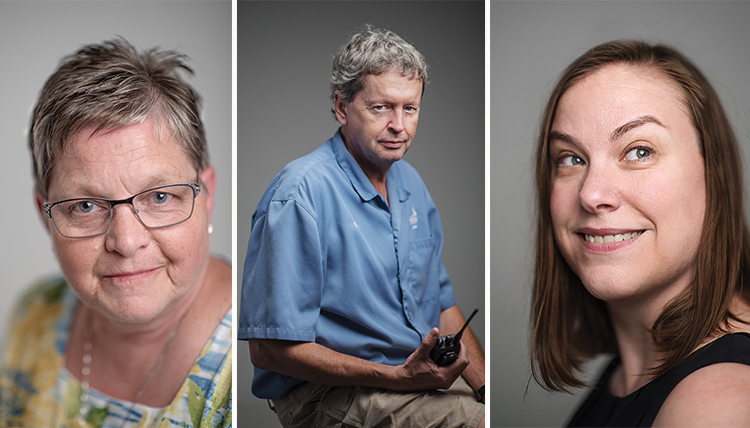 Gayle Clayton, administrative assistant, Athletics
Gayle represents all of Gonzaga in such a positive way, whether on the phone or in person. Everyone comes away from interacting with Gayle feeling better than they did before.
Tim Hatcher, groundskeeping supervisor, Plant Services
For 35 years, Tim has been largely responsible for maintaining the beautiful grounds of Gonzaga's campus. He is always looking out for his team members and their needs.
Phoebe Oosterhuis, business manager, Center for Community Engagement
Phoebe supports the Center for Community Engagement (formerly Community Action and Service Learning) by managing grants, gifts and university funds to ensure that student fundraising goals for programs like Mission: Possible are met. The staff loves Phoebe and appreciates the thoughtfulness she brings to the office on a daily basis. Students know Phoebe to be a caring individual who strives to support them and their programs.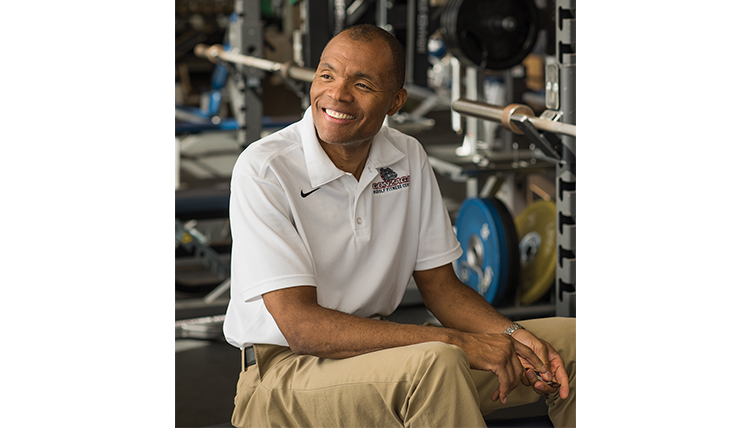 Jose Hernandez, director, Rudolph Fitness Center
Jose has created innovative new programming to help keep our campus community healthy. He lives our Jesuit ideals wholeheartedly, and is one of the most welcoming and refreshing people on campus.
See the rest of the 2016-17 annual report here.