Gonzaga Surpasses Original Campaign Goal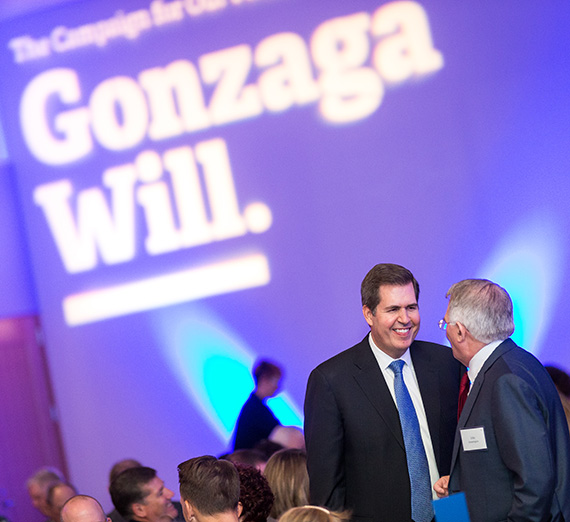 ---
SPOKANE, Wash. – Nearly two years after launching Gonzaga Will: The Campaign for Our Future, the largest capital campaign in Gonzaga's history, the University is proud to announce that, due to the unmatched generosity of Gonzaga's community of supporters, it has exceeded its original fundraising goal of $250 million. With this achievement comes a continued focus on growing the University's endowment as well as building a new Integrated Science and Engineering facility, Gonzaga President Thayne McCulloh announced today.
"Thanks to the incredible generosity of more than 36,000 supporters worldwide, I could not be prouder to share that we have not only met our goal, but in true Zag fashion we exceeded it, having raised $286 million. This is monumental. This will change the way our institution operates and allow us to do even more to keep our University competitive and thriving," President McCulloh said.
While this raised-to-date amount is record-breaking for the institution, the campaign will now focus on two priority areas: meeting the scholarship goal of $100 million, which is just $7 million from being realized, and securing $50 million toward the construction of the Integrated Science and Engineering (ISE) building, he said.
"We are not done. We cannot rest while we still have so many important challenges – and wonderful opportunities – before us to appropriately support our extraordinary students," President McCulloh said, noting that the ISE, which is advancing through the design phase, embraces and fosters multidisciplinary experiences, and will bring together faculty of the College of Arts and Sciences with colleagues in the School of Engineering and Applied Science.
The ISE will provide critical labs, research space, and collaborative learning options which will allow our faculty to facilitate student innovation and consider new opportunities for interdisciplinary learning and research," President McCulloh said. "Together with this critical facility, our biggest focus is around providing scholarship support for our students. Our scholarship promise to our current and future students and their families is one from which we will not waver. We are $7 million from our campaign goal toward scholarships. We will deliver on this promise."
Blessings from benefactors have allowed Gonzaga to reach milestones over the past two years, including:
Creating 266 new scholarships.
Opening of the Boone Avenue Retail Center (BARC) and the John J. Hemmingson Center. "The Hemmingson Center has brought together our campus community and visitors alike, supporting our strategic growth in enrollment and our admissions efforts," said McCulloh.
Constructing the new Stevens Center for Tennis and Golf.
Breaking ground on three new facilities: The Della Strada Jesuit Community, the Volkar Center for Athletic Achievement, and the Woldson Performing Arts Center, in addition to other significant
Improvements to spaces on campus. Gonzaga dedicated Della Strada on Sept. 28 and will dedicate the Volkar Center this spring.
Securing $27.6 million in commitments and gifts toward academic programs and faculty positions.
"We are extremely grateful for Zag Nation and for your belief in our mission. With your support, Gonzaga will continue to flourish. Gonzaga will continue to find solutions for the challenges of our world. Gonzaga will continue to unfold the potential of our students," said McCulloh. "On behalf of the entire University, thank you. We've accomplished so much and yet so much opportunity still lies before us."
To learn more about the Gonzaga Will campaign, visit www.gonzagawill.com.