Four Fine Fellows Enhance Intercultural Learning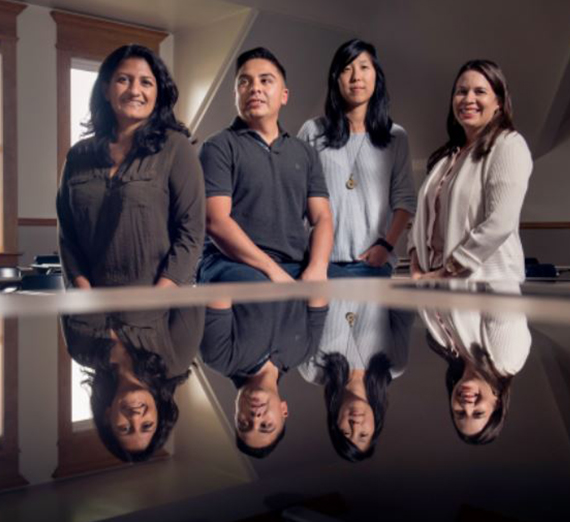 ---
By Dale Goodwin ('86)

Gonzaga students have made it clear they want – and need – greater diversity among their faculty members to broaden the intercultural learning they experience. Now, thanks to a partnership with the University of Washington, that's happening. Learn more about UW's Diversity Fellowship program here.
New University of Washington Diversity Post-Doc Fellow Eunice Kim is teaching a discussion-based class on Homer. "By the third week, students were becoming less enthusiastic with the predictability of our classroom routine," says Kim. So she decided to hold class in the amphitheater near Lake Arthur. "What a difference a setting makes," she says. "The students are still talking about that class day, and discussing future class activities to make the class more creative."

Kim is one of four UW diversity post-doc fellows teaching at Gonzaga following completion of their doctoral degrees at UW. Tony Abeyta (biology) and Noralis Rodriguez-Coss (women and gender studies) started their two-year appointments last year, Kim (classic civilizations) and Shruti Patel (history) new this year.

Their impact has been appreciated by Gonzaga students.

"I could see students' faces light up when they heard we have four diverse post-doc fellows here this year," says Jessica Maucione, who co-directs the program with Ann Ostendorf. "One heard about Eunice, and was so excited to have a faculty of color, but also someone who could bridge the gap between contemporary questions and ancient texts."

And the fellows appreciate what they see in Gonzaga students.

"The students here at Gonzaga aren't just trying to 'get it,'" Kim says. "They want their education to matter; they're making it matter in thoughtful and creative ways."

The experience is impacting the new teachers, as well.

Rodriguez-Coss is flowering as a teacher. "Gonzaga sparked an interest in me to foster a learning environment based on human dignity, care and solidarity. The classroom has the potential to be a space for the prevention of all forms of oppression and for raising social justice consciousness," she says.

After teaching a year at Gonzaga, I have reconfirmed my love for teaching.
Noralis Rodriguez-Coss
Rodriguez-Coss has been especially touched by the outreach and support from this community in light of recent destruction by Hurricane Maria to her homeland Puerto Rico, where she has family. "I wake up thinking how fortunate I am to work with such caring and compassionate people."

This group of post-doc fellows has bonded well. And their contributions are many. "Tony is taking two students to a national biology conference to present their research. Nora has introduced international feminism, which is a specialty we have not had in women and gender studies. She's preparing students to be global citizens," Maucione says.

"Eunice and Shruti are very excited to be here. Every time I visit them they have students in their offices," says Ostendorf. "Shruti is the only one among these four without prior teaching experience. Yet she asks the most sophisticated questions, which is hard to do when you've never taught before. I'm encouraging Eunice to think about teaching a first-year experience class on murder and violence, inspired by her research on violence, crime and punishment in the ancient world."

"After teaching a year at Gonzaga, I have reconfirmed my love for teaching," Rodriguez-Coss says.

Mission accomplished.

Photo: Zack Berlat