Men's Basketball Rises to No. 1, Student-Athletes Score in School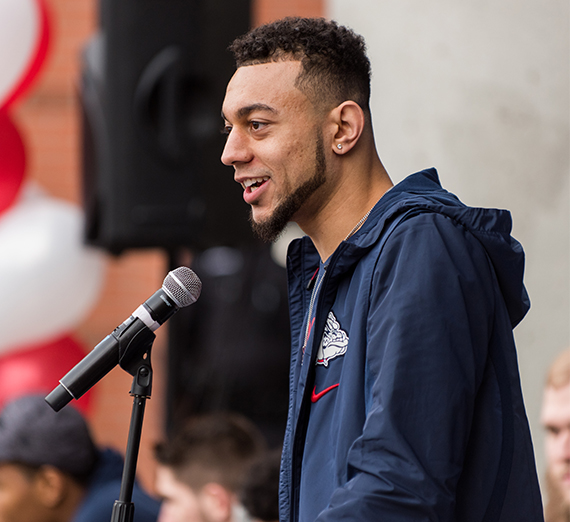 ---
Zags Third in Nation in Graduation Success Rate
SPOKANE, Wash. – While the Gonzaga University men's basketball team reached No. 1 on Monday in both the AP and USA Today polls for the second time in history, the University also reported that 98 percent of its student-athletes are graduating, the third-highest Graduation Success Rate among Division I schools in the nation, according to the latest numbers released by the NCAA.

Only Harvard University and sister Jesuit school Loyola University Chicago, both at 99 percent, rank higher. Gonzaga's GSR is the best in the West Coast Conference and ties for No. 3 nationwide with a group of 14 universities, including Yale, Brown, Dartmouth, Notre Dame and Princeton. The NCAA average GSR is 86 percent; the WCC average is 89 percent. The NCAA released the data in late November.

Ten Gonzaga squads achieved 100 percent GSR scores: women's basketball, volleyball, men's and women's soccer, men's and women's golf, men's and women's tennis and men's and women's cross country and track.

All 13 Gonzaga athletics programs included in the rankings finished above the national average in their respective sports. Men's basketball achieved a 90 percent GSR score, 10 percentage points higher than the national average for the sport. Gonzaga's remaining programs also finished at 89 percent or higher.

GU student-athletes earned an athletic department record 145 academic honors in the GU President's and Dean's List for Fall 2016. The Zags posted a collective grade-point average of 3.38, including a record 17 student-athletes with 4.0 GPAs.
The Fall 2016 President's List (minimum 3.85 grade-point average) includes women's basketball players Chandler Smith and Emma Stach, while the Dean's List (3.50-3.84 GPA) includes women's basketball player Emma Wolfram and men's basketball players Nigel Williams-Goss, Jacob Larsen, Rem Bakamus, Josh Perkins and Dustin Triano. Women's basketball player Kiara Kudron, men's basketball player Jordan Mathews, and volleyball player Sarah Bradley are working on master's degrees and also have earned high GPAs in their respective programs. Graduate students are not eligible for the President's and Dean's Lists.
---
Sarah Carter, a senior soccer player from Bonney Lake, Washington, is among Gonzaga's many outstanding student-athletes. A nursing major and philosophy minor, Carter was named to this year's WCC All-Academic team after earning WCC All-Academic honorable mention last year. Carter, who started and played all 75 games for the Zags the past four years, has been consistently on the President's List and last semester posted a 3.95 GPA.
"Nursing is a bit unique as a major because we spend our time in class and also at the hospital working our clinical rotations. It was very challenging," she said. "We (student-athletes) have to get good at using any time we have available during the day because our sport is a full-time job and school is a full-time job. You learn to get really good at balancing the demands of both. It's very rewarding when you get to be involved in the nursing program, and our coaches and faculty were very flexible and happy to work with each other to help make this possible."
Even with the full support of faculty and coaches, Carter needs an extra semester to complete her nursing program (due to the two-year clinical rotations) and will graduate in December.
"The alternative was to not be able to do nursing," she said. "I can't miss days in the hospital, and I can't miss games. It took a lot of advance planning and extra meetings with my advisors from nursing and my coaches and others, but it was definitely worth it to be able to do both."
---
In the 2015-2016 academic year, Gonzaga's student-athletes tied with Dartmouth for the NCAA's top four-year academic progress rate, a different measure of academic success than the GSR. The GSR was created in response to requests from college and university presidents for data that more accurately reflects the mobility of college students. The GSR formula excludes student‐athletes who leave school while academically eligible and includes those who transfer to a school after enrolling elsewhere, making it a more complete and accurate measure of student‐athlete success, according to the NCAA.