Courtney Law Joins Gonzaga as Director of GU-UW Regional Health Partnership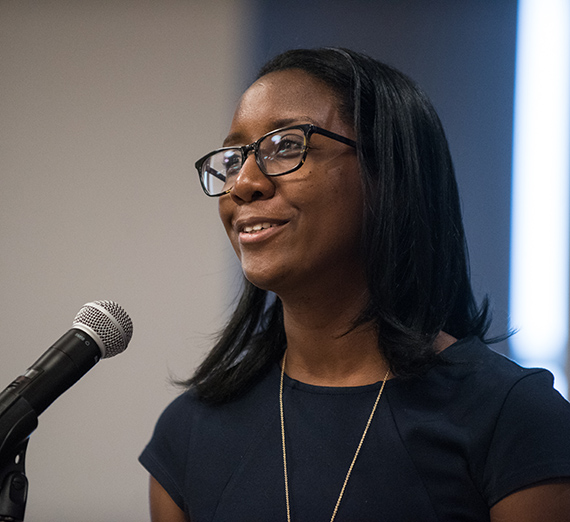 ---
SPOKANE, Wash. – Gonzaga University has hired Courtney Law, Ph.D., as director of the Regional Health Partnership. Law will lead Gonzaga's efforts within the partnership, an initiative with the University of Washington to expand and enhance medical education and research in the Spokane region.
In addition to working with colleagues at the University of Washington to advance health-related research, entrepreneurship and inter-professional health education, Law will manage Gonzaga's role in the collaborative effort to create new academic facilities to support the partnership's priorities focused on improving the health of communities and the vitality of the region.
Law currently serves as associate director of entrepreneurship and innovation with Life Science Washington. She will start in her new role on Aug. 1.
"Dr. Law brings a distinguished research background and a track record of impact when it comes to realizing economic growth through research, commercialization and entrepreneurial activity in the health sciences," said John Sklut, chief of staff to Gonzaga President Thayne McCulloh. "She is an experienced collaborator, and her work with the University of Washington's Center for Commercialization, and with health-focused businesses, will bolster regional efforts to grow the sector here in Spokane."
At Life Science Washington, Law developed and managed the pilot of the Washington Innovation Network (WIN) for the Life Sciences Entrepreneur Mentoring Program, a venture-accelerating program that gives promising early stage Washington Life Science ventures world-class advice and assistance through their critical stages. During the pilot, Law helped recruit 48 mentors, served 31 ventures, formed statewide strategic alliances and secured post-pilot funding. In addition to building the WIN Program, she initiated student talent development programs to expose graduate-level students to new careers and entrepreneurship.
Prior to joining Life Science Washington, Law had experience working with entrepreneurs and young companies. As a consultant with UW's CoMotion, she worked on research commercialization in partnership with the UW. Previously, she spent nine years at the research bench in drug discovery, working in the fields of asthma, anticoagulation and type 2 diabetes. She also worked with entrepreneurs and early stage companies at the Office of Technology Transfer at North Carolina State University.
Law holds a Ph.D. in pharmaceutical sciences from the University of North Carolina at Chapel Hill and completed her postdoctoral studies at the Biomanufacturing Research Institute and Technology Enterprise (BRITE) in Durham, North Carolina.
Law, who will report to Sklut, will direct Gonzaga's efforts within the partnership and coordinate with teams at both institutions as well as the partnership's soon-to-be-developed Spokane Community Advisory Board, the regional health sciences community and the local and regional business community.
Media contact:
Mary Joan Hahn, director of public relations, Gonzaga University;
hahn@gonzaga.edu
; 509-313-6095.