Gonzaga Community Reflects Peace Corps Experience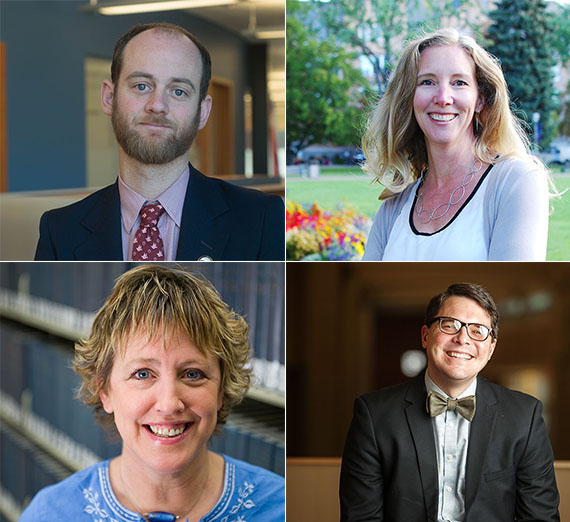 ---
SPOKANE, Wash. – Gonzaga University's ranking for four consecutive years as the nation's top Peace Corps volunteer-producing institution among "Small Colleges and Universities" reflects its institutional commitment to improving our world and underscores the service ethos of its faculty and staff. Several members of Gonzaga's faculty and staff served in the Peace Corps and each person says the volunteer experience helped shape their lives today.
Beginning with her two-year service (1980s) as a Peace Corps Volunteer in the Central African Republic, Associate Professor Mary Jeannot, Ph.D., has dedicated her life to teaching. At Gonzaga since 1997, she founded the University's Master of Arts in Teaching English as a Second Language program (1998) and its Peace Corps Master's International program (2009).
In working with students in the PCMI program, Jeannot emphasizes the importance of flexibility during their Peace Corps service and learning to be a part of a culture.
"We really look for someone who can embrace ambiguity, someone who is flexible and collaborative, and loves languages," says Jeannot. "You know the (Peace Corps) motto is: 'It's the hardest job you'll ever love.'"
After returning from her service in Africa, Jeannot earned a master's and doctorate from the University of Massachusetts at Amherst and trained future Peace Corps teachers. She credits her Peace Corps experience with helping to inspire her personally and professionally. She also founded of Gonzaga's Summer Institute for ESL students (1999), which has since added the Gonzaga TESOL abroad programs, including the interdisciplinary TESL programs.
"Even today it's still shaping the way I think about things, the way I do things in ways that you wouldn't even imagine," Jeannot said. "The Peace Corps taught me how to think, act, learn and teach like an ethnographer. Never underestimate the power of local knowledge and never dismiss the sublime power of quiet observation. "
Tyler Wasson, program coordinator for Gonzaga's Center for Global Engagement and an adjunct instructor in the School of Business Administration, is among several other GU faculty and staff who have served as Peace Corps volunteers. A Gonzaga MBA alumnus ('13), Wasson served as a community and organization development volunteer in Isperih, Bulgaria from 2007-09.
"When you're there in another culture you learn about it but you also learn how to participate in it in a positive way. Being part of our new communities never really leaves us," Wasson said. "The Jesuit values of Gonzaga and the roles Peace Corps volunteers play in their host communities are very much in alignment. I can see why so many Gonzaga students are drawn toward Peace Corps service."
Wasson says Bulgaria has stuck with him over the years, and not only because he married a Bulgarian woman he met as a Peace Corps volunteer.
Mary Kelly, office assistant in the Center for Community Action & Service-Learning, entered the Peace Corps upon earning a bachelor's degree in speech communications from Gonzaga in 1989. She served in a few small villages in the African Republic of Niger from 1989-92, working to improve health and lifestyles. Kelly says the experience was shaped by her many connections with the villagers and from immersing herself in the culture. With the closest volunteer some 50 miles away, Kelly learned all about self-reliance. She worked with women to build clay stoves, taught families to make nutrient-rich porridge, and grew close to the children.
While she sought to teach and make an impact, Kelly believes the villagers taught her far more.
"Peace Corps doesn't just enrich the lives of the people in the villages that we go into, it enriches the lives of the Peace Corps volunteers," says Kelly. "They then can bring that back and share it with their families and communities and hopefully be always mindful of the things learned there."
Kelly says she remains mindful of how she lives her life. She throws away as little as she can, walks as much as possible, and appreciates her daily opportunities, especially working with Gonzaga's students.
Andrew Brajcich, assistant professor of accounting, spent 11 months in Georgia (a former Soviet republic) putting his law degree to good use. There he worked to create policies to help the government become more democratic and transparent. He worked closely with local government officials to help guide them through various processes to address and eliminate the underlying causes of corruption.
Although Brajcich's Peace Corps service was cut short due to political turmoil, the experience impacted him significantly.
"I gained an understanding how a lot of people outside the United States live and how that informs their opinions about us or anyone. I also learned how to approach problems in more helpful ways," Brajcich said. "Also, I did come to realize at the end of the day, when you really get down to the core of it, people are the same everywhere."