Spotlights on Alumni, 2016 Winter
---
"subconscious shelf"
Ryan Labar ('98) received the first-place grant ($35,000) from the Virginia A. Groot Foundation's 2015 awards. The foundation specifically supports artists who have exceptional talent in sculpture.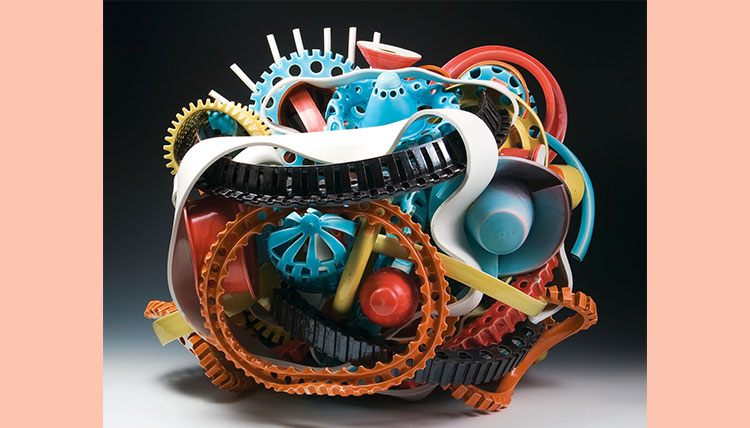 Pertaining to his piece title "subconscious shelf," he says:
"Working with clay, I fabricate individual and wheel-thrown elements. These are carefully stacked to compose a layered and woven structure. Each element counterbalances the position of another. These precarious constructs are placed in a kiln, and the heat of the kiln deforms the clay parts. Tensions are released, movement quiets and the system of parts reaches equilibrium and becomes a singular whole."
working toward a cure
1984 Economics/Accounting grad John Bowers is COO of Kona Medical, a Bellevue start-up offering hope to people suffering from resistant high blood pressure.

John Bowers found his niche in the world of medical technology, working with an array of devices and treatments used to help improve care to patients. Today he's chief operating officer for Kona Medical, a small start-up in Bellevue that focuses on ultrasound technologies.

More than a billion people have hypertension (high blood pressure) and about 10 percent of them have hypertension that is resistant to therapy, which puts people at an even greater risk of cardiovascular disease: heart attacks, heart failure, stroke. Kona Medical knew that the power of ultrasound is not just in seeing the features of a baby in the womb. For decades, ultrasound has been used to diagnose and treat a number of other conditions, and Kona researchers wanted to see if it could work for treating high blood pressure, too. It does. Sound waves delivered from outside the body at high energy heat the nerves without impacting the artery. After treatment of about three minutes, the nerves surrounding the renal artery are effectively shut down.

So far, Kona has completed three studies, and results have been quite favorable. About three-quarters of patients saw a reduction in blood pressure by at least 10 mm mercury (for example going from 160/105 to 150/95) and about half reduce that number by 20.

"This cuts the risk of mortality in half, and even smaller reductions can lower the risk of stroke by almost 40 percent," John says. "With our portable, noninvasive ultrasound therapy, we hope to bring better outcomes to millions of people worldwide.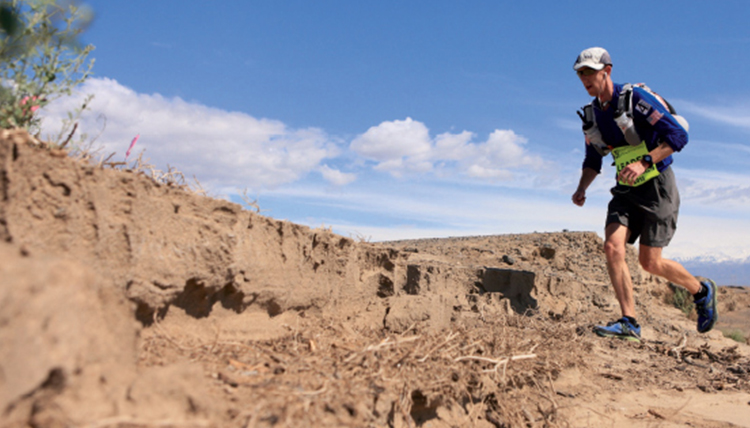 7 days in the desert
Last May, Kyle McCoy ('01) embarked on one hot journey, a march with a mission. Over seven days, he walked 155 miles across the Gobi Desert in Western China, a trek that has earned inclusion into Time Magazine's Top 10 Endurance Competitions.
In the notes McCoy sent to friends and supporters during the journey, he included a montage of blessings: changing socks for the first time in five days, meeting an inspiring Canadian who started a nonprofit to involve Afghani women in sports, the rain aft er a sand-storm, and cold beer after the finish. And there's this: through this race, McCoy and his wife, Katie, exceeded their fundraising goal, contributing more than $51,000 to The Trust for Public Land, a nonprofit that seeks to protect lands in the United States for public use.