Freshman Twins from Liberia Keen to Hear President Sirleaf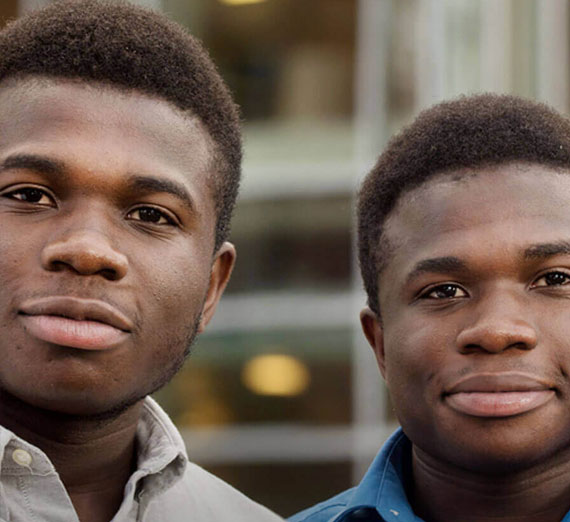 ---
SPOKANE, Wash. – Simon and Simeon Menso, identical twin freshmen at Gonzaga University who immigrated to the United States from Liberia at age 6, will be listening attentively to Liberian President Ellen Johnson Sirleaf when she delivers Gonzaga's >sixth Presidential Speaker Series lecture at 7 p.m., Sunday (Oct. 4) at the McCarthey Athletic Center.
The nearly inseparable brothers, who will have the opportunity to meet President Sirleaf on Sunday, say the adversity they have experienced has inspired them to serve the less fortunate. Their parents immigrated to the United States near the start of the Second Liberian Civil War (1999-2003). The twins and their siblings lived with relatives in Liberia before the family could reunite in Aurora, Colorado in 2003.
The twins returned to Liberia two years ago in hopes of doing some service work while there, but the circumstances did not permit it. At Gonzaga, both are studying human physiology with different plans to help others.
Simon aims to attend law school after graduation and specialize in medical-related law to help people get the health care they deserve. His alternative career plan is to help educate people around the world on disease prevention. After he graduates, Simeon hopes to attend medical school and become a pediatrician; he'd like to participate in Doctors Without Borders, an international program that provides medical care to people in distress worldwide.
"Moving to the United States has allowed us to gain a new perspective on just how important it is to serve our community, state, country and world," says Simon. "Whichever career field we end up in the future, we just want to help and serve."
They hope to one day create a nonprofit organization that will build more hospitals and schools for the children of Liberia.
"These young men have already shown a commitment to serve others, and have dedicated themselves to an educational path that will allow them to continue to improve their world, particularly the country of their birth," says Julie McCulloh Gonzaga's dean of admission. "I am very honored that they have chosen to make Gonzaga their home for the next four years."
The young men are recipients of the Ignatius Leadership Scholarship and Community Scholar Awards. They chose to attend Gonzaga for its strong sense of community, caring staff and students and the men's and women's basketball teams. At Gonzaga they plan to participate in intramural sports, and volunteer through the Gonzaga Center for Community Action and Service-Learning. In addition, they're excited to join the Kennel Club.
"We are super excited to be taking the next journey in our lives together once again," says Simon. "We are each other's biggest support system and each other's biggest competition."