Fr. Greg Boyle, S.J., Inspires Grads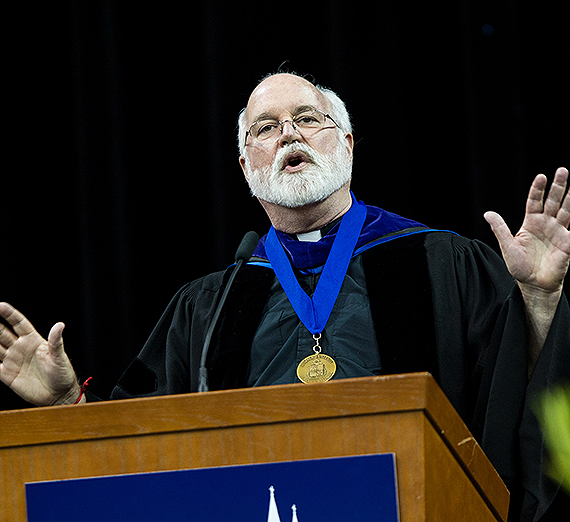 ---
Gonzaga News Service
SPOKANE, Wash. – Members of Gonzaga's Class of 2015 began and ended their student experience with wisdom from Father Greg Boyle, S.J., a Gonzaga alumnus who founded the Los Angeles-based Homeboy Industries, the nation's largest gang intervention program. As freshmen in 2011, the graduates were asked to read Fr. Boyle's inspiring best-seller "Tattoos on the Heart: The Power of Boundless Compassion." Fr. Boyle stirred the class again at commencement May 10.
For three decades, Fr. Boyle ('77) has helped thousands of "homies" – at-risk, gang-involved youth – heal from wounds of all kinds to live productive lives. Fr. Boyle recalled a moving memory from his visit to Gonzaga in fall 2011, and urged Gonzaga's graduates to go forward with faith – intent upon creating a better and more loving world.

"What Martin Luther King, Jr., says about your time at church is the same as Gonzaga: 'It's not the place you come to, it's the place you go from.' And you go from here hoping to make the world look different than it currently looks," he said. "You go from here and you imagine with God a circle of compassion and then you imagine nobody standing outside that circle."

Fr. Boyle encouraged graduates to stand with the marginalized to create a community of kinship – dismantling barriers that exclude.

"And you stand with the poor and the powerless and the voiceless. And you stand with those whose dignity has been denied. And you stand with those whose burdens are more than they can bear," Fr. Boyle said. "And you stand against forgetting that we belong to each other. You obliterate the illusion that we are separate, that there is an 'us' and a 'them.' "

Fr. Boyle suggested the graduates "brace yourselves as you stand on the margins and then you cease to care that people will accuse you of wasting your time. But the prophet Jeremiah says there is a 'voice of gladness' and 'the voices of those who sing.' You go from this place to make those voices heard. And may God bless the Class of 2015 as you go forth to do exactly that."

President Thayne McCulloh presented Fr. Boyle with the DeSmet Medal, Gonzaga's highest honor.

In the 122nd commencement exercises, Gonzaga conferred 1,207 bachelor's degrees, 791 master's, 33 doctorates, and 121 law degrees. Washington State Supreme Court Justice Mary Fairhurst ('79; J.D.,'84) delivered the keynote address at the Law School commencement May 9. Also at the Law commencement, University of Denver Sturm College of Law Professor Jeffrey Hartje and Gonzaga Law Professor Emeritus Mark Wilson jointly received the Gonzaga Law Medal to recognize their co-founding of the clinical program, which is celebrating its 40th anniversary. Author and journalist Blaine Harden ('74) delivered the keynote at the graduate ceremony May 9.