Finding Brandi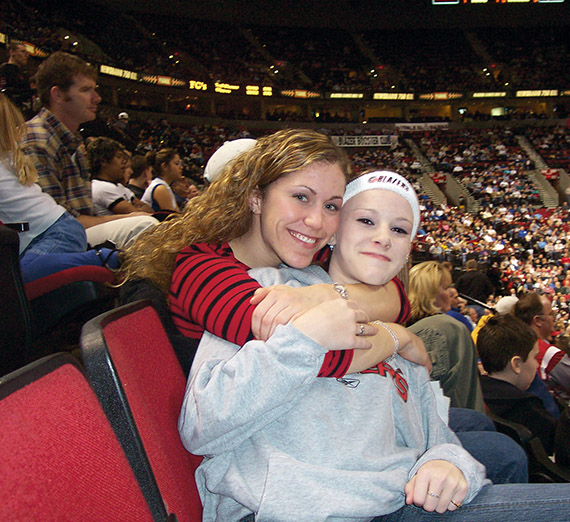 ---
By Dale Goodwin ('86)
Brandi Harper stood quietly, curbside at Logan Elementary just north of Gonzaga's campus. Her ride home from her first day of Campus Kids wasn't going to arrive.
It was a cold, dark fall day in Spokane in 1998 when Melissa (Sanders) Wang ('01) saw her newly appointed mentee standing chilled and forlorn. So Wang and a fellow Campus Kids mentor walked the fifth- grader home, north on the busy Hamilton corridor.
Thus began a relationship that matures to this day. Through troubled times, moves, high school graduations, marriage — the bond between mentor and mentee has remained ironclad.
While young Harper's home life was not stable, she found security, love and support at Campus Kids, an outreach of Gonzaga's Center for Community Action and Service Learning (CCASL).
"Melissa was the supportive, positive mentor I desperately needed," Harper shares. "She asked my mom permission for me to spend the Easter holiday with her family in Kalama, Wash. I cannot explain the excitement, joy, fun and completely free feeling I had being there. I had never experienced a holiday like this. I had never seen a family so happy and doing so much together. That changed my view of what 'family' should be."
She continues, "It gave me the courage to stand up for myself, to know that the abuse I was enduring was not OK, or normal."
Harper is just one of thousands of elementary and junior high students who have benefited from Gonzaga student mentors.
As Harper moved from Logan Elementary to Shaw Middle School, Wang was able to continue as her mentor.
"My friends and I would bring Brandi back to our dorm, and take her to the COG," Wang recalls. "We went to her house and her bedroom was so full of junk — and she had no bed — that she had to sleep on the couch. My roommate and I spent a day cleaning out the junk, painting her room and making a bed for her. It was like 'Extreme Home Makeover'."
Wang graduated from Gonzaga but the two didn't lose touch. While teaching at Finch Elementary, Wang would pick Harper up for outings on a regular basis until she moved to Vancouver, Wash.
Miraculous moves
Living on the other side of the state, Wang received disturbing letters from Harper. Her own letters back to Harper were returned.
"At 15, I was failing school and my home life was unstable," Harper shares. "My grandma decided I needed a change and arranged for my uncle and his wife, whom I'd only met once, to take me in. That summer I started life over again, and was surrounded by people who only wanted to see me succeed."
In meeting her three cousins, Harper shared pictures of her life in Spokane. One cousin stopped her when she showed a picture of Wang. "That's our track coach!" the cousin said.
And just like that, the two found each other again.
"When I heard her voice on my phone, my heart was pounding," Wang remembers. "She was safe. She left a number, but no area code. So I tried a couple and discovered that of all places, she moved right here to Vancouver."
Wang continues, "It was miraculous. It still brings tears to my eyes."
Harper was starting a second try at her freshman year in high school, and she and Wang spent time together, tutoring, baking cookies, attending family events.
When Harper graduated from high school, Wang and her mom were Harper's only "family" in the bleachers.
Harper recalls, "I kept thinking, 'Where would I be without a role model like her in my life?' I would not be alive or in a good place if it wasn't for Melissa. She took me in and gave me a chance to get back on my own two feet." She continues, "Since then I have found a job and have never felt more independent."
In October 2014, Harper attended Wang's wedding.
Wang recalls seeing Harper afterward, in tears. "She said words I always wanted to hear — thank you and I love you. Brandi was so incredibly grateful, and for the first time she clearly articulated the impact our relationship had on her life."
"I can't tell you how gratifying and special that was for me. It's been quite a ride, but I feel so blessed that my path crossed hers. I truly believe that the Holy Spirit has been busy at work, bringing us back together time and time again."