Laura Stockton Continues Zag Legacy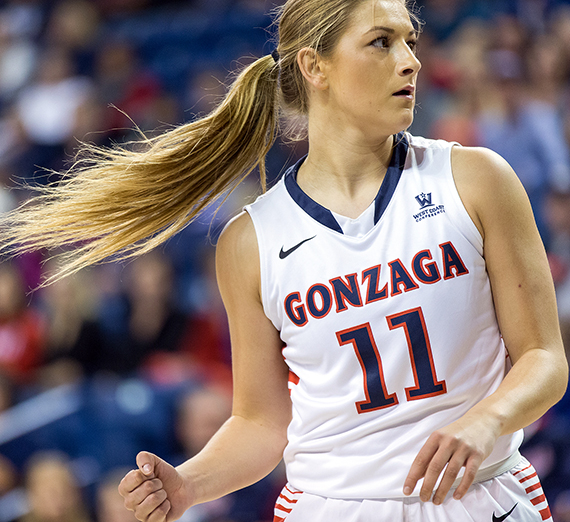 ---
SPOKANE, Wash. – Stockton. Gonzaga University. Basketball. The words are inextricably linked. Laura Stockton, daughter of Gonzaga and NBA Hall of Fame legend John Stockton ('84) and Nada Stockton ('84), and sister of former Zag guard David Stockton ('13), is making a name for herself as a first-year student and guard for the Zags.

A standout from Gonzaga Preparatory School in Spokane, Laura said she briefly toyed with the idea of going somewhere else for college before committing to Gonzaga where she is happy and already contributing to the Zags' success.

"I'm excited to be a part of something bigger than myself," said Laura, The Seattle Times' State Player of the Year in 2015 after helping lead the Bullpups to the 4A state title in 2014 and 2015. "As a whole team I think we represent a lot for this whole community."

Laura and her brother David are among the fourth generation of Stocktons to attend Gonzaga. Their grandfather Jack Stockton ('51) was a founder of Jack & Dan's Bar and Grill near Gonzaga's campus. Their great-grandfather Houston John Stockton was a triple-threat halfback and linebacker for Gonzaga who, in 1924, was team captain and an All-America honorable mention selection. Seven of Nada Stockton's siblings attended GU as did her father, the late Michael Stepovich ('41), the last territorial governor of Alaska.

While she has been going to Gonzaga basketball games for as long as she can remember and grew up playing hoops with her five siblings, Laura appreciates that she had the freedom to choose the activities she wished to pursue. Along with basketball, she chose soccer and plays the piano.

Averaging more than 18 minutes per contest this season, Stockton is contributing 6 points and more than 2 assists per game.

While she hasn't decided on a major yet, she hopes to play professionally and work in sports after that, possibly as an athletic trainer. Her aunt Leanne Stockton is a trainer for the Zags.

Stockton says she and her five siblings remain close. Her oldest brother, Houston, lives in Spokane. Brothers Michael and David are playing in the NBA Development League – Michael with the Canton (Ohio) Charge and David with the Reno (Nevada) Bighorns.

Laura's best friend is sister Lindsay, a senior guard for Montana State University, which made for an interesting match-up when the Zags beat the Bobcats 65-52 at the McCarthey Athletic Center on Dec. 6.

"Obviously it was really exciting, getting to be on the same floor as my sister and a lot of other players that I have played with or against," Laura said. "But, we just went into the game like it was any other game and prepared the same. But, it was really exciting."

Laura calls her little brother, Sam, a Gonzaga Prep freshman, "the greatest kid in the world."

Laura says growing up a Zag has made for a smooth transition to Gonzaga where she has quickly found her place and loves the tight-knit community.