Class of 2018 Adds to Excellence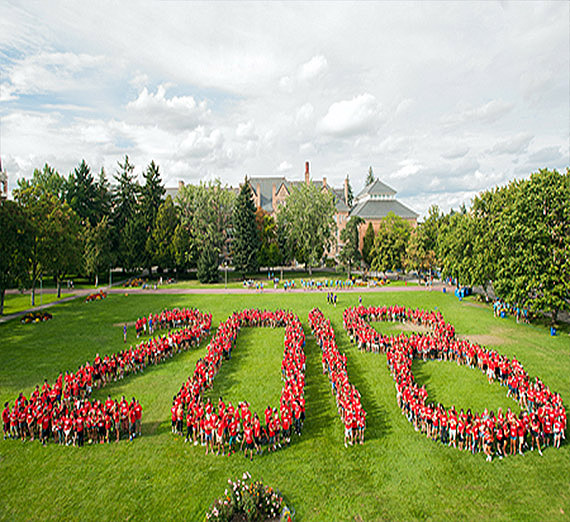 ---
U.S. News & World Report Ranks Gonzaga No. 3 Best
Regional University in West, No. 2 Best Value
Gonzaga News Service
SPOKANE, Wash. — As Gonzaga University welcomes the Class of 2018, among the brightest and most engaged and diverse in history, the University rises in U.S. News & World Report's annual college rankings to become the No. 3 best regional university in the West and No. 2 best value. Gonzaga is also ranked 2nd in the West for average freshman retention and average graduation rates. The profile of the estimated 1,055 freshmen who began fall classes Sept. 2 points to continued excellence.
"The new students represent 10 different countries, 33 states, the Northern Marianas Islands and military bases all over the world," said Julie McCulloh, dean of admission. "Applications revealed students highly engaged in leadership activities, service, athletics, ecological clubs, music and theater, just to name a few. I look forward to watching how this talented class will impact Gonzaga."
Preliminarily, Gonzaga's Class of 2018 has a 3.7 grade-point average and test scores of 26.8 (average ACT composite) and 1,194 (average SAT composite). The class is among the most racially diverse in University history with students of color comprising 22.1 percent.
Demographically, the entering class includes 52.6 percent women and 47.4 percent men. Again, the majority of freshmen, 48 percent, hail from the state of Washington. California remains Gonzaga's No. 2 state with 21.8 percent of freshmen from the Golden State. Oregon is home to 9.1 percent of the class, while Colorado and Idaho each account for 3.2 percent of the new class. The class includes U.S. students from as far away as Florida, Hawaii, Kentucky, Maine, Maryland, Tennessee, Texas, and Virginia. Globally, the class includes students from Canada, Germany, Japan, Malaysia, Philippines, Poland, Saudi Arabia, Spain and United Aram Emirates.
With respect to religion, 56.3 percent of freshmen indicated they are Roman Catholic. The class includes students from 17 other faith traditions.
The new class includes seven student body presidents, 86 class presidents or officers, 398 members of student government, 561 with leadership experience, and 886 involved in volunteerism. A total of 136 students took part in speech or debate, 869 participated in high school athletics or outdoor activities, 289 are musicians, 108 participated in ecology/sustainability clubs, and 141 took part in theater.
Overall, Gonzaga officials project a total enrollment of 7,380 students this fall, including an estimated 4,800 undergraduates, 2,130 graduate students, approximately 350 Gonzaga University School of Law students, and 100 other students (non-degree programs).