GU Receives $400,000 Grant to Improve Educational Outcomes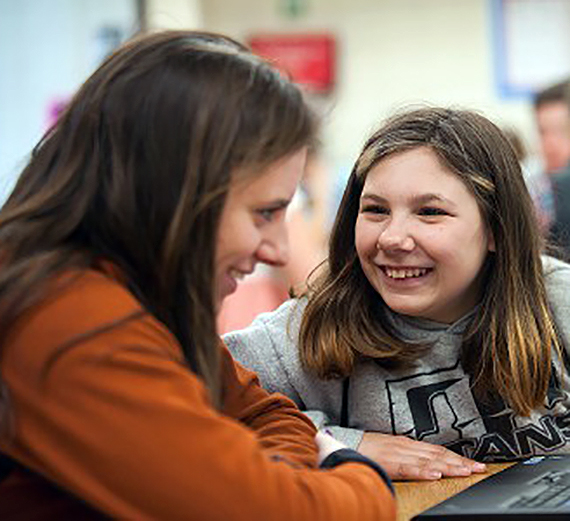 ---
Gonzaga News Service
SPOKANE, Wash. — Gonzaga University — in partnership with Spokane Public Schools, Communities in Schools, Boys & Girls Clubs of Spokane County, and Washington State University — has received a $400,000 grant to lead the Hillyard Youth Collaborative, a new model designed to catalyze and coordinate community efforts to ensure students complete high school.
The three-year grant, funded by Community Partners for Middle School Success (CPMSS), aims to ensure educational success for students at Shaw and Garry middle schools in northeast Spokane. The collaborative will identify at-risk students, design interventions for them, and evaluate those interventions. Long term, the effort is expected to increase graduation rates at Rogers High School, and increase the number of Rogers graduates enrolling in post-secondary education.
CPMSS founding partners are: Avista Foundation; Empire Health Foundation; Harriet Cheney Cowles Foundation; Inland Northwest Community Foundation; John J. Hemmingson; JPMorgan Chase Foundation; Numerica Credit Union; and Women Helping Women Fund.
"The co-funders are inspired to use their experience and resources to support Gonzaga University, Spokane Public Schools and their partners in motivating young students to embrace a goal of continued education in order to achieve success and personal fulfillment," Inland Northwest Community Foundation President & CEO Mark Hurtubise said in a news conference this morning. "We were impressed not only by the work and values of the partner recipients of this grant, but also by the unique model of cooperation for student success exhibited between themselves and the Hillyard community."
A key strength of the collaborative is that its partners are already engaged with one another and with the two middle schools. Gonzaga's School of Education faculty and students will provide in- and out-of-school support for teachers and youth during the academic year and summer sessions. The GU Center for Community Action and Service-Learning (CCASL) mentoring programs (in- and out-of-school) and service-learning students will provide social and academic support and family engagement strategies. Communities in Schools will provide case-management and family support, while the Boys & Girls Clubs will add Saturday services and increase access to after-school and Saturday programming (at its northeast facility). WSU will play a key role in the project evaluation.
This project builds on the work initiated by Priority Spokane, a collaborative of community leaders working to create a vibrant future for Spokane County. In 2009, Priority Spokane identified "increasing high school graduation rates" as its top community priority.
John Traynor, Jr., co-chair of Gonzaga's teacher education department and co-author of the grant, credited the tireless efforts of community leaders and organizations that began with the work of Priority Spokane.
"The Collaborative we announce today builds upon a relentless communitywide effort to tackle the opportunity and achievement gaps in our community," Traynor said. "This remarkable opportunity was made possible because a university, a school district, and national nonprofit organizations with strong history in the community joined together to make a real difference in the future of Spokane County."
Shelley Redinger, superintendent of Spokane Public Schools, said the district looks forward to the initiative.
"We are incredibly fortunate to have resources from the Community Partners for Middle School Success working to keep students at these two schools on track and well prepared for high school," Redinger said. "Spokane Public Schools looks forward to participating in this innovative partnership with Gonzaga and its partner organizations to create more positive outcomes for struggling students during a critical point in their development."
In 2010, a Gonzaga research study — "Enhancing Middle School Student Experiences" — generated three key strategies to improve local graduation rates: early identification of students at risk; high academic expectation; and social support. Armed with this knowledge, SPS in 2012 became one of the few districts nationwide to develop a web-based early warning system that collects real-time data about SPS students relative to the key dropout risk factors of attendance, behavior and course completion.
Of all the students at Shaw and Garry middle schools, approximately 10 percent are at higher risk of dropping out due to attendance issues, while around 15 percent are at higher risk due to behavior or course completion issues. An estimated 200 seventh-graders at Shaw and Garry middle schools will be targeted for community and school-based supports.