Celebrating Gonzaga-in-Florence at 50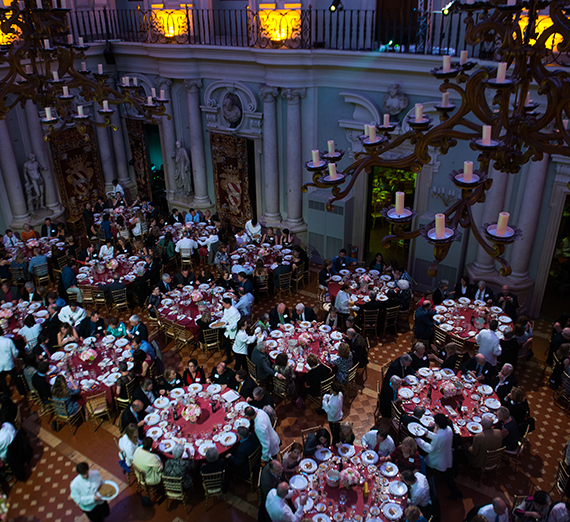 ---
Florentines Share 'Renaissance within'
By Rajah Bose
FLORENCE, Italy — On her final night here, Gonzaga senior Lindsey Kranz ('15) had dinner at the Palazzo Corsini with more than 350 alumni and friends. Some had originally come to Florence in 1963, and some, like Kranz, had finished finals the week prior. The regal dinner Saturday, April 26 crowned a series of events celebrating the 50th Anniversary of Gonzaga-in-Florence.
Guests gathered on the terrace of the Renaissance-era building overlooking the Arno River, reminisced, reconnected with friends, favorite professors and Italian haunts before Dean Pat Burke welcomed everyone into the ballroom.
The festivities had begun days earlier at the Palazzo Vecchio, the town hall where Michelangelo's David statue once stood. Trumpeters heralded the opening reception as local politicians joined Florence faculty and alumni in a great hall with a ceiling painted like that of the Sistine Chapel. The two days of events that followed included tours led by Florence faculty, a Mass celebrated by Cardinal Giuseppe Betori of Florence, classes, and dinners.
Henry Batterman, who has taught Italian for more than 20 years here, spoke of the program's changes and said online social media has made authentic cultural experiences a bit more difficult.
"It makes no sense to talk about turning back the clock, but it is our job as educators to offer students the same kinds of experiences and values which made your time in Italy such an enriching and important part of your lives," said Batterman. He credited the program's founders for embracing learning through cultural experience, recognizing Jesuit Fathers Neil McCluskey, Clement Regimbal, Tony Lehmann, Anthony Via and Bruno Segatta.
Junior Erin Murphy ('15) couldn't decide what she loved most about the Florence program: watching sunsets overlooking the city, gelato, warm croissants from the bakery at 3 a.m., waking up for Italian class, and city tours with art history Professor Mercedes Carrara. The year had gone too fast, Murphy said, but lessons were learned.
"Gonzaga-in-Florence has taught me to truly be passionate," Murphy said. "It has shown me things about myself that I never knew and has really made it clear to me what is important in life. I have made friends and memories that I will cherish for the rest of my life."
Tim Barnard ('71-'72) spoke of finding common ground, confidence and independence through exploration.
"We learned the journey was more important than the destination, we found true friends and relationships with depth and warmth in each other," said Barnard, who credited all of the many people who have made Florence a life-changing experience the past five decades. Barnard said he and other students came to the place where the Renaissance began and later realized the experience shaped their own internal renaissance.
"It was the renaissance within that was so important," Barnard said. "And that, my fellow Florentines, is the thing we share: the renaissance within."
President Thayne McCulloh also thanked all the many people whose generous contributions of time, talent and resources have helped the program flourish. To close the celebration, President McCulloh offered a special toast to the nearly 400 attendees saluting Florence at 50 with best wishes for its continued success.
"This isn't the end of my Florence experience," said Kranz who spent her final evening in Florence entranced in conversations with alumni from across the decades. "To see everyone come back across the ocean to this reunion, you realize this isn't just a few months of my life. This will have an impact on the rest of it."